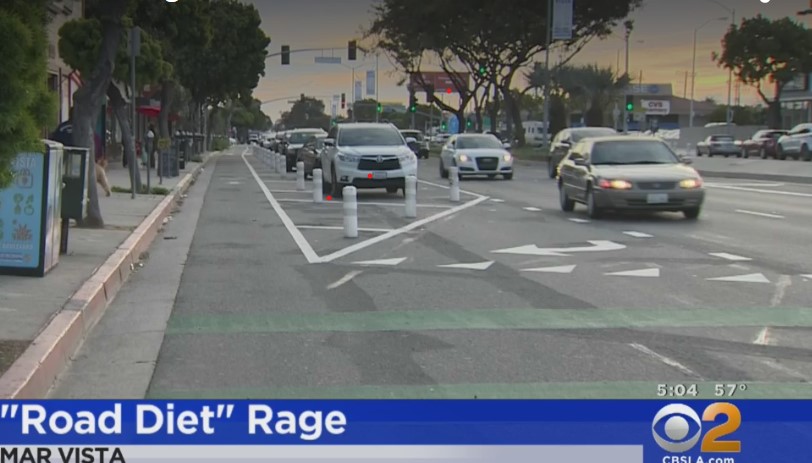 By ANGELA MCGREGOR
 (Editor's note: This story ran on September 20 in the Westside Current. If anyone has ever driven Venice Boulevard, one knows how the current road diet causes traffic issues and now the City planned to extend it. In this case, the Venice Neighborhood Council was not approached about the plan, until the middle of September. Sunset Boulevard and Temescal Canyon Road are due for repaving and all City roads are supposed to come under scrutiny about making them more accessible for bicycles and pedestrians. Roads in Pacific Palisades need to stay open for evacuation purposes.) 
There's another road diet slated on the westside, and the path the LADOT is taking to move it forward is a familiar one.
On August 31, in a Zoomed Town Hall, the Los Angeles Department of Transportation (LADOT) presented proposed Venice Boulevard mobility improvements between Lincoln Boulevard and National Boulevard.
Essentially an extension of the so-called "Great Streets Pilot Project" that went into effect between Beethoven and Inglewood in Mar Vista in late 2017, the improvements would include dedicated bike lanes separated from car traffic by a parking lane as well as dedicated bus lanes.
It would result in the loss of a lane for car traffic in either direction and the loss of two parking spaces per block.  Protected bike lanes would stretch for 5.1 miles in either direction, and automobile travel on this major artery would be purposefully slowed — in LADOT-speak, a process called "traffic calming." The presentation included a project timeline showing completion of the project by the end of 2022.
This project is urgently needed, according to LADOT, because in the past ten years 1203 collisions occurred on this section of Venice Boulevard with 58 people killed or severely injured.
The Zoom meeting featured a slideshow of what was called "unprecedented" outreach efforts:  LADOT kiosks on sidewalks and at the Mar Vista Farmer's market, as well as an online survey. But no mention was made of any support for the project from any neighborhood council except for Palms, whose logo was featured on the flyer for the event.
Before their presentation, meeting organizers conducted a survey of the roughly 300 attendees and stated that 58% of them were local residents who mainly biked around the neighborhood (according to recent census data, just 1% of Los Angeles residents commute to work by bicycle).
One meeting attendee who frequently commutes by car on Venice told us she was unable to get through during public comments and was surprised that no one mentioned Venice Boulevard's status as a designated tsunami evacuation zone.
Streets for All (SFA) a bicycle advocacy not-for-profit, live tweeted public comments favorable to the project.  They also conducted an extensive social media campaign in advance of the meeting to their 6725 Twitter followers, encouraging them to fill out Metro L.A.'s online survey.
They also periodically tweeted out the results of that survey. On August 31, SFA tweeted:  "As of Monday, the survey has received 1200+ responses, 70% of which are from project area residents, 74% of all respondents feel there is a need to "improve safety and access for everyone!" About 62% support protecting bike lanes and 47% would ride the bus more or already use it!"
CD5 Councilmember Paul Koretz was on hand for the presentation and called the proposal a "big win" for Palms (which is in his district), one he was excited about when he "learned of it last year."
CD11 Transportation Director Eric Bruins stated that Councilmember Bonin's office was also "very excited" about the presentation but did not indicate when they'd first become aware of it. Bruins is a former Planning & Policy Director for the Los Angeles County Bicycle Coalition.
Two years ago, at the July 2020 meeting of the Transportation Committee of the Palms Neighborhood Council (PNC), Jay Greenstein, Koretz's Chief Field and Transportation Deputy, stated in the meeting's minutes "Before we knew ADAPT would repave, we wanted to talk long term about Venice.
"Protected bike lanes would mean a road diet," Greenstein said. "Talking with CD 11 about Venice being a Metro BRT [Bus Rapid Transit] corridor to move buses more quickly. Metro says that Venice is a candidate."
ADAPT — Adjusted Deployment to Accelerate Paving in High Traffic Corridors — was a project to take advantage of the lack of traffic during the pandemic announced by the Mayor in April of 2020.
Thirteen million was earmarked for Venice Blvd., and as Greenstein put it, "Rather than take money out of the $13 million, they might shoulder all of the cost. Metro could potentially pay for the improvements so we might be able to stretch the $13 million."
As for the need for public outreach, Greenstein stated, "Can't say what the public engagement will involve.  Has to do with lawsuits against the city.  Stakeholders have felt like they've been excluded from the conversation.  The conversation should happen in the next six months."
Also attending the meeting (and providing the only general public comment) was a person identified as "Lindsey" who stated they "Work with Streets for All" and expressed the need to give "people an option to not drive (BRT/protected bike lane)."
In February 2020, Streets for All published a page on their website titled "Venice Blvd. For All," which detailed the organization's desired changes (dedicated bus lanes, protected mobility lanes, and pedestrian improvements), in keeping with the city's Mobility Plan 2035, which was passed in 2016, and lists Venice Boulevard as a "Comprehensive Transit Enhanced Street".  The changes to the Boulevard illustrated on Streets for All's site are nearly identical to the proposed Venice Boulevard Safety and Mobility Project.
A month before this meeting, on June 10, 2020, Koretz had filed a motion with the city stating, "The Department of Transportation (LADOT) is undertaking various planning activities along Venice Boulevard that require consultant support in order to conduct effective community engagement. Funding is dedicated to this corridor and is available for planning and project development purposes."
The motion – Council File 22-0694, seconded by Mike Bonin  – requested $300,000 to finance these efforts, and it passed on June 17, despite public comments complaining that "This motion is too vague. 1) What are these "various planning activities" along Venice Blvd? 2) Where are these activities taking place?"
According to Palms Neighborhood Council Transportation Committee member Kay Hartman, who was at the PNC meeting, LADOT came up with a plan that PNC would conduct community outreach, with LADOT backing.
Hartman opposed this, telling the Current, "My position was, why should we be doing the outreach? We have no money, the Department of Transportation should be doing the outreach, if they want to do this, let the city pay for it. "
In September the PNC's General Board passed their motion to support, "the creation of a Community Engagement Plan to genuinely and equitably gather community input and create a consensus on whether and how to move forward with Venice Blvd. safety improvements. The Community Engagement Plan would be developed and led by the Neighborhood Council in partnership with LADOT."
Neither the Venice Neighborhood Council nor the Mar Vista Community Council were notified by the CD11 Council office that these plans for Venice Blvd. were in the works until last month.
According to Mar Vista Community Council Chair Tyler LaFerriere, "LADOT reached out to the leadership of our Transportation and Infrastructure committee to present, answer questions and get feedback as soon as possible before the workshop on the 31. That meeting took place the evening of August 3. We then invited LADOT to do a repeat presentation at the August 17 Board meeting of the MVCC.
LADOT began presenting roughly at 7:45 p.m., and we did not conclude the meeting until a little after 10 p.m. to allow for Board questions and comments in addition to public comment."
In late August 2022, Venice Neighborhood Council President Jim Murez told the Current, "We have not received any official presentation nor been able to participate in the design or consideration if the plans that are being proposed are even a good idea for the community."
After contrasting LADOT's outreach approach with the one taken for the Lincoln Fast Forward Project, in which the VNC "were included in the loop from the start to the present" Murez said, "Between the disassembly of the railroad by the City in the 1950's and now this latest move to cut us off from downtown, the promises made to Abbot Kinney are all being broken."  Murez was the Chair of the VNC's Parking & Transportation Committee and was a candidate for CD11 Councilperson in the 2022 primary election.
This perceived lack of timely outreach regarding the project is particularly galling to many residents, given the public outcry that followed the installation of the Mar Vista "Great Streets Pilot Project" in May of 2017.
A local news station reported on the turmoil created by the changes and profiled a local restaurateur who said he'd been put out of business by the road diet.  Unforeseen problems included cut-through traffic on nearby residential streets, emergency vehicles stuck in the near-gridlocked traffic, and pedestrian near misses with speeding bicycles who were, in turn, occasionally colliding with right-turning vehicles to whom they were no longer visible because of the parking lane between them.
In July, two months after the project had already been installed, LADOT conducted contentious Town Halls with both the Mar Vista Community Council and the Venice Neighborhood Council. The decision was made to await judgment on whether to keep the road diet in place until after an LADOT Safety Study was issued.
In December of 2018, 18 months after the changes were implemented, LADOT issued that safety study.  Despite a 16% decrease in bicycle traffic and a slight increase in automobile collisions (from 23 to 25), the project was deemed a success and Councilman Bonin posted a video informing residents that "Mar Vista is moving forward" and "great things are happening here," and that the road diet was now permanent.
On September 12, LADOT presented its proposed plan to the Parking and Transportation Committee of the Venice Neighborhood Council.  It was essentially the same slideshow they had presented on August 31, to a much smaller audience.  About half of the public comment favored the proposal, which representatives insisted was "not baked in," awaiting more public commentary.  They encouraged Venice residents to fill out their online survey, which is set to close on September 30.
At the meeting, Jim Murez noted the lack of outreach to Venice, and asked multiple questions regarding the extent to which vehicle traffic would be impacted.  He asked that the LADOT come to a VNC General Board meeting to present their plans, as it was "the only fair thing to do."
In response, an LADOT representative stated that their failure to reach out to the VNC was a "gross oversight," and said they would "add more meetings," explaining that the agency is "short staffed."
Committee member Selena Inouye presented a motion noting the presence of only the Palms Neighborhood Council's logo on promotional materials for the project (which had been shared by Councilman Bonin's office on social media), as well as the two-year-old Council File in support of outreach for the project.
The motion went on to state "Venice stakeholders want to have the same opportunities for input into this project as were given to the stakeholders in Palms. This includes discussions about what we want on Venice Blvd. at the VNC Parking and Transportation Committee with Councilmember Bonin's Transportation Deputy Eric Bruins and LADOT in attendance.
"Until such time as these discussions can take place and our input is incorporated into the project, stakeholders are clear that the VNC should not support the Venice Blvd. Mobility Improvements Project."
Inouye is also Chair of the Westside Regional Alliance of Councils' Mobility and Transportation Committee and noted that LADOT had failed to reach out to that organization as well.
After Inouye's motion had passed, with four votes in favor and one abstention, Committee Chair Robert Thibodeau pointed out that this kind of opposition was to be expected when "we're the last people being invited to the party."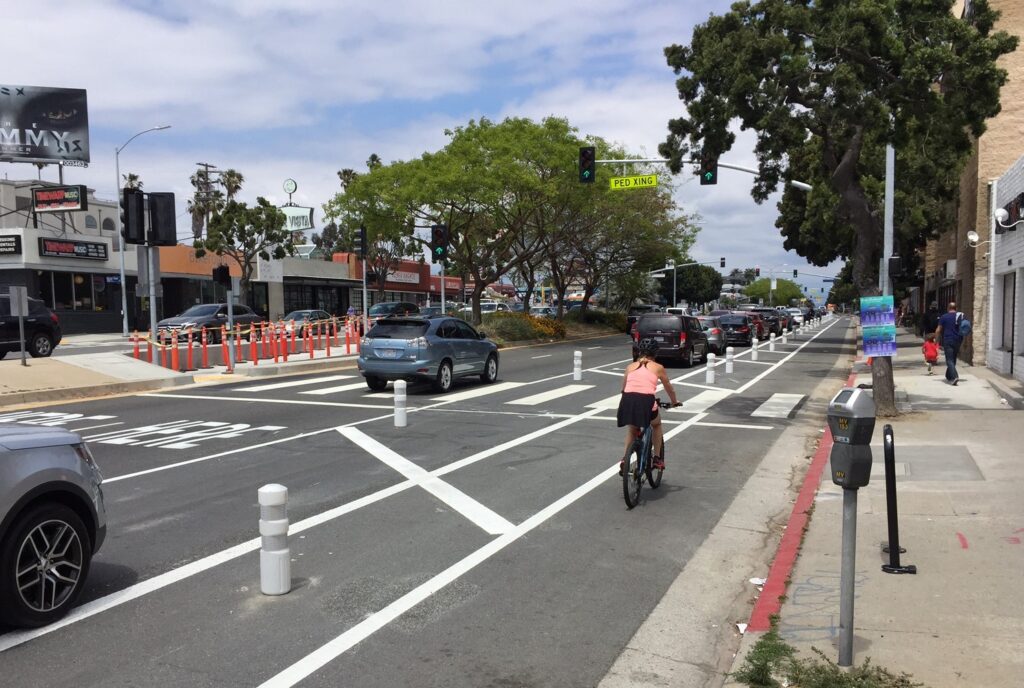 In interviews with Damian Newton at Streetsblog, both candidates for CD11 Councilperson weighed in on the Mar Vista Road diet.
Traci Park stated that she was still hearing complaints from residents about it. "Constituents were angry enough that it led to the initial recall effort against the council member," Park remembered. "I have certainly heard frequently over the last year plus that I've been campaigning…that folks remain concerned about it… At the heart of all of that was the lack of engagement and input from the community and a pervasive saying that this was something that was intended to be a pilot program and that it was done without much input."
As for Erin Darling, who has been endorsed by Streets for All, he told Newton as they had coffee alongside a protected Mar Vista bike lane that "I think generally public outreach has to be thorough. Design can't be predetermined. People have to feel like they have a say. Outreach is still huge.
"So there has to be flexibility, but there also has to be communication that with climate change there's an immediacy that we need to act on," Darling said. "Let's acknowledge that in L.A. when you take a lane people react viscerally like you've taken something away from them. But here we are looking at it, and I don't see massive congestion."