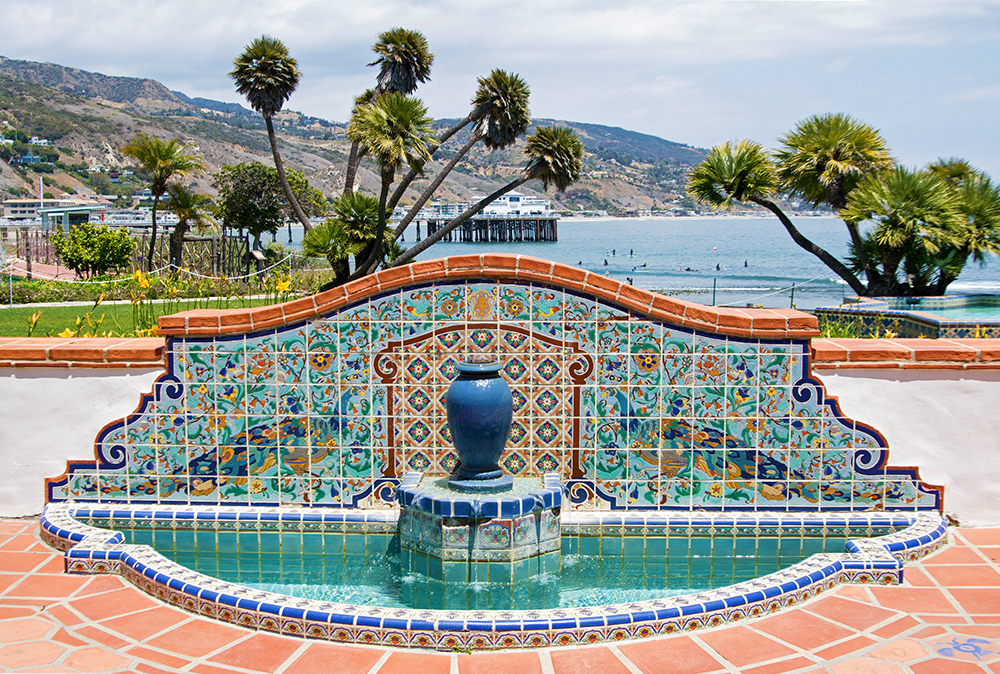 Enjoy the special Holiday Tours of the historic Adamson House in Malibu, which will be splendidly decorated for the season. Enjoy lighted Christmas trees, yuletide music, historical decorations and hot apple cider/snacks during a tour of the house with a nod to its history, starting November 29.
This is a perfect place to take out-of-town guests. The house is located at 23200 Pacific Coast Highway, along the ocean, about 10 miles from Pacific Palisades after the Malibu Pier and just before the Malibu Country Mart.
The beautiful 5,000-sq.-ft. house is located with the Malibu Lagoon State Beach park, and features some of the most exquisite ceramic tile ever made. The tile is found throughout the five bedrooms and its attached bathrooms. There is even a 60-ft. simulated Persian carpet made of 674 tiles, complete with fringe.
The tiles were created by Rufus Keeler, of the now defunct Malibu Potteries, and some have called the Adamson House the "Taj Mahal of Tile."
The State of California claimed the buildings and property through eminent domain in 1968 in order to raze the buildings to make a parking lot for beach goers.
There was public outcry and in 1971, the Chancellor of Pepperdine University moved into the house in an effort to maintain it. The Malibu Historical Society was formed to preserve the house, which became a California Historical Landmark in 1985.
The Malibu Lagoon Interpretive Association, now known as the Malibu Adamson House Foundation, was formed in 1981 and oversaw the house opening as a museum in 1983.
Holiday tours are scheduled Wednesdays through Sundays, from 11 a.m. to 4 p.m., from November 29 through December 31.  Walk-ins are welcome, but reservations are recommended by calling (310) 456-9378. Tours last 45 minutes and start every half hour.
There will be tours on Christmas Eve and New Year's Eve, but the House will be closed on Thanksgiving, Christmas and New Year's Day. There is availability for three group tour dates (16 guests +) on Tuesdays, December 2, 9 and 16. Admission is $25 per adult, and $10 per child 6-17 with free admission for younger children. (Visit: adamsonhouse.org.)