(Editor's note: This article first appeared in the Westside Current on October 31 and is reprinted with permission.)
BY: MICHAEL JENSEN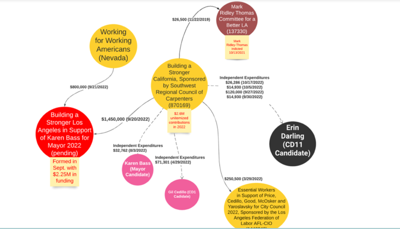 Over the last few weeks, my mailbox has been inundated with campaign mailers for our local elections. My routine practice in the past was to toss these directly into the recycling bin next to my mailbox. But this year, some of the mailers have caught my attention with the message that "Progressive" candidates—Karen Bass, Erin Darling, Eunisses Hernandez, Hugo Soto-Martinez, and Katy Yaroslavsky—are a "grassroots" campaigns while only their respective opponents—Rick Caruso, Traci Park, Gilbert Cedillo (now defeated), Mitch O'Farrell, and Sam Yebri—are funded by "big donors" and "special interests." A recent email from my Councilmember, Mike Bonin, had the same message.
Is that true, I wondered? I've seen Darling and Bass ads on Monday Night Football. Those can't be cheap ad buys. So, I began a journey of many, many hours reviewing public campaign filings on ethics.lacity.org only to uncover a tangled web of "special interest" money backing these "Progressive" candidates.
After mapping my findings, I have concluded that, contrary to what these "Progressive" candidates in Los Angeles claim about their supposed "grassroots" campaigns, they are largely supported by donations and independent expenditures made by labor unions, homeless housing developers, extremist Progressive groups and their respective well-financed PACs (i.e., special interests).
And these are the same groups that have been funding Democratic candidates and elected officials in the past several election cycles. This is important because I think there is a general consensus that politics and government in Los Angeles is an abject failure and has been for some time.
Part One: The Union-Funded Campaign Mailers
For starters, the recent mailers accusing Traci Park of being a racist are paid for by Neighbors and Workers for Erin Darling and Opposing Traci Park for Council 2022, Sponsored by Labor Organizations, an innocuous name (of course). This "Labor PAC" was formed in October and in just two weeks blew $180,000 in independent expenditures (on primetime TV ads and glossy mailers).
Figure 1 – Neighbors and Workers for Erin Darling and Opposing Traci Park Contributions and Expenditures
The Labor PAC's funding ($180,000 in October alone) comes from the Service Employees International Union (SEIU) Local 721, its affiliated Dignity CA SEIU Local 2015 and SEIU United Service Workers West Candidate PAC, and Unite Here Local 11 PAC. These labor unions and their affiliated PACs have poured hundreds of thousands of dollars elsewhere into local races (now and in the past).
The Labor PAC decries a moderate candidate as a racist and, previously, cast Park as something so egregious as Republican (omitting that this was 20 years ago). Much has already been written on the substance (or lack thereof) in those arguments. What bears noting is that these special interest groups have no qualms aligning with several DSA-endorsed or recommended candidates like Darling, Soto-Martinez and Hernandez, who are asked to pledge to defund and disband the police and boycott travel to Israel, a different brand of racism.
Essential Workers in Support of Karen Bass, a PAC sponsored by the Los Angeles Federation of Labor (whose President Ron Herrera recently resigned after the infamous audio leak in which he tacitly endorsed the blatantly racist comments made by then LA City Council president Nury Martinez and her colleagues) received $300,000 from SEIU Local 721 and $250,000 from SEIU Local 2015. In 2019, a PAC controlled by the now-indicted Mark Ridley-Thomas received $26,000 from SEIU Local 721 and $65,000 from SEIU Local 2015.
Figure 2 – SEIU Local 721 and LEIU Local 2015 Expenditures
In addition to funding alleged racists and corrupt elected officials, SEIU Local 2015 also sent $75,000 to an Essential Workers PAC that ultimately spent over $100,000 of it towards Katy Yaroslavsky's CD5 election. Yaroslavsky works in outgoing Supervisor Sheila Kuehl's office and by most indications is the establishment candidate. Her opponent is Sam Yebri, who is a Democrat being cast as a Republican because he wants to restore public safety and build market rate, middle-income housing.
SEUI even got its out-of-state affiliate in New York to send $100,000 to Worker Power for Bass for Mayor, Soto for Council PAC.
Another union PAC, Unite Here Local 11 PAC has dropped even more cash than the two others.
It sent $555,000 (2022 YTD) to a Working Families PAC that ultimately spent on three progressive candidates, including Katy Yaroslavsky, Hugo Soto-Martinez, and Lindsay Horvath (County Supervisor Candidate), and a related Working Families for Erin Darling 2022 PAC that lists about $100,000 in independent expenditures towards Erin Darling in October alone.
The PAC even spent hundreds of thousands of dollars this year supporting persona non grata, Kevin De Leon, for his City Council re-election. Last year, Unite Here sent $25,000 to Mike Bonin's PAC to defeat his second attempted recall.
The bottom line is that the money recently infused to the new pro-Darling, anti-Park PAC originates with the same group of unions that have funded Mike Bonin, Mark Ridley-Thomas, and much of the political power in this city in the past.
Now, these same groups are teaming up with Progressive activists, like Imagine Justice, a part of California Donor Table, to endorse only far-left City Council candidates (more on that in Parts Two and Three). To be clear, the entire field of candidates in this election lands on the Democratic side of the spectrum, yet "Progressive" campaigns would try to make us believe otherwise.
Figure 3 – SEIU and Unite Here Expenditures
Part Two: The Homeless Housing Industrial Complex
During my research, I discovered that there are many special interests—unions, corporate homeless housing developers, and well-financed (albeit unregistered) "Progressive" activist groups spending in this election. The main destination of this funding is United to House LA. In this year alone, it has received some $1.6 million from these groups.
Citizens for a Better Los Angeles 2020 serves as a second large depository for campaign funds, with over $1 million received from Unite Here Local 11 and about $170,000 received from United to House LA in 2022 alone. The web of financial connections grows exponentially from there. (See Figure 7.)
These developers and unions land multimillion-dollar contracts from the city for affordable housing projects. Critics dub this symbiotic relationship the "Homeless Housing Industrial Complex." Because of this, as you would expect, the PAC to support Yes on HHH (a 2016 homeless housing measure) had many of the same union donors as United to House LA. Interestingly, Ridley-Thomas appears again, here as the recipient of money from Continental Development Corp. and donor to Yes on HHH. Continental, along with a few other developers, also sent large donations to Mike Bonin's PAC to defeat his first recall in 2017.
High on their success in having voters approve $1.2 billion for Measure HHH housing, which has built 1,142  units at an average cost of $500,000 over the past five years since it was passed, the Homeless Housing Industrial Complex is teaming up with "Progressive" activist PACs (LA Voice Action, Liberty Hill Foundation, and Common Counsel Foundation) using United to House LA to push Measure ULA. Measure ULA is estimated to raise $923 million from large real estate sales, so taxpayers can fork over another $500,000+ per unit that includes rich development fees and prevailing wage contracts to our unions.
Meanwhile, we continue to try and bail out the Titanic homeless crisis with a bucket. It should come as no surprise that the PACs funding the measure are the same union and corporate housing groups  that funded Yes on HHH, United to House LA, and Citizens for a Better Los Angeles 2022. As they say, there is no money in a cure, only in treatment.
The most troubling fact is that United to House LA has spent $2 million in 2022, and despite California's robust transparency laws requiring disclosure of how PAC money is raised or spent, the public data available with the Ethics Commission is scant as to what campaigns it was actually spent towards or against.
Similarly, Citizens for a Better Los Angeles 2020 has spent $1.78 million in 2022, yet public filings contain little discernible information as to the expenditures' purposes. (See Figure 4.)
Figure 4 – United to House LA and Citizens for a Better Los Angeles Contributions
Similarly, the Ethics Commission informed me that Working Families for a Better LA County and Gascon for District Attorney 2020, both of which were sponsored by LA Voice Action (an unregistered donor that also funded Unite to House LA), are not registered with the city, nor are either registered with the County Clerk.
From campaign finance filings I was able to retrieve, LA Voice Action is responsible for $25,000 towards Hernandez and $50,000 towards Bass, and between $160,000 and $480,000 in spending towards District Attorney candidate, Gascon, in 2020.
Apparently, LA Voice Action and Liberty Hill Foundation are funded by California Donor Table, a Progressive group that prides itself on unseating not just Republicans but moderate Democrats, too.
To that end, an affiliate of CDT, Imagine Justice PAC has dropped some $200,000 towards electing Maria Brenes, the DSA-endorsed candidate who is running against Rocio Rivas (endorsed by teacher's union), Miguel Segura (current LAUSD teacher), and Erica Espinosa (Los Feliz Neighborhood Councilmember). In the last election cycle, Imagine Justice donated more than $200,000 to Gascon for District Attorney 2020, sponsored by LA Voice Action. (See Figure 5.)
Figure 5 – California Donor Table Expenditures 
What public records also shows is that a major source of independent expenditures towards Erin Darling have come from Building a Stronger California, Sponsored by the Southwest Regional Council of Carpenters, to the tune of about $175,000 in September and October alone. This group also spent $71,000 in April towards Gil Cedillo's re-election campaign (unsuccessfully, since he lost in the primary to the Progressive, Hernandez). Cedillo was another sitting elected official recorded making racist comments on the infamous leaked audio recording.
Next, the Carpenters PAC has dropped $1.45 million on a newly formed PAC for Karen Bass—Building a Stronger Los Angeles. A mysterious Working for Working Americans PAC from Nevada sent another $800,000, opening this new Bass PAC with a war chest of $2.25 million. Interestingly, the Carpenters PAC also sent some $26,000 to the Ridley-Thomas in 2019 (do we see a pattern here?). (See Figure 6.)
The reason we see a pattern is that these unions and corporate housing developers will be presenting large development opportunities to the City Council, with millions (or billions) of dollars in developer fees and contracts flowing to construction unions.
Some will even involve the gifting of public land to private developer hands. It has been said that lobbying dollars have one of the highest returns on investment you can make, and these special interest groups are clearly investing wisely in their future, to the detriment of Angeleno taxpayers.
Figure 6 – Southwest Regional Council of Carpenters Expenditures
Part Three: The Machine That Always Wins
Peeling back the layers of interest groups in this election illuminates a trail of cross-funding by unions, corporate homeless housing developers, and "Progressive" activists into PACs whose only plausible purpose is to obfuscate the "special interests" really behind the so-called "grass roots" campaigns.
What is revealed is The Machine that runs our local politics and ensures transferring money from the public coffers to private pockets remains the status quo.
In 2020, Jose Huizar and Mitch Englander were indicted on public corruption charges for pay to play schemes. Just a year later, Mark Ridley-Thomas was indicted on some 11 counts of public corruption, making a full 20% of our City Council indicted by the U.S. Department of Justice within two years. Apparently, campaigns and PACs receiving large sums from unions and developers is insufficient grift. But The Machine grinds on, continuing to push millions in expenditures into this election cycle.
In the CD11 primary earlier this year, Greg Good was the union-backed candidate. But then a younger, more progressive Darling took first in the primary, and The Machine since redirected its campaign dollars to the front runner candidate, like water finding new cracks in the earth to exploit.
If you go back further, you'll see some of the same players that funded PACs for Mayor Eric Garcetti are now shoveling money to Bass for Mayor. We even have incumbents and alleged racists de Leon and Cedillo benefiting from large amounts of independent expenditures this year.
Meanwhile, these PACs have found harmony joining forces with the far left, "Progressive" brand of Berkeley politics. Together, they are funding a renaissance of Marxist politicians—Darling, Hernandez, Soto-Martinez, and Yaroslavsky—who are now odds-on favorites to be our next leaders.
If elected, I predict that these activists will accelerate the redistribution of wealth from the middle class to the ruling class in the form of lucrative development contracts and transfer of public lands utilized by middle class Angelenos, all while patting themselves on the back for being true social justice warriors. The Machine will again win, having assured it will be the recipient billions in public contracts to build the future institutionalized projects all but the wealthiest are relegated to live in.
Michael Jensen is a volunteer for the Venice Land Use and Planning Committee and is a Venice attorney.