Second Person Pleads Guilty in DWP Scandal
The former head of the Department of Water & Power, David Wright, who was appointed by Mayor Eric Garcetti in 2016 and resigned in 2019, will plead guilty to bribery on Friday, federal investigators announced.
This is now the first government official and second person to face criminal charges regarding the DWP billing scandal, which began in 2013. Wright's guilty plea pertains to taking bribes from Paul O. Paradis, the former special counsel hired by City Attorney Mike Feuer.
Paradis, on November 29, agreed to plead guilty to bribery over the DWP mess and is cooperating with the federal government in its ongoing investigation.
Wright was the third General Manager appointed by Garcetti. A 2019 Viewpoint on City Watch ("Can a General Manager from the Ranks Save DWP?") spoke about Garcetti's appointment of the fourth and current GM, Martin Adams.
The article noted that some of the problems in the DWP occur because "The Mayor's staff approves every item that goes before the DWP Board and makes engineering decisions. The Department is not allowed to hire its own lawyers. It must use the City Attorney exclusively. (If outside counsel is needed, the City Attorney selects the firms). When the City Council asks (as is its right) that DWP study what it would take to make the city's power system use 100 percent renewable energy, DWP launches a multi-million-dollar study with a national consulting company that is still underway."
The FBI said it is investigating the DWP and other City officials and asks any member of the public who has information related to this or any other public corruption matters in the City of Los Angeles to send information to the FBI's email tip line at pctips-losangeles@fbi.gov or to contact the FBI's Los Angeles Field Office at (310) 477-6565.
Education Loss Worse Than Expected
The Wall Street Journal editorial today ("Remote Learning Fails the Test") stated, "A National Bureau of Economic Research paper, with researchers at Brown University, University of Nebraska-Lincoln and MIT, showed that remote and hybrid learning seem inferior to in-person learning. The paper was based on results from 12 states — Colorado, Connecticut, Florida, Massachusetts, Minnesota, Nevada, Ohio, Rhode Island, Virginia, West Virginia, Wisconsin and Wyoming, which were selected because of having at least two years pre-pandemic test scores, no significant testing changes over this period and statewide 2021 participation rates of about 50 percent."
The study found that there were considerable declines in test scores overall during the 2020-21 school year, and these declines were larger in school districts with less in-person instruction.
"Students in districts with larger populations of Black and Hispanic students, for example, were less likely to have access to in-person learning. In addition, in ELA in particular, the [negative] consequences of distanced learning were larger in districts with these demographics." (Visit: https://www.nber.org/system/files/working_papers/w29497/w29497.pdf)
The Journal wrote that damage of school shutdowns and remote learning "reduced student achievement, especially for low-income and minority children."
Great Public Schools wrote in a 2021 study looking at LAUSD that "Huge numbers of students missed out on three months of learning in the spring. About 40% of LAUSD middle and high schoolers were disengaged or absent from classes in spring 2020. (https://greatpublicschoolsnow.org/educationalrecoverynow/)
"These numbers are likely even higher for elementary students who had even higher rates of absence, but whose engagement is not adequately captured in the system. Many continued to be disengaged through the fall.
"Over 13,000 middle and high school students were consistently disengaged in fall 2020. An additional 56,000 did not actively participate on a daily basis.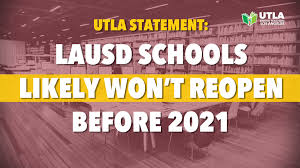 "Two out of every three students are falling behind in literacy and math. Fewer young students of color are on target to learn how to read compared to this same time last year (2019-20 school year)."
"The closures have deepened and accelerated existing inequities. Across all academic progress indicators above, students of color, low-income students, English learners, foster youth, students with disabilities and homeless students have been set back further than their more advantaged peers.
Huge numbers of high school students are at risk of not graduating. If high school students are not supported to catch up quickly, as of March 2021,4 20% of the class of 2021, 43% of the class of 2022, 37% of the class of 2023, and 30% of the class of 2024 will not graduate. That is to say that within the next four years alone, 40,000 current LAUSD high school students or more are at-risk and could potentially not earn their high school diploma."