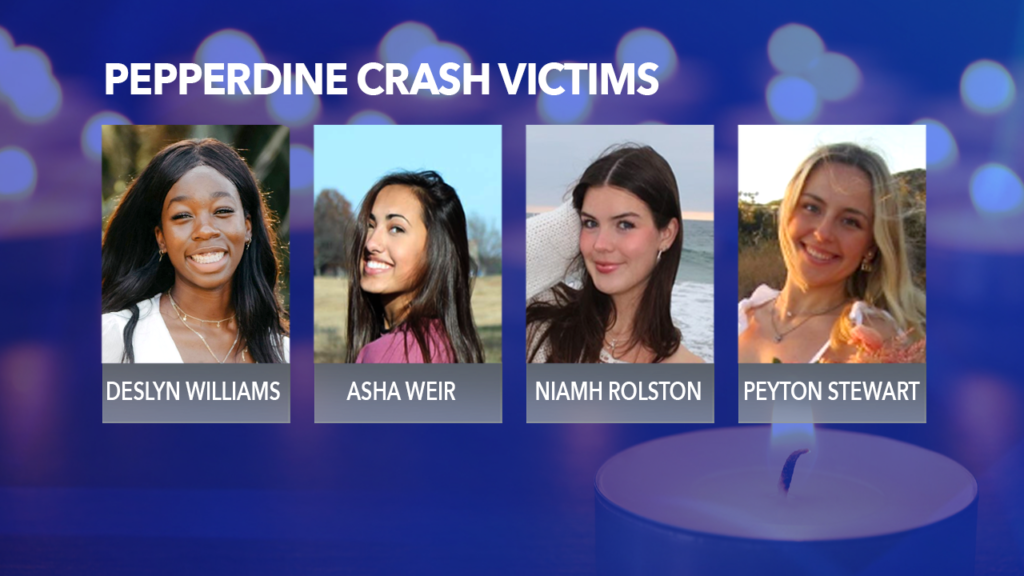 Four young Pepperdine students standing on the side of Pacific Coast Highway near parked vehicles were killed around 8:30 p.m. on October 17. Two other people were injured.
Fraser Michael Bohm, 22 of Malibu, was driving westbound when he lost control of his four-door sedan along a stretch of road known to locals as "Dead Man's Curve."
According to Malibu Lost Hills Sheriff's Captain Jennifer Seetoo, Bohm swerved onto the north shoulder of the highway and collided with three parked vehicles.
"Subsequently, those vehicles hit four female adults standing on the side of the roadway near the parked vehicles," Seetoo said. "The four females were pronounced dead at the scene."
The four, Niamh Rolston, 20, Peyton Stewart ,21, Asha Weir, 21,  Deslyn Williams, 21, were seniors at the Seaver College of Liberal Arts at Pepperdine and were also sorority sisters.
Bohm, who suffered minor scratches and bruises in the crash, was taken into custody at the scene, sheriff's officials said. A sobriety test was administered, but drugs and alcohol were not a considered a factor.
He was arrested on suspicion of vehicular manslaughter with gross negligence but released from custody Wednesday morning as the investigation continued.
According to data from the Statewide Integrated Traffic Records System obtained through UC Berkeley's Transportation Injury Mapping System, between 2018 and 2022, there were 22 deadly crashes in Malibu on PCH, which killed 23 people.
Jim Gash, President and CEO of Pepperdine, released a letter addressed to the Pepperdine family on October 18.
"Earlier today, we learned that four precious lives who brought joy and light to our campus were taken from us suddenly, tragically, and incomprehensibly. Indeed, one of the greatest mysteries of life is when and why our time on this earth is cut short. In such times, we hold firm to our faith in the God who sustains and nourishes us even when—and especially when—we experience life's most significant losses.
"As a parent, the loss of a child is an unimaginable tragedy. No words can appropriately convey the depth of my sympathy to the families who are living through a reality no parent would ever want to endure. You are not alone. Pepperdine stands with you as you traverse these challenging waters."
He concluded, "When the weight of grief feels insurmountable and we find ourselves walking in a dark valley, my hope is that we experience the comfort and presence of our God who promises to walk with us and give us strength."
He promised that "In the days ahead, we will come together in meaningful ways to honor and celebrate the lives of the remarkable individuals lost to this unthinkable tragedy."
A prayer service was held at Pepperdine's Firestone Fieldhouse, today, October 19 in memory of the students who died. The university urged students in need to contact the school's Counseling Center, which would have counselors available around the clock.
Captain Seetoo made an impassioned plea to the public to slow down while driving on PCH, saying the street is the scene of too many horrific crashes that have claimed lives in the past. "We've got to do something about it. So that's my call to action to the community — let's partner together to save lives. Elected officials, I need your help. Let's partner together to save lives."