The Beach Detail discovered a well-hidden homeless camp on the downward side of Temescal Canyon Road, across the street from the food trucks.
Early on March 4, LAPD officers cited three men for illegally camping in the very high fire severity zone.
The men collected their personal gear, and then Pacific Palisades Task Force on Homelessness co-president Sharon Kilbride, volunteer Bruce Schwartz and another volunteer went to the site around 7 a.m.
To get to where the tent structure was situated, involved crawling up the side of a hill, along a cement drain and then under and through brush.
One of the beach detail officers suggested cutting some of the branches, so the area could be more easily accessed.
Kilbride and the volunteer went to the top and started filling large garbage bags.
Volunteers discovered tools, such as wrenches, bicycle parts, including wheels, and bicycle inner tubes.
There were numerous discarded pieces of clothing and blankets, a golf club, discarded phone, sacks of garbage, and discarded cigarette butts. The large tent was covered by blue tarp, and was under branches, making it difficult to see, unless one was right next to it.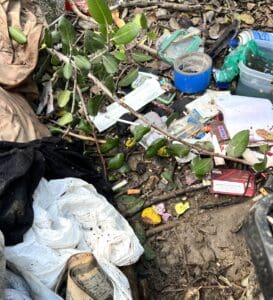 Schwartz and an officer helped trim a few branches, so that carrying the garbage bags out of the area was easier.
Once the bags were filled at the site, they were carried halfway down the hill, and then Schwartz carried them the remainder of the way and put them in his pickup truck. When the cleanup was finished, the entire pickup bed was filled.
With branches cleared, it will now also be easier for officers to access this area.
CALTRANS WALL:
There have been two fires that started behind the wall along PCH below the Huntington Palisades, in October and in February. Both times evidence of encampments was found.
On February 14, during a task force, organized by Senior Lead Officer Brian Espin, the area was cleaned of trash. Subsequently, Caltrans came and cleaned the area of brush.
On Tuesday, the Beach detail checked behind the wall and discovered the area, was once again the site of illegal activity. A shovel had been found with even more digging in the "tunnel" that had been reported earlier to Caltrans. Evidence of a fire was found in the cavity.
A PPTFH volunteer Carlos Rodriguez, cleaned it up and LAPD put up a crime scene tape to serve as a deterrent. Once again Caltrans was contacted and asked to seal the tunnel.