During Covid-19, finding a "sport" that everyone can participate in safely is absolutely trying. But the Missions Committee of the Palisades Presbyterian Church has come up with a fun activity for the whole community.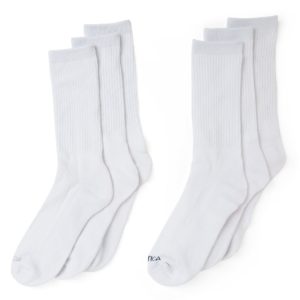 The Sock Drive 'N' Dunk will be held from 12:30 to 1:30 p.m. this Sunday, August 16, at the church parking lot, 15821 Sunset Blvd.
Just drive into the parking lot for a chance to shoot hoops from your car windows using bundles of (new) socks, which you provide. To play, you need three 3-packs of new white cotton tube socks or a $20 donation. The socks will be donated to the Pacific Palisades Task Force on Homelessness to be given to clients.
"Everyone wins a chance to wave at friends and sing along with old Beach Boys hits, and the knowledge you've supported our PPTFH Outreach team as they help a few more clients walk comfier," said organizer Nina Kidd. "A $20 donation still goes a long way, when it goes for cotton socks."
And. . .THERE ARE PRIZES for the most sunk baskets, which may include a roll of toilet paper, a balloon and a See's lollipop.
The need is great, and the community is invited to participate in this fundraiser.