It might be helpful if Pacific Palisades residents weigh in with the Bureau of Street Services and with Councilman Traci Park's office about a fix for Temescal Canyon Road (contacts at the end of the story) before Palisades High School resumes on August 17 with students.
The road which has been under resurfacing since November 2022, has now been repainted to have only one downhill lane for part of the road.
Bureau of Street Services Senior Advisor Dan Halden sent a July 27 email update to several community members.
"The Bureau of Engineering (BOE) has developed a mitigation plan to address the seepage. It will involve some trench work and the installation of an underground pipe that will prevent the water from continuing to damage the surface of the roadway.
"Once the trench is dug and the pipe is installed, asphalt will be laid on top, once again making the street whole," said Halden, adding that funding needed to be found to complete the job and a decision had to be made who will do it, the City or an outside contractor.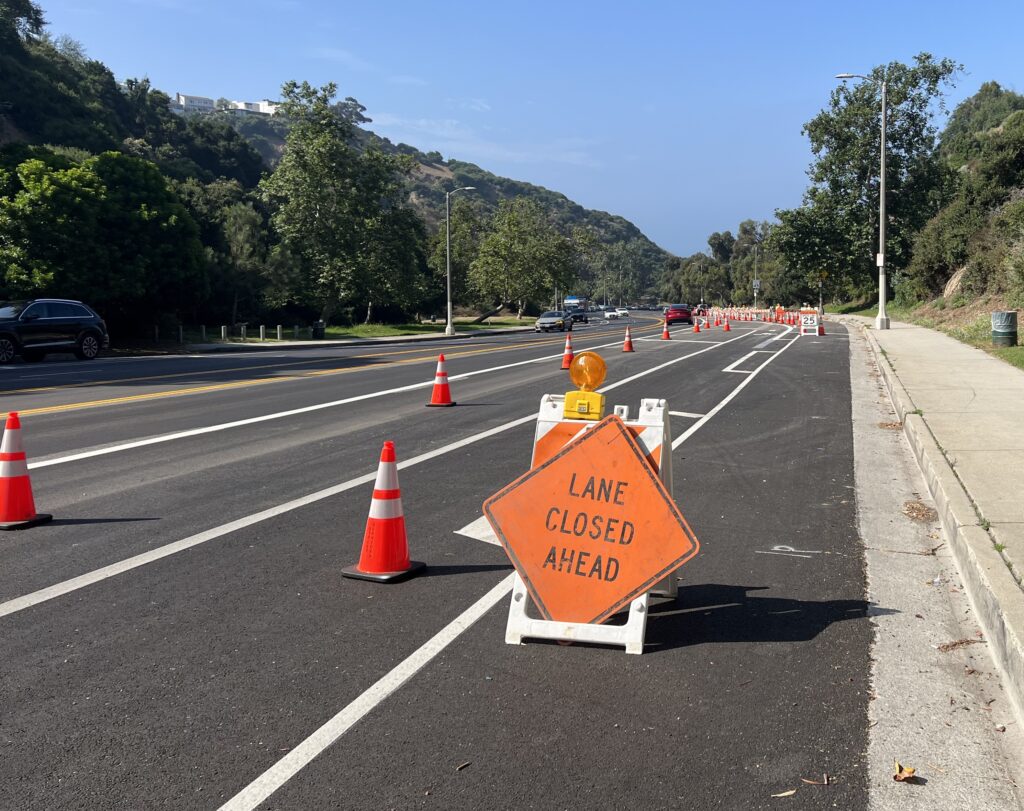 CTN wrote Halden on July 27 and asked, "Will this road be fixed before Palisades High School resumes with students on August 17–there are nearly 3,000 students at that school – which is just up the street from the now single lane. The road is heavily used during the school year.
"If Palisades has to undergo an evacuation, again, because of a fire, there are only three roads in and out of Pacific Palisades and this is one of them– Is there no emergency money available to ensure the safety of the residents if they are required to evacuate?"
He responded the same day, "I'll get back to you once I have a bit more information."
Councilmember Traci Park's office was asked for a comment and also responded, "Our office has been in contact with the Bureau of Street Services in regards to the Temescal Canyon Road project. We are working to get the community more information and will pass it on to you as soon as we have it."
President of Pacific Palisades Community Council Maryam Zar wrote Halden on July 28, "I've talked to some folks at LAUSD and they implore street services to please prioritize the repair of Temescal Cyn Rd. and its restoration to full working order, asap.
"Is there anything the community can do to help bolster the priority of this work? I can certainly ask PPCC to express our sense of urgency to the Council Office and BOE," Zar wrote. "I think Pali High Admin would also be willing to urge timely repairs prior to school opening and I'm sure the parent Booster club would also be willing to chime in. Would the voice of the community help spur some urgency?"
Zar also cc'd Park's field deputy Michael Amster and asked, "Can the Council District use discretionary funds on this until a reimbursement perhaps from BOE can be secured?"
Lou Kamer, who is the transportation advisor for PPCC, sent a July 28 email to Halden. "Temescal is one of three primary evacuation routes in case of wildfire or disaster, as well as the route for students and teachers from over 120 zip codes throughout L.A.
"Additionally, at Temescal/PCH, the signal timing is fixed by Caltrans to limit congestion on PCH. It will not automatically adapt to backup caused by lane closures," Kamer said. "This already causes significant backups during the school year on Temescal to Bowdoin even without any lane closures.
"To minimize disruption, unnecessary cost and involvement of multiple agencies (including OEM, LAPD, LAUSD, Caltrans, LAFD and LAPD) it would be best to complete the repairs before it becomes an issue.
"Please let me know if there is anything we can do to help achieve this or if we need to involve all agencies to reduce the impact of this issue," Kamer said.
Bill Bruns added, "Somehow, the Caltrans people have to be brought to the table — and explain how they operate the timing for the Temescal signal. Even in late morning, early afternoon, with PCH traffic moving along quite well, the green light from Temescal to PCH–with traffic backed up on Temescal–will last only 30-45 seconds, creating an even longer wait for cars, all of them idling and emitting toxic fumes."
Contact: Halden at Daniel.halden@lacity.org, contact Amstar at Michael.Amster @lacity.org and Park at councilmember.park@lacity.org and Caltrans D7inquiries@dot.ca.gov.