During public comment at the January 21 meeting of the L.A. Department of Recreation and Park Commissioners, three different Venice residents made statements about their local park — and it was chilling.
"It is a complete and total breakdown of society," one said, noting that there were 213 tents in an 18-block area.
"There is no access to our iconic beach park," another resident said, noting that the homeless activity at Venice Beach Park has resulted in societal norms being replaced; social order and law has been abandoned, leaving anarchy.
A third resident urged commissioners to come down and see it with their own eyes. "This is a Venice Beach Park crisis," she said. "This harms tourists, small businesses, residents and the unhoused."
"This is a park, not a campground. Help stop the destruction of this park,"
The three spoke about the cooking fires, the most recent of which burned a 1953 building down on January 18. Part of a homeless encampment with several tents located next to the building also appeared to have burned. The fire appeared to spread from that area to the adjacent commercial building, the fire department said.
Six fires were reported in less than a month between September and October.
The resident noted that crime was up 42 percent year to date, that there is rampant drug use, women have been assaulted and that it was unsanitary and unsafe. "This is a violation of basic human rights."
These residents also pointed out that this park was making lists of "places not recommended for tourists."
Circling the News checked a tourist site, and the first entry was "This is Venice 2021, not the Venice You Remember' and wrote: "If you like cantankerous homeless people, a lot of stank and things looking super run down with the random homeless fire to avoid, then this is the place for you."
A second entry was titled "Filthy, Dirty and Homeless Everywhere," and the author wrote: "I grew up in California in the late 70s and early 80s and wanted to show my adult daughter some of the beaches me and my friends used to go to 'back in the day.'
"I was last here when my younger brother was at UCLA in the 90s and WOW what a change. I was embarrassed that I even brought her here. It was dirty, broken down, with homeless everywhere — either in tents or roaming around. Gone are the days of shopping, outdoor cafes, bands and roller skating/roller blading.
"Life and cities change and evolve, for sure, but all of the city leaders in Venice Beach should be fired for what happened here. I feel sorry for the business owners and the homeowners who pay taxes in a city completely ruined."
A third person wrote, "Disgusting. Homeless everywhere, absolutely disgusting smell walking by tents. We even saw a tent on fire! Police would walk right by the homeless who were swearing at people for no reason, and not do a thing. That was the last time we have a family vacation to California. If you're thinking of visiting Venice Beach, I highly discourage it because it is not a good place for a family."
On another site. CTN found this description of the world-famous Venice Ocean Front Walk: "There's something for everyone on the concrete boardwalk: on one side there are specialty shops, restaurants and uniquely designed residences, and on the other a myriad of street performers, artists, fortune tellers and much more."
The last description was how Circling the News remembered the Ocean Walk. When my children were young, we'd bike down Temescal to the bike path and go to Venice. We'd have lunch, walk around and then bike back to the Palisades.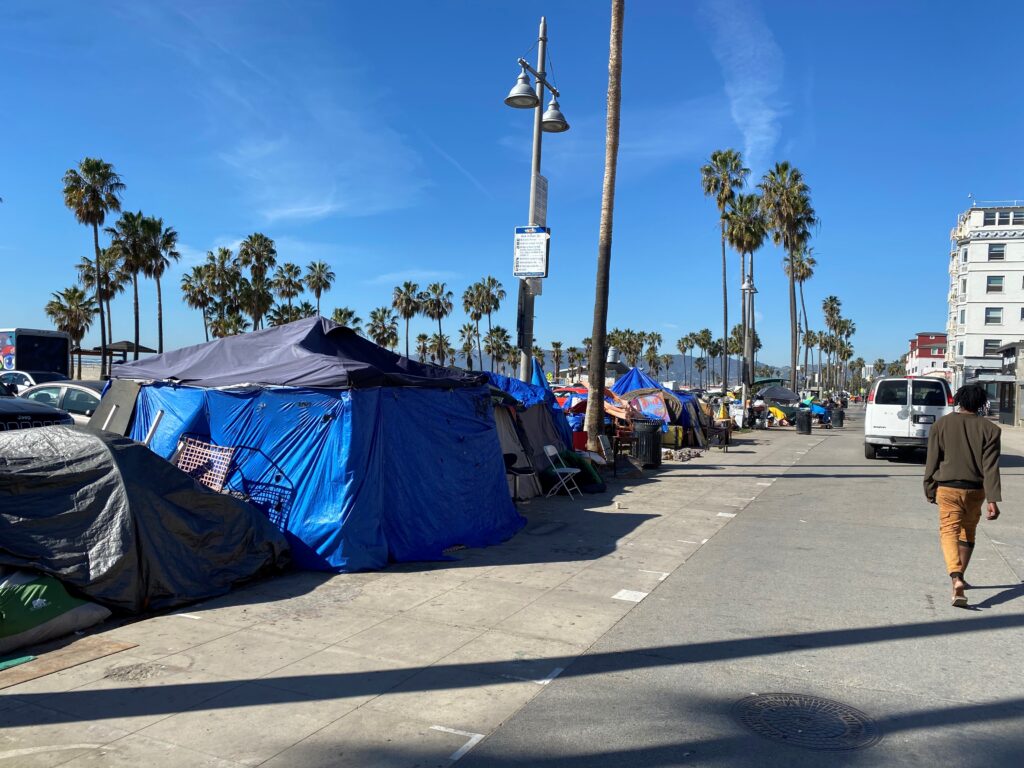 CTN went to Venice on Friday at 2 p.m. to see which description fit.
Homeless tents lined the sand, and garbage and discarded belongings littered the sidewalk. Drug use was in evidence and I was glad I had a male companion accompanying me.
Generally, a nice sunny afternoon meant that people would be outside walking—even in Covid times, but the street was vacant, and stores were boarded up.
At the Venice Rec Center, homeless people have taken over the handball courts and tents were stacked against the buildings and close to the skate area. People were in various stages of dress and undress.
I spoke to a person in the Rec Center and asked why tents were allowed on the courts and he said that because of Covid no one was allowed to move the homeless. He said that the police have been told to step back.
CTN spoke to two policemen who were taking a statement from a young girl, who had been harassed by some guys. I asked one of the LAPD if they were told to step back and he said, "No, we still make arrests."
A shopkeeper was putting up a plywood board because the window had been shattered in the morning. She said that she had called the police, but by the time they got there, the vagrant was gone. She said the police couldn't do anything.
Two additional LAPD officers were speaking to a homeless individual who was standing in front of a tent, drinking a beer. Another homeless individual, most likely with mental issues, came by, screaming that he needed a light and asked me and the officers if they had one. They told him "No."
Officers told me they can cite people for tents in the park, which is against the law. They can cite for open alcohol cans and drug use. But that those who are given citations rarely show in court, and basically nothing happens.
I took a photo and one young man screamed at me that I needed to pay him for the photo because I wasn't homeless.
There were lots of dogs in tents along the area.
At the Rec and Park meeting, Emergency Management Division Superintendent Jimmy Kim addressed the Venice Park problem.
"If there are safety concerns, we will assist in cleanups. If an encampment is blocking an amenity such as a playground, it can be moved. LAPD has already identified a couple of encampments. There will probably be a cleanup in the next couple of weeks."
One commissioner noted that there is compassion for the homeless but questioned taking away open spaces from other community members. Residents are staying away from parks because they are worried about safety. (After CTN's experience in Venice, it is not an unplaced worry.)
"We don't want to lose sight of the rights of other community members. We cannot sacrifice one for the sake of the other," the commissioner said.