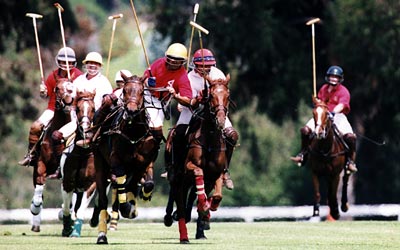 A resident told CTN last week, "I just got back from my evening visit to Will Rogers State Park," where she noticed horses, trailers and staff in the lower parking lot. She learned that weekend polo has resumed on the only polo field in Los Angeles.
"I am so excited," she said. "It's been a long time since there was a polo match at the Park."
The Will Rogers Polo Club schedule is online (http://www.willrogerspolo.org/schedule.html.) Generally, games are Saturdays from 2 to 5 p.m. and on Sundays from 10 a.m. to 1 p.m. There will be no matches over the July 4th weekend, but they will resume on July 10-11 and 17-18, with a Women's Tournament and Club Chukkers on July 24-25.
Matches are scheduled every weekend in August, including the   10th Anniversary Dog Iron Polo Cup on August 14 and 15. The last scheduled match is the 53rd Annual Will Rogers Memorial Tournament September 25-26.
According to historians, Will Rogers was extraordinarily skilled in the saddle and had a natural talent for polo. Rated as a three-goal player at his death, Rogers had played as high as five goals.
In a 1929 match at the Uplifters Club in Rustic Canyon, while playing with his longtime friend, movie producer Hal Roach (a three-goal player), Rogers scored eight of his team's 14 goals, including four goals in a single chukker.
Rogers's legacy–both philanthropic and paternal–continues to advance the sport of polo. The field and stables he built at his ranch a few blocks off Sunset Boulevard are now the Will Rogers Polo Club. It is the only grass polo field in Los Angeles County.
The polo fields at the Uplifters and Riviera clubs, where Rogers often played, have long since been razed. The field Rogers built, located inside today's Will Rogers State Historic Park, currently hosts regular tournaments and has become a regional center for polo.
If a resident has never seen a polo match, this makes a nice outing. Pack refreshments but don't sit too close, because the horses go full speed. Spectators during the intermission (halftime) that comes between the second and third chukkers go onto the field, search out clumps of grass and divots that have been unearthed by the hooves, and toe them back into the ground. The polo website has a nice tutorial about understanding the "game of kings."
MOVIES AT WILL ROGERS PARK:
Street Food Cinema will return with movies at Will Rogers State Historic Park, in front of the Will Rogers House.
On July 10, "Mean Girls" is playing, with music by B.Bravo, and food trucks that include Stout Burger, Dina's Dumplings (Asian), Poutine Brothers (American) and Cinnabon for dessert.
July 14 will be "Butch Cassidy and the Sundance Kid" with music provided by Patrolled by Radar. Food trucks available will be Thai Mex Cocina (Asian fusion), Tokyo Style Food Truck (Asian) and Cinnabon for dessert.
August 21 is "Big," starring Palisades resident Tom Hanks. Food and music to be announced.
All tickets must be purchased online. There will be no tickets sold at the gate, which opens at 5:30 p.m., with the movie starting at 8:30. Additionally, those guests with fully-vaccinated GA Admission will be required to present both a valid ID and a Covid-19 vaccine card at check in. There will be pod seating onsite and small children are included in pod allotment. (Visit: streetfoodcinema.com)