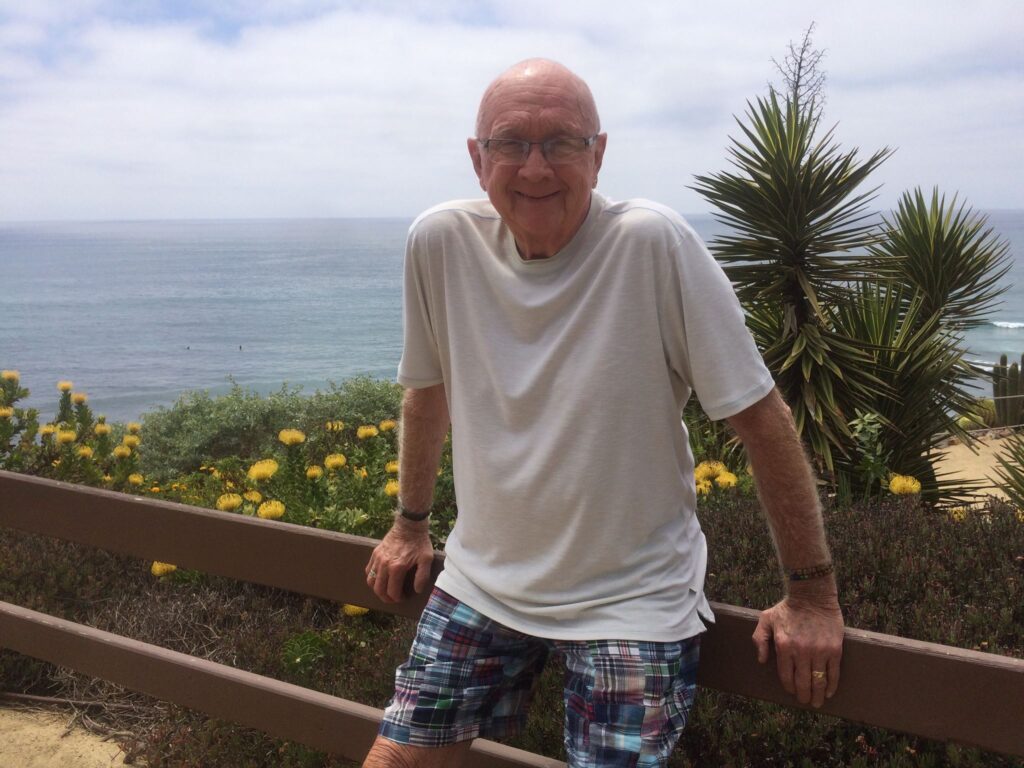 The Southern California book community lost one of its finest ambassadors on January 17, with the passing of longtime book rep and former Pacific Palisades resident, Chuck Morrell in Rancho Santa Margarita. He was 88. He had been in declining health recently after living an active lifestyle of travel and leisure in his retirement years.
Chuck spent more than 60 years as a publisher's rep with long stints at Doubleday and St. Martin's Press, as well as multiple commission lines. After retiring from St. Martin's, he became sales manager for Angel City Press in Santa Monica, and his efforts there quickly helped the small company flourish.
He also formed an author escort service that hosted touring writers who were promoting their latest books. Chuck worked with scores of bestselling literary writers such as Lisa See, Tom Wolfe, Scott Turow and Jerzy Kosinski.
He also hosted celebrities from the entertainment world, including actor Gene Wilder, singer Eddie Fisher, comedienne Phyllis Diller, Monty Python star Michael Palin, NBA star Shaquille O'Neal and Chuck's longtime friend and silent film star Diana Serra Cary ("Whatever Happened to Baby Peggy?")
Chuck was widely admired for his enthusiasm and dedication, plus his remarkable spirit—but it was his true passion for books that was so appreciated by scores of booksellers across his Southwestern territory.
Los Angeles book publicist Jacqueline Green said, "We will all miss Chuck, his knowledge, kindness and that big smile of his." Former Random House rep Sandy Pollack of West Hollywood summed it up concisely: "He was simply the best of us."
Chuck was born in Newark, New Jersey, and attended Bloomfield High School and Upsala College in East Orange. He married his wife Carol in 1958.
He and his family lived in Pacific Palisades for 34 years during two separate periods, beginning in the late 1960s, which was briefly interrupted by what Chuck called "a layover" in Malibu. They eventually built a new home in Palm Desert, where they encountered numerous obstacles in trying to adapt to life in the desert.
In fact, their old friend Al Martinez wrote one of his most entertaining LA Times columns about their desert misadventures. He likened the Morrell's woes in dealing with Palm Desert's oppressive heat, blowing dust and stinging ants to the Prophet Job's Old Testament torment.
Chuck and Carol then headed for the friendly confines of the Orange County enclaves of Coto de Caza and Rancho Santa Margarita, where they could be near their grandchildren and daughter Robin and son-in-law James.
Chuck is survived by his wife Carol Morrell of Rancho Santa Margarita, daughter Robin Morrell Horvitz (husband James) of Coto de Caza, son Bob Morrell of South Lake Tahoe, as well as five grandchildren.
The co-publisher of Angel City Press, Paddy Calistro McAuley, spoke about Chuck after his passing. "I keep thinking about how he came to us and saved our company, and how we are called Angel City Press—and how appropriate it is that Chuck is now a full-fledged 'angel.'"
There will be an "after-party" gathering of friends and family on March 5, which will be held in Coto de Caza.
The Morrell family will also honor Chuck at his favorite spot on earth, the North Shore of Hawaii, with a traditional "paddle-out" by local surfers who will spread his ashes in the emerald green waters of the Pacific.
 (Story contributed to CTN by Bob Vickrey)