Gianbattista and Marlo Vinzoni have announced their newest venture Deliziosocinque, a delicatessen.
The deli will open Tuesday, January 31, and will be located in the former space of Sweet Rose Creamery at 970 Monument, #103. The hours are 7:30 a.m. to 5 p.m. daily, Tuesday through Saturday and 7:30 a.m. to 3 p.m. on Sunday.
That means that Palisadians will finally be able to buy croissants, plain, chocolate, sugar, pesto with cherry tomato, pork belly with cheese and almond, without having to pre-order. Just stop by early before they are sold out. These croissants were rated the Best of L.A. by La Magazine last July. (This editor is a huge fan of the almond, which has just the right amount of flakiness with filling.)
But that's not all.  Daily, there will be pizza by the slice, a selection of four to five different soups, such as minestrone, lentil and polpette (meatball soup). Chef Gianba said he has 25 to 30 soups he can prepare, and they will rotate weekly, following the season.
Marlo said, "We have lots of gluten-free options." (The Vinzoni's have two children who attend local schools and the couple's daughter follows a gluten-free diet.)
There will be a choice of four to six sandwiches daily, such as the chicken eggplant, caprese, or prosciutto, and it will come with a choice of a side of mixed green salad or potato salad (pee wee potatoes, green onions, dijonaise).
And there will be "grab-and-go" options for people who are walking their children to school and want an easy and nutritious lunch for a child, but didn't have time to make one.
"We'll see what moves fast," Gianba said, noting that will help them determine the menu, based on residents preferences.
"We're going to accommodate everyone and make them happy," said, Gianba, who is also the chef of Cinque Terre West, the nearby Italian eatery.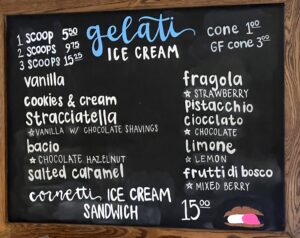 For the afterschool crowd, there will be gelati.
The co-owners, who have lived in Pacific Palisades for nearly two decades, emphasize this is a deli for the community.
Local students, such as Gabriella Wahlig, is going to help with the specials on the chalkboard, and Spencer Rawnsley, who recently graduated from Chapman, will help with social media.
"It's in the community, so we're building a community," Marlo said.
Chef Gianba said that people could bring their food from the deli and sit in the outdoor patio by Cinque Terre. If a customer wants beer or wine with lunch, one will be able to purchase it at Cinque Terre.
The couple are also looking for employees, specifically, someone who can help in the mornings.
The couple opened the popular Cinque Terre West Osteria in May 2019, serving regional Ligurian dishes, using locally sourced food.
Locals loved the food, and one wrote: "This is one of the 'off the beaten path' must-go to Italian restaurants between Santa Monica and Malibu. The porterhouse steak and roasted potatoes, truffle pasta are to die for and there are amazing pizzas. The brocollini and other veggies are fresh and so well-prepared."
Covid shut down many businesses, but this restaurant continued to prepare take-out food for local residents, and curbside service.
In August 2021, Vonzonis opened a wine bar, Enoteca 5, in which the couple introduce different wine makers to the Palisades, and Chef Gianba prepares cuisine to accompany the tastings.
Enoteca Cinque also offers a membership deal for restaurant goers, that includes special wine tastings, at least once a month with winemakers. The tasting includes food pairings for members and one guest. Membership also includes access to Cinque Terre's secret wine list and 15% off meals (Tuesday-Thursday) at Cinque Terre West for the member and one guest.
The Vinzonis invite you to stop by and try the new deli – and if you've already had lunch, there's always room for gelato.