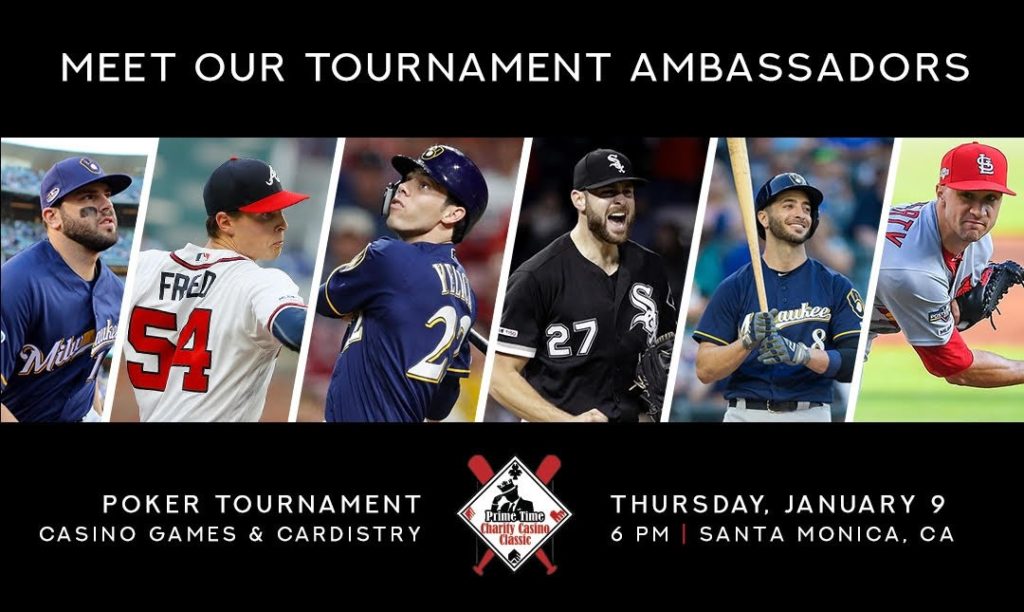 The second annual Brothers Heineman Prime Time Charity Casino Classic will be held from 6 to 11 p.m. on Thursday, January 9, in Santa Monica at the historic Women's Club, 1210 Fourth St.
The fundraiser is hosted by Major League Baseball players Tyler and Scott Heineman, who grew up in Pacific Palisades, and will feature six additional major league players. This is a chance for baseball lovers to meet and chat with the pros while supporting a good cause.
Tyler, a catcher, finished last season with the Miami Marlins and just signed with the San Francisco Giants. Scott, an outfielder and first baseman, plays with the Texas Rangers.
Other participating ballplayers include Milwaukee outfielder Ryan Braun, who was the 2011 National League MVP, a six-time All-Star and five-time Silver Slugger; and Christian Yelich,  the 2018 National League MVP, a two-time All-Star and two-time National League batting champ.
Also in the lineup are three pitchers who attended Harvard-Westlake: Jack Flaherty, who is with the St. Louis Cardinals; Max Fried, who pitches for the Atlanta Braves and Lucas Giolito, a 2019 All-Star with the Chicago White Sox.
On deck is infielder Mike Moustakas, a three-time All-Star who played for Kansas City when it won the 2015 World Series. On December 5, he signed a four-year, $64 million deal with the Cincinnati Reds – the largest free-agent signing in Reds franchise history.
The money raised through this event will benefit Team Prime Time, a 501 (c)(3) organization that allows special needs kids (including those with autism and Down's syndrome) to be on school athletic teams in low-income areas in Los Angeles.
The coaches for the teams are generally varsity players from the high school. "Our approach is to take those perceived as needing mentors and make them the mentors for their peers with disabilities," said the Heineman brothers.
And it works. The kids who serve as peer coaches have had a 98 percent high school graduation rate (LAUSD has a 68 percent average). And 85 percent of them have gone on to college, trade school or find full-time employment.
Those coaches, who may have been struggling with school before having a team, were asked about their improvement in school. Prime Time said the most common answer was, "I did not want to disappoint my athlete."
Former Palisades resident Wade Clement is the program manager for Team Prime Time.
"The Prime Time Casino Classic is the primary driver for Team Prime Time's 2020 goal of adding an additional 40 schools in the Prime Time Games," Clement told Circling the News. "Join our Tournament Ambassadors in helping to give underserved kids the opportunity to benefit from Team Sports."
Fifty schools currently participate in Prime Time, with about 1,000 students having the opportunity to play each year. Soccer, flag football and basketball are the sports that are provided for the kids.
There are two ways to participate in next week's casino games and silent auction, either by purchasing individual tickets or through a sponsorship. The levels start at $1,000 for a Base Hit sponsor all the way to $20,000 for a Grand Slam Sponsor.
Visit: bidpal.net/primetimecasionoclassic or email Clement: wade.clement@teamprimetime.org or visit: TeamPrimeTime.org.