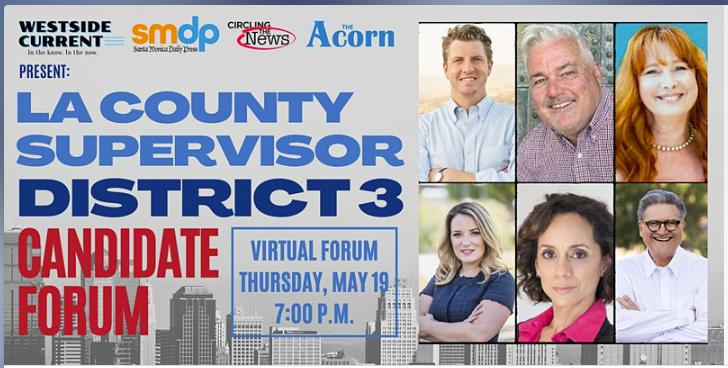 If a resident has not voted early for the L.A. Country Third Supervisor race, The Acorn, Circling the News, the Santa Monica Daily Press and the Westside Current will co-host a candidate forum on May 19. (To secure your (virtual) spot click here.) Learn more about each person, before casting your ballot.
The race to fill the seat of Supervisor Sheila Kuehl include candidates: State Senator Henry Stern, State Senator Robert Hertzberg, West Hollywood City Councilmember Lindsey Horvath, Craig Brill, Jeffi Girgenti and Roxanne Beckford Hoge.
This District, with nearly two million residents, has a population larger than 14 states and Washington, D.C. The territory extends to the western boundary of both Los Angeles City and Los Angeles County and is considered one of the most powerful in California.
The five LA County Supervisors are responsible for a $38.5 billion budget, which includes line items for mental health, foster care, LA Metro Rail, the Board of Education and the Sheriff's Department.
The Board of Supervisors acts as a city council of sorts for 125 unincorporated areas in Los Angeles, including Marina del Rey, Cornell, Malibu Canyon and Calabasas.
The board also has the power to appoint the director of the LA County Public Health Department.
On May 5, Los Angeles County Supervisor Sheila Kuehl, who is termed out of offices, cast one of two dissenting votes on a series of recommendations to streamline and improve the response to homelessness.
Most of the board members consider the move to be a step in the right direction, but Kuehl questioned whether the proposals would have any real impact and compared them to "rearranging deck chairs on the Titanic."
During Kuehl's time in office, she helped create a Sheriff's Oversight Commission and oversight of the Probation Department. Kuehl also helped support the creation of the Office of Child Protection and was instrumental in increasing the minimum wage.
Candidates looking to fill her seat will find themselves in the middle of some of the most substantial and controversial problems facing the County, including homelessness, mental illness, public safety and the closure of the Men's Central Jail.
County supervisorial district lines were redrawn last year, and the district now stretches from part of Venice to West L.A. and to the Conejo and San Fernando Valleys.