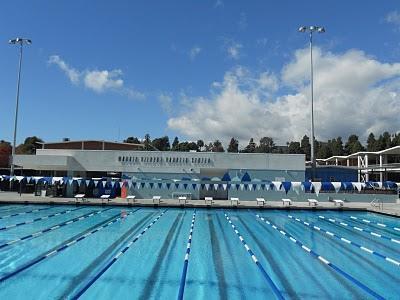 Circling the News received an October 10 email from Brooke King, the Aquatics director at the Maggie Gilbert pool on the Palisades High campus.
"I have good news," King said. "The pool has re-opened for lap swim (reservation only.)"
CTN visited the link below and has signed up for a time slot on Friday, October 16.
https://www.palihigh.org/apps/pages/index.jsp?uREC_ID=411467&type=d
King explained that all memberships are on hold until the pool is able to re-open without restrictions. "All credits are kept on file and will be honored," she said.
Once on the website, one can make a reservation to lap swim on Thursdays, Fridays or Saturdays from 12:30 to 3 p.m. Payment may be made via credit cards or Paypal.
There are 13 lanes available in the large pool and two lanes in the small pool. There are 50-minute time slots. Swimmers will not be allowed to use the dressing rooms. Parking is available in the upper stadium parking lot or along Temescal Canyon Road.
A liability agreement must be signed on registering. Swimmers will line up outside the Temescal/Main gate and must have swimsuits and masks on. They must also bring one's own equipment and water bottles.
All swimmers must pass a health check before entering the facility and those with a fever of 100.4 degrees or higher may not enter.