RESTAURANTS:
Not surprisingly, Mother's Day is typically the busiest day of the year for restaurants. Given the Covid-19 restrictions, Circling the News urges everyone to order in advance from your favorite restaurant, so that the chef has sufficient supplies of food nobody at home has to cook.
Several local restaurants contacted CTN with specials: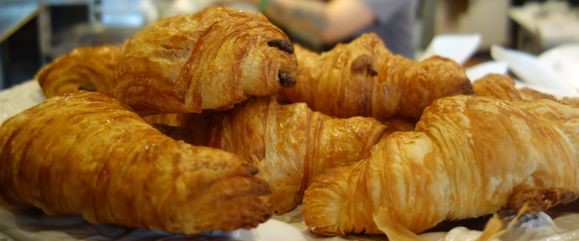 Cinque Terre West, which just celebrated its first anniversary, is open for Mother's Day Brunch from 8:30 to 11 a.m. on Sunday. Choose between the omelet (kale, tomato, goat cheese, baby mixed greens, and potatoes, $14), green eggs (two sunny-side up, rye toast, avocado, Calabrian chili, and pesto, $15), savories (smoked salmon with cream cheese, porchetta with stracchio or pesto with cherry tomatoes, $5) and croissants (plain, chocolate and sugar, $4). Preorder at (310) 454-0709 for curbside delivery.
Co-owner Marlo Vinzoni said, "We can't wait until we can all be together in person again."
The Draycott is featuring family sharing plates of Organic Mary's roasted whole chicken, rib-eye steak, spinach and mushroom quiche, grilled wild salmon, smoked fish platter and market-fresh salads plus sides of upside-down berry cake.
As a special treat for mom, wines and bubbles are 50 percent off for this one day. Call Emma at (310) 573-8938 to place an order. Visit: thedraycott.com/wp-content/uploads/2020/04/Draycott-Mothers-Day-V3.
Co-owner Marissa Hermer said, "And don't forget an order of MOM-osas, because mothers don't want orange juice unless it has champagne in it."
Modo Mio will provide the perfect Mother's Day Dinner. "We will have our regular menu and be open from 5 to 7:30 p.m. for takeout and deliveries," said owner George Zaoui, who noted that customers can leave a message on the voicemail specifying the order. "We will organize everything for you."
In an earlier CTN restaurant review, one resident wrote: "I can't wait to have the Ravioli Di Pollo (chicken ravioli). It is so good! My husband has been talking about getting the Linguine Alle Vongole (linguine with clams) or one of the veal dishes. Or maybe the lamb chops." (The menu can be found at restaurantmodomio.com/menu-pacific-palisades.) Call (310) 459-0979.
(Editor's note: Avoid stress. Check with your favorite restaurant, but please order in advance.) 
SPECIAL GIFTS:
 At Christmas, children who have been behaving badly are threatened with gifts of coal or no gifts at all. This Mother's Day, with the Covid-19 store closures, it appeared that mothers would be lucky just to receive a lump of coal.
 But then with a wave of the magic wand, city and state officials allowed certain retail stores to open on Friday, so there's no excuse not to get mom something.
Jewelry 
Two of the town's nicest jewelry stores, David Tishbi at 859 Via de la Paz (310-454-6363) and Jaime Geller at 15310 Antioch (310-454-5392) have a lovely selection of pieces and will help find the perfect gift for mom. Call and explain what you're looking for and the price and they will work with you. I chatted with people from both stores—everyone was wearing masks.
Clothing
DENISE CARYOLYN
Denise Carolyn (15276 Antioch St.) has all price points for clothing which means it's affordable for everyone. Call (310) 868-9282 or Instagram DeniseCarolyn_la and someone will be happy to help you find the perfect Mother's Day gift.
BOCA
Monument Street store owner Denise Martinez came to the door and promised this reporter that if you want to choose some items, she will wrap them up and deliver them curbside. She also said that some clever women had sent a photo of a dress they liked to their husbands, who then contacted BOCA (bocapacificpalisades.com). If you know your wife likes this clothing store, contact Martinez and she will help you select something. Throw in a mask for $7. Call (310) 459-7259.
VERONICA BEARD
The Veronica Beard store is holding a special sale for Mother's Day. Customers will receive 20 percent off $500 and 25 percent off $750 through Sunday. Visit: palisades@veronicabeard.com or call (310) 272-5883.
GET DRESSED
Get Dressed (1017 Swarthmore) is a highly curated resale boutique and you might find something interesting for mom. Visit: (getdressedla.com) or call (310) 454-1920.
PALISKATES
"We have lots of longboards for moms to go skating with their kids while they're in quarantine," Paliskates owner Erica Simpson said, laughing. She added, "We also have lots of comfy casual clothes." Visit: PaliSkates on Facebook or phone (424) 252-9993
VIVIAN'S BOUTIQUE
Vivian Foster, owner of Vivian's Boutique at 875 Via de la Paz, has been a fixture in the Palisades for more than 30 years. She carries numerous sizes from 0 to 20 and is happy to Facetime with people who need a special gift for mom. Of if you know your mom shops there, Foster is happy to make suggestions. (Visit: vivianspalisadse.com or call 310-573-1326.)
SPECIAL MOMENTS
Many moms have admitted to spending a lot of time in pajamas and yoga pants. Special Moments Lingerie (873 Via) has some of the finest women's lingerie on the Westside. Owner Mely Parmelee also has some of the cutest women's pajamas/robes of any outlet in town. Call her at (310) 924-0295 or visit: special momentslingerie.com.
TOWNE
Towne by elysewalker in Caruso's Palisades Village will also meet you curbside with a purchase. To shop online, visit: elysewalker.com or call (310) 554-7666.
Alternative Gifts:
BONJOURFETE
Bonjourfete, located at 15237 Village Lane in Palisades Village, has puzzles—and other gifts that can make mom's day a little easier. (At one point, puzzles were entirely sold out on Amazon because of the coronavirus.) Browse through the window or visit bonjourfete.com. Call (424)-330-0047.
KEETAN FOR KIDS CLOTHES
For a new mom in your family, select a cute baby outfit from Keetan, formerly Petit Amis. Located at 1015 Swarthmore, store owner Pamela Hayer will be happy to help with a selection. Visit: keetankids.com or call (626) 590-9187.
LAMONT INTERIOR DESIGN
Elizabeth Lamont, who opened an interior design/gift shop in late November on Sunset (in the former En Route Travel location), is reminding people that she has gifts that mothers would love to have. She would love to help anyone who needs a special gift or is thinking about redoing an interior or replacing a piece of furniture. Visit: elizabethlamont.com or call (310) 230-0003.
KATIE O'NEILL'S ART
Select one of Katie O'Neill's gorgeous paintings of various Pacific Palisades locales for mom. Or hire the talented artist to paint a picture of your kids for Mother's Day. If you know your mom has always liked art, perhaps consider buying lessons from O'Neill, whose studio in on Via de la Paz. Visit: katie@oneillsfinart.com or call (310) 459-1030.