Until 2018, the community Ho!Ho!Ho! festivities were sponsored by the Pacific Palisades Chamber of Commerce, but then the Grinch decided this celebration was no longer needed because of activities at Caruso's mall. The free event was slated to go the way of wayward reindeer – somewhere north of the pole and never to return.
Fortunately, many residents loved the Ho!Ho!Ho! tradition and banded together as volunteers to keep it alive. In 2018, they put together an incredible event at the Recreation Center and the following year the event included singers, dancers, a bake sale and nearly a thousand participants at Simon Meadow.
This year, prizes have been donated from shopkeepers such as Vivian's Boutique, Antique Collections, Katie O'Neill painting, Cinque Terre West, PaliSkates and Palisades Garden Café. More merchants and volunteers are sought, please contact Lou Kamer mrlou@me.com.
Visit: palitown.com or go to Facebook and Instagram: @palihohoho.
KIDS CAN VISIT WITH SANTA ON FRIDAY:
The 69th annual Ho!Ho!Ho! tradition will begin on Friday, December 18, when Santa, an essential worker, comes to town. Parents (or grandparents) will be able to drive a loop through Temescal Canyon Park, located at the corner of Sunset and Temescal Canyon Road, from 3:30 to 5:30 p.m. next Friday and children can wave at Mr. and Mrs. Claus. (While in the area, pick up a Christmas tree or wreath at the Palisades-Malibu YMCA tree lot).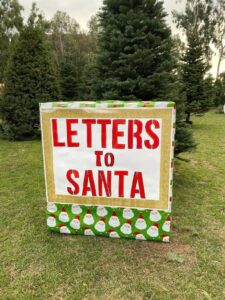 LETTERS TO SANTA:
At the YMCA lot, there's a box specifically for kids to deposit a letter to Santa – and it doesn't need to be placed in an envelope; heck, you don't even have to fold it. Just have the child write it and drop it in the box. Or if you would rather email the letter (have mom or dad scan it) and send it to PaliHoHoHo@gmail.com. You can also try to call Santa at 424-523-1999.
KIDS CAN ZOOM VISIT WITH SANTA:
This year, children will also have an opportunity to visit one-on-one with Santa via Zoom. He will be available on Saturday and Sunday, December 19-20. from noon to 1:30 p.m. Sign up on palitown.com. (A $20 donation is asked and will provide Covid-related support for the YMCA. If it's been a tough year, no worries — no child will be turned away because of money.)
HO!HO!HO! PET CONTEST
Via Nextdoor, you can enter your pet in a holiday photo contest. Simply post a photo on the site until December 23. The top three winners (those with the most "likes" on the photo), will receive prizes donated by local merchants.
YOUTUBE MESSAGES:
Look for YouTube messages from Santa, Mrs. Santa and their favorite elf, starting this week (https://bit.ly/34aCdoV).