Of the more than 3,400 firefighters in Los Angeles, Pacific Palisades Fire Station 69 Captain II Tommy Kitahata was named the 2020 Firefighter of the Year.
Selected by the Los Angeles City Firefighters Association, he received the award at the 54th Annual Firefighter of the Year luncheon at the DoubleTree Hotel in downtown L.A. on October 13.
Called "The Hall of Fame" of firefighters, this prestigious honor (first given in 1967), pays tribute to one person a year. Qualities honored are not only for one exceptional act, but also for outstanding character and service beyond self.
The room was packed with family, friends and people who have worked with Kitahata at some point. One firefighter told CTN that this was a bigger crowd than normal because "Tommy is well-liked and respected by everyone who has worked with him."
Speaker after speaker said, "We love this man. We respect and admire him."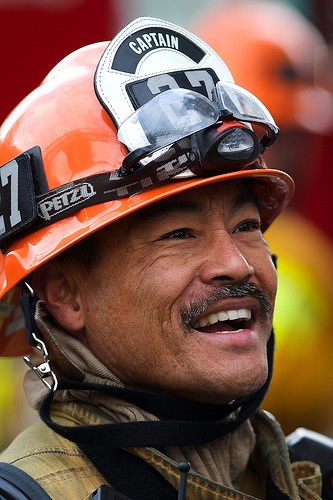 Kitahata joined the LAFD in 1988 as a firefighter and has worked in Hollywood, Echo Park/Rampart, South Central, Westlake, Van Nuys, East L.A. and Downtown L.A.
He worked his way up from apparatus operator to Captain I to Captain II.
He gained certification for the Urban Search and Rescue, California Task Force One and has been deployed to numerous disasters across the country during his career, including New York City for 9/11 as part of the massive FEMA response.
 In 2018, Kitahata was deployed along with 80 L.A. firefighters and civilians to help with the aftermath of Hurricane Harvey in Houston and Hurricane Irma in Florida.
Kitahata had previously worked on the aftermaths of hurricanes Katrina (2005) and Gustav (2008), among others. "Houston was different in that it was just standing water," he said. "We took our rescue boats and we just picked people out of their houses."
Kitahata and his team spent two weeks in Houston, but as they prepared to return home, Hurricane Irma made landfall in Florida on September 10. The team then went to Florida.
His team was also assigned to disasters in California, and he and a Station 69 engine team responded to mudslide recovery efforts in Montecito in December 2018 (where 23 people had been killed by flooding).
"I got sent up as a manager for a search dog team," he said. "We went into different areas, searching out the homes and the victims or where they thought they would be."
Kitahata has worked as a teacher with the LAFD's In-Service Training section and as a Drill Master in Recruit Training. He continues to serve as an instructor and subject matter expert across both search-and-rescue and firefighter skills.
When the Covid pandemic hit Los Angeles, Kitahata led the department with testing and vaccination through the Logistics Unit.
Called a "solid task force" commander, he was recognized not only for his work for LAFD, but also his community volunteer work.
A past Eagle Scout, Kitahata serves as an assistant Scoutmaster, and he works with his church to feed the homeless. He helped his neighbors during the 2018 wildfires.
With his wife Cheryl, he received the California Charter School Volunteer of the Year for the successful opening of the Meadow Arts and Technology Elementary school.
L.A. Department Fire Chief Ralph Terrazas addressed Kitahata and his wife, saying "You must miss Tommy, he's always gone and always working."
Kitahata quipped, "She says she's used to it and her house stays cleaner."
More than one person, in speaking about Kitahata's character, said, "He's mischievous and has a great sense of humor."
Kitahata thanked the men and women he has worked with, as well as LAPD (many officials were in attendance), the Covid team, the logistics unit, and the civilian staff. "It is a pleasure to work with all of you and have your never-ending support," he said.
Then he turned to his wife and said, "She makes everything run well. She should get the wife firefighter of the year award."
Their youngest son graduated from Westlake High School with honors and attends Loyola Marymount. Their daughter graduated from the University of Washington and their oldest son, who graduated from Illinois Technical School, has just finished Navy officer school.
"The kids got their brains from Cheryl," he said, and joked, "I have a GED."
Kitahata explained that he and his wife had just returned from their son's graduation at Fort Sumter. (The site of the beginning of the American Civil War and the celebration that ended the Civil War.) He said that 12 volunteers were needed to hold the flag that was being raised, so he volunteered.
"How cool is it to be in this great country raising the flag with 12 people I didn't know," he said. "We were honoring America and our freedom."
When learning of Kitahata's award, the Pacific Palisades Community Council wrote, "We couldn't agree more! Congratulations, Capt. K., on this well-deserved honor — and thanks for your outstanding service to the Palisades community."