Viewpoint:
The Palisades Fire (October 21), which resulted in 625 homes being evacuated, closed Palisades Drive to two-way traffic for days.
A week later, the Getty Fire resulted in mandatory evacuation or evacuation warnings for a majority of Pacific Palisades residents. The only neighborhoods to escape those designations were the Riviera Palisades south of Sunset, Rustic Canyon and the Via/El Medio bluffs.
Inexplicably, the Palisades Recreation Center, which was located in the mandatory evacuation area on Monday, was also designated as an evacuation center.
During the mandatory evacuation early Monday morning, southbound Pacific Coast Highway was closed at Temescal Canyon Road and all southbound cars were routed up to Sunset Boulevard, smack dab into the center of the Mandatory Evacuation Zone. The result was gridlock on Sunset and Chautauqua (especially with eastbound Sunset traffic blocked at Chautauqua).
In a town that has only three roads in and out–Sunset, Chautauqua and Temescal–the challenge posed by widespread evacuations from residential neighborhoods, in response to an approaching brush fire, is something that the L.A. Fire Department, LAPD, and various city officials should address.
Councilman Mike Bonin has responded by organizing a Town Hall Meeting this Saturday, November 9, at Paul Revere Middle School from 10 a.m. to 12:30 p.m. LAFD Chief Ralph Terraza will join Bonin at the event.
Attendees are supposed to RSVP and when Circling the News went to do so (visit: http://bit.ly/Bonin-LAFD-TownHall-Nov2019), I found a schedule and a place to write a question, which I wasn't able to access. Here's the schedule:
10 to 10:45 a.m.–Casual meet-and-greet on the Paul Revere athletic field. This will be an opportunity for community members to walk around and review LAFD's apparatus with Bonin, Terraza and other LAFD members.
People of the Palisades, get your cell phone camera ready. I wonder if we'll be able to sit inside the equipment. Wow! Just think about those photo opportunities that are usually only available on Fire Service Day. (Did they tell club and AYSO soccer parents they would have to lose yet another game at Revere, after the games had to be cancelled on October 12 by smoke from The Getty Fire?).
The announcement notes that if there is a fire some place, the equipment may not be on display. Darn those pesky fires.
Here's a CTN suggestion: Cancel the photo ops and get right down to the questions and answers in the Revere auditorium. Let the kids have the field for soccer.
10:45 to 11 a.m.–Walk to the Paul Revere Middle School auditorium. Why not just start there? Most all of us have seen the three varieties of helicopters and the large fixed-wing aircraft in action on television and in person over the past few weeks.
11 a.m. to noon–A discussion with Councilmember Bonin and Chief Terraza and LAFD Brush Clearance's Patrick Hayden. More talk?
After the Palisades Fire, LAFD spokesperson Brian Humphrey wrote: "No structures are believed to have sustained significant damage. This is due to strong overall compliance with strict brush clearance regulations and a lack of wind."
Who is not doing brush clearance? That would be an absentee landowner, such as the person who owns the brush-covered land behind the Palisades Drive shopping center just off Sunset.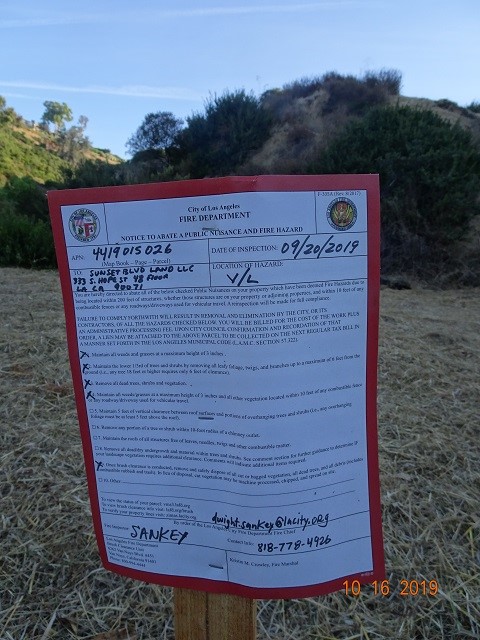 Pacific Palisades Task Force on Homelessness member Patrick Hart reported, "The furthest [transient] camp back, the 'trampoline encampment' where we found an elderly homeless man about a month ago, is about 100 yards up and then down the hill and back from Sunset. Plus, we've got the two or three sites used by the Asian skateboard and wetsuit lady up on the mesa above Starbucks. AND that huge pile of homeless trash on the flatlands about 100 feet in."
Hart added: "IMO we've got a lot further to go before this canyon [Marquez] is more secure from homeless encampments and potential homeless-set fires."
Back in September, CTN contacted PPTFH member Sharon Kilbride and offered to help clean up the "trampoline" encampment. Kilbride said it was on private land, which meant there was no access for PPTFH. She replied that the organization had sent the following letter to brush clearance officials:
"This privately-owned property along Sunset just east of Palisades Drive has been tagged by you for brush clearance and is non-compliant.
"The PPTFH has written to the owners for years to clean up the four abandoned encampments on this property and we have had no response.
"We were asked this morning to canvas all hillside encampments looking for homeless in high fire zones due to the red flag alert.
"This property is a constant liability for the citizens of the Palisades since the owners fail to clean up the overgrown brush and abandoned camp materials.
"We are in hopes that your department can help get this area cleared out before we have another fire."
So yes, brush clearance still needs to be done—but it's in the City's hands.
Noon to 1 p.m. — Q&A. It is unclear if officials will take questions from the audience or just select from the questions submitted on the RSVP page (which I was not able to do.)
Below are questions I would like to submit:
Why was the Palisades evacuation center in the middle of a mandatory evacuation zone?
Why was PCH closed at Temescal on Monday morning and why were cars fed up to Sunset in the middle of an evacuation zone?
After neighborhoods were evacuated, why weren't the streets closed off (especially off Sunset)? Most were not closed until Tuesday. Where were the police to make sure no criminals were in the neighborhoods?
Why were businesses, located in the mandatory evacuation area, allowed to stay open?
What evacuation practice plans are in place for the Highlands, Paseo Miramar and Sunset Mesa? There is only one road in and one road out for these neighborhoods.
Additionally, upper Marquez Knolls, upper Bienveneda, upper El Medio, the Via de las Olas bluffs and Castellammare residents have limited exit routes? What can be done to help those residents?
Is putting an eldercare facility on Palisades Drive, with about 96 senior residents and about 100 workers, a wise fire-related decision?
Unacceptable answers to these questions include:  "I'm going to look into that," "Thanks for bringing that to my attention" and "We'll form a task force."
We all were lucky this time that hot Santa Ana winds didn't kick in when the Getty Fire broke out on Monday. We are also fortunate that City officials now have an opportunity to learn from that near-tragedy and help Pacific Palisades residents prepare for the next threatening fire.