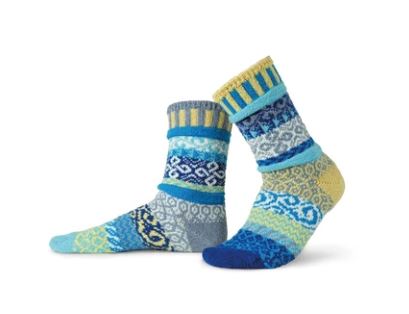 What would you guess is the most needed or requested clothing item in homeless shelters?
If you guessed underwear or socks, you guessed correctly.
The Solmate Socks company, that was started in 2000 by Marianne Wakerlin, noted on its website "When clothes wear out or go out of style, you donate them. When shoes no longer fit or have lost their luster, you donate them. But when your socks wear out and have holes in them, they are usually thrown out. Because of this, shelters are often equipped with clothes, shoes and other necessities… but not socks."
Solmate donates to various charity groups, including family services organizations, refugee centers and homeless shelters.
The company produces quirky-looking socks that don't match. Wakerline, a textile artist came up with the idea because "Life's too short for matching socks."
She began her company in a small room of her house and it has grown to three offices in the U.S. and the U.K. Wakerline retired in 2015 and her son and daughter-in-law took over the company, which is based in Hickory, North Carolina.
Textiles make up nearly eight percent of the landfill in the United States and it takes hundreds of years for fabric to decompose. The Solmate company notes "Knowing every bit counts when it comes to recycling, we ensure that no scraps – even the tiniest pieces! – go unused."
The sock company works with RecoverTex (a company specializing in textile waste collection and recycling) to use recycled cotton yarns made from remnants from production scraps and used clothing.
Scraps normally go into a landfill, but Recover's Upcycling System allows it to turn regular textile waste into quality, upcycled yarns.
The remnants are ground down and re-spun into yarns, without adding any additional dyes or colors, keeping them as "clean" as possible for Solamate products.
The company also partners with Portland Garment Factory to recycle the scraps that are too small for crafting through GemText Recovery.
GemText is a Northwest-based sustainability company that helps people recycle textiles, keeping them out of landfills. Nearly 98% of what is donated is usable and even the tiniest textile particles are pulverized for use in making things like stuffing for dog beds and insulation padding.
Solmate socks are more expensive than most, but "As ethical practices are paramount to our brand, we pay all of our employees living wages, along with generous medical benefits. We are proud to be one of the few knitting mills in American hosiery that offers these types of benefits and hope to inspire others to do the same."
The company's website also encourages buyers to reduce landfill waste by darning old socks with holes versus throwing them away. Noma Sazama, a former middle school teacher from the Rosebud Reservation in South Dakota, said her mom, Cora Larson, taught her how to darn. Sazama commented that her mom, who owned and worked on a farm, grew up where nothing was wasted, but now "the US is now a throwaway society."
Luckily, the Solmate website shows readers the "easy" step-by-step process of darning a sock.  (Visit: solmatesocks.com.)