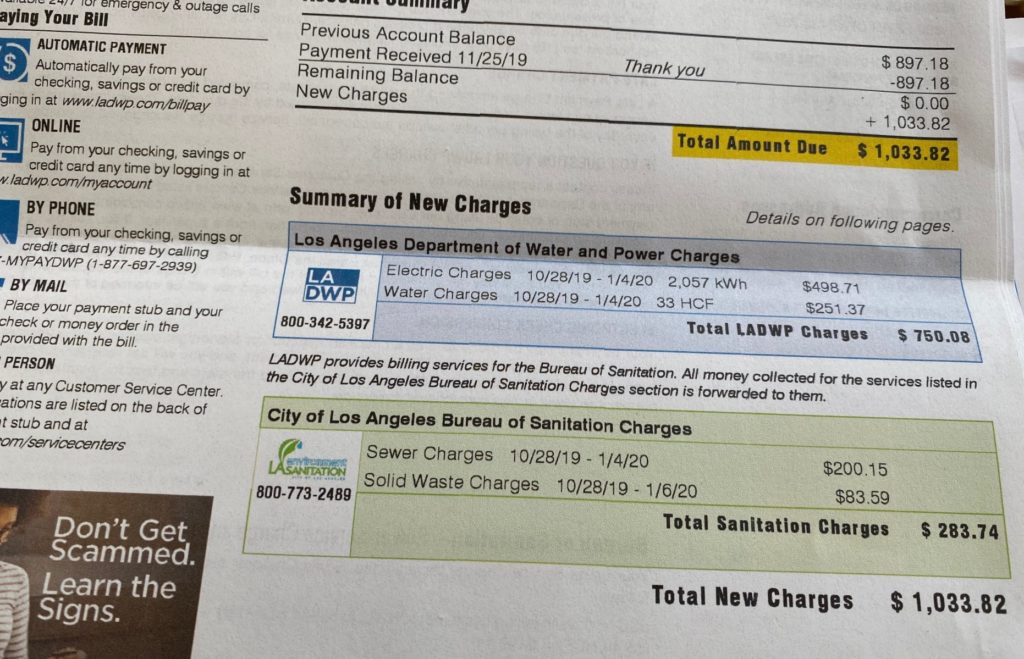 Many residents in Pacific Palisades believe their recent Department of Water and Power bills are excessive and some of them have vented their anger on the social media forum Nextdoor Palisades.
A few have reached out to the DWP, and Deborah Hong, the department's senior public relations specialist, has agreed to address the problems at an upcoming meeting. The date and locations have not yet been set.
To prevent chaos at this meeting, Hong has asked that beforehand, residents should email their complaint to her (Deborah.Hong@ladwp) and provide name, address, account number, and complaint description and concern, so that it can be addressed.
Meanwhile, one Nextdoor reader wrote: "It appears to be corruption plain and simple. [City Attorney] Mike Feuer had a class-action lawsuit against them [DWP], which seems to be dropped."
The reader is only partially right. One lawsuit (which was settled) may contain ethical violations, which has led to a new lawsuit, an FBI investigation, DWP's General Manager David Wright's early retirement, and may possibly point to corruption in the City Attorney's office.
DWP overbilling started in 2013 and continued through late 2016. The department had instituted a new software billing system that was launched by PricewaterhouseCoopers. Thousands of customers claimed that they had received inaccurate bills, some of them excessively high.
In 2015, Atwon Jones, a Van Nuys ratepayer, filed a class-action lawsuit.
A July 2019 CityWatch story ("LA's City Attorney Feuer Owns the DWP Scandal and He Should Resign . .Here's Why") examined the lawsuit.
"This suit was settled in record time [2017], without any embarrassing discovery, for $67 million of our Ratepayer money, of which $19 million was paid to the plaintiff's lawyers,' said CityWatch."
Attorney Paul Paradis and Paul Kiesel were hired by City Attorney Mike Feuer's office to sue PricewaterhouseCoopers to help recoup some of the money.
According to a July 23, 2019 LA Times story ("Dramatic FBI Raids at L.A. City Hall and the DWP Scandal That Won't Go Away"), the lawyers from PricewaterhouseCoopers said that they had uncovered a conflict of interest: attorney Paradis had once represented the DWP customer whose class-action lawsuit resulted in the $67-million payout.
"Paradis also secured lucrative no-bid contracts from the Department of Water and Power to help the City comply with the terms of the settlement of the class-action suit. The utility ultimately approved more than $36 million in contracts with companies connected to Paradis, in part to address problems stemming from over billing."
Consumer Watchdog's Jamie Court in a July 2019 Last story ("LA Mayor Boots DWP Chief the Day After FBI Raids Connected to 2013 Overbilling Scandal"),  alleged that "Feuer and his staffers created conflicts of interest when they quickly settled one plaintiff's lawsuit over the DWP overbilling, then worked with an outside attorney to find a different plaintiff whose allegations and settlement would be more favorable to Los Angeles."
In July, a new set of attorneys filed, claiming that DWP owes customers more than $50 million more than they were promised in the initial settlement of $67 million.
According to an October L.A. Times story ("Reeling from DWP Scandal, L.A. City Atty. Feuer Tightens Oversight of Outside Contracts"), the 2017 settlement is now under scrutiny by a new law firm.
To clear him and his office, Feuer hired attorney Ellen Pansky, who was paid $176,195 to write a report. The 150-page ethics report "found no evidence that suing DWP customers were denied a 'fair and reasonable' recovery.'"
The report did not include independent discovery and did not include interviewing witnesses.
Edward M. Robbins, a former federal prosecutor, was appointed by Los Angeles Superior Court Judge Elihu M. Berle to look at the documents linked to the billing debacle.
Robbins filed a November 14 report that noted that some lawyers involved in the billing-related litigation "committed fraud, by omission and commission, on the court and that some payments made by the City of Los Angeles 'were induced by fraud.'"
In a November 27 LA Times story ("Investigator Finds Fraud and Ethics Violations in Review of DWP Billing Litigation"), the author wrote that Robbins' team, which included four former federal prosecutors, had run into a roadblock because of an inability to get some records and that the team was exploring legal option to obtain the necessary downstream bank records.
As a reminder, one might think Mayor Eric Garcetti or even Councilman Mike Bonin would be outraged about possible City Attorney/DWP corruption, but annually DWP transfers 8 percent of its revenue to the general fund to help balance the City's budget.
It is in the City's interest to ensure that the DWP continues to pay into the General Fund.
According to the Los Angeles Daily News in 2017 ("Despite Public Criticism, DWP Transfers $241.8 Million to L.A.'s General Fund"), "The payment has routinely been around $250 million for years, but critics have argued that it amounts to an illegal tax."
In 2018-19 the estimate receipt from "Power Revenue Transfer" was $238 million and in 2019-20 it was $232,557,000.
So yes, the Nextdoor reader was partially correct, alleging that "it appears to be corruption pure and simple." The questions not answered are who knew, who profited and will any costs from the lawsuits be passed onto ratepayers?
But just as important for current homeowners, can they trust their DWP bills, especially the specific electric and water charges? The upcoming meeting with Deborah Hong should be quite interesting. Circling the News will keep you updated.