(Editor's note: Reprinted from the Venice Current with permission.)
By Angela McGregor
April 27, 2021
LOS ANGELES – Efforts to recall Councilmember Mike Bonin are in full motion. Bonin is the Councilmember for the 11th District (CD 11) of the City of Los Angeles. He first won the CD11 seat in 2013–and then again in 2017. Bonin has filed the necessary paperwork to run in the 2022 CD 11 race.
The recall efforts emerged in the wake of the controversy surrounding a motion submitted by Bonin in early April that calls for looking into the feasibility of bringing temporary housing options at several local beaches and parks. Those include Mar Vista Park, Fisherman's Village in Marina Del Rey, Dockweiler Beach in Playa del Rey, Westchester Park, Will Rogers State Beach and the West LA Municipal Building.
Although a notice to recall hasn't officially started the clock on California's cumbersome process to unseat an elected official—a lot of time and effort is happening behind the scenes.
Alan Resnik, a Marina del Rey resident who grew up in Mar Vista, is spearheading the efforts and says he is appalled by what he calls Bonin's "destruction of the community."
Also working on the Recall is Venice resident Heidi Roberts, the founder of Haaven—a shared housing initiative that has provided a room and services for more than 200 formerly unhoused Angelenos.
Resnik and Roberts connected on Nextdoor when Resnik asked neighbors whether they would support a recall in the wake of a change.org petition calling for Bonin's ouster that has received over 9500 signatures (Bonin garnered just 19,099 votes in his 2017 election campaign).
Despite an unsuccessful effort to recall the Councilman in 2018, both Resnik and Roberts said another recall effort was imperative and could ultimately be successful. The two put together a 20-member planning committee from all over the district and with all political persuasions. 
'History Won't Repeat Itself'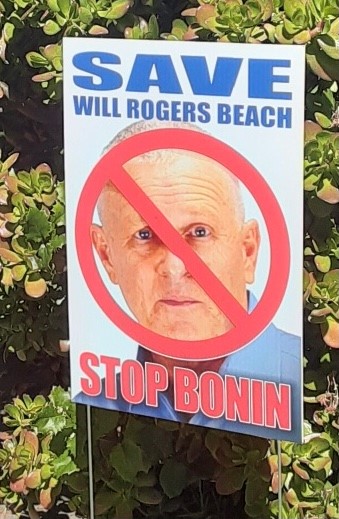 Resnik blamed the 2018 recall effort's failure on the fact that it was motivated by Bonin's ill-conceived, unilaterally imposed lane closures along Venice Blvd., which almost exclusively impacted traffic and businesses in Mar Vista and Venice.
This time, Bonin's recent proposal to place temporary housing for the homeless in beloved recreational spaces across the district — has met with district-wide outrage.
A letter received by the Current from Jessica Rogers, the President of the Pacific Palisades Residents Association, implored Venice residents to sign a petition opposing the motion, which has received more than 17,000 signatures. Earlier this month, over 450 Westchester/Playa del Rey residents attended a neighborhood council meeting, the majority to speak against the plan.
In mid-April, the Brentwood Homeowner's Association voted to opposed Bonin's motion unless it removed the use of all public recreational space. It also cited Venice's "existentially negative shift in the quality of life in the community due to the explosive growth of homeless encampments, which have driven up violent crime, arson, and drug-related offenses".
As Resnik puts it, "We live in a society where big news gets forgotten quickly. That's where we are right now with our district. There's a crisis right now. If we take the same approach and actions as having been taken over the past seven years, not only will things most likely not change, but they will get worse… way worse."
"We feel if we didn't launch this effort, and Mike Bonin were to be reelected next June, with CD-11 on the ropes right now, imagine what our communities would look like after another four to five years. It's terrifying," said Resnik.
As for the argument to focus on putting community resources towards a candidate who could beat Bonin in the upcoming elections–, both Resnik and Roberts stated that they had spoken with potential contenders –all who support the Recall saying it will weaken Bonin as a primary candidate in 2022.
Once the recall campaign has filed paperwork with the city to declare their intentions, they will have 120 days to gather the roughly 28,000 verified signatures needed to put the recall question on the ballot.
Resnik said they would not file until they're confident they have the signatures needed. While they have the funds to pay for signature gathering, the strategy focuses on using volunteers, which plays into what Roberts calls "our whole theme of bringing the community together".
They are, she said, now in the coalition-building phase of the process. Both Roberts and Resnik also insist that it is "not a politically motivated effort. We are a diverse group of neighbors who have come together for the good of all in our community, both housed and unhoused…we are not here to trash talk Mike Bonin but to bring awareness of the facts."
Roberts, who has a professional background in marketing, says: "The beauty of this is that Bonin is recalling himself. He creates problems, magnifies problems, and then refuses to hear the complaints. And we have seven years of material to prove it."
A website for the recall can be found at www.recallbonin2021.com.