The only Voting Center in Pacific Palisades, at the Rec Center, once again experienced computer difficulties Friday morning when it opened for early in-person voters.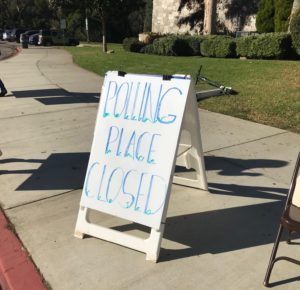 One resident sent Circling the News a photo of a sign at 10:20 a.m. that stated, "Polling place closed." The resident wrote: "Good luck trying to vote in person at Pali Rec today."
Resident Rich Wilken said he stopped by at around noon. "The Vote Center was not open due to technical issues. Boy, our county had done a great job in dismantling our old system and totally underperforming on the new 'better' system. Will this be a repeat of last March when voters will need to stand in line again for two to three hours to vote?"
CTN stopped by the Rec Center shortly after noon to gain a firsthand report. The Voting Center was still closed. Workers said there were computer issues and that the LA County Registrar's office had been notified. They were not sure when the site would open and hoped perhaps sometime in the afternoon.
CTN emailed Mike Sanchez, a spokesman for the L.A. County Registrar's office, and asked what the problem with the computers was, why this hadn't been worked out before opening the site and when did he expect this important location to open. (Many residents want to vote in person, not trusting U.S. Mail or the official ballot box in front of the Palisades Library on Alma Real.)
Sanchez responded at 1:30 p.m., writing "Thank you for contacting and informing us of this situation. The vote center is up and running with all equipment working properly, and voters are able to vote in-person.
"Unfortunately, the election workers on site were not aware they could check-in voters while the electronic poll books were charging. We have spoken to these workers and directed them to immediately begin serving voters."
CTN returned to the Voting Center and volunteer workers said they had contacted the County Registrar immediately in the morning when the system did not work. They were told the problem was that this center was not synching with the county center.
Circling the News "reporter" Bill Bruns and his wife Pam visited the Rec Center at 6 p.m. today and said, "Everything is going smoothly. Registration now takes place on the back side of the gym, which makes it easy to safely deposit mail-in ballots at the front door because people are no longer milling around waiting to get in the gym. We should move on from today's early glitches and give the volunteers a break. They don't deserve any more bashing! They are working on our behalf."
After the frustrating delays before the March primary, when the doors at the Rec Center were supposed to open on a Saturday could not open until the following day because of "technical" issues, CTN wrote a story about the issues.
Sound like Déjà vu? Read some excerpts from that story:
"A resident reported, 'I went at 9:30 and again at 10:30 a.m. They say the head person with the key hasn't shown up. They called Norwalk and they told them to wait it out, that there was nothing they could do about it. Unbelievable! All this high-tech equipment that our tax dollars paid for and it's all dependent on one guy with the key.'
"Around 3 p.m. Saturday, when Circling the News visited the Rec Center, several frustrated voters were walking away from the small gym and told CTN, 'If you're going to vote, don't bother, the place is closed. The machines aren't working.'
"The sign on the door confirmed that the location was temporarily closed. Inside the gym, CTN was told that the Registrar's office had been notified and they were waiting for someone to come fix the problem.
"Sunday morning, at 8 a.m., CTN contacted Mike Sanchez, a spokesman for the L.A. County Registrar's office, and asked why the location in Pacific Palisades was not open most of Saturday.
"Sanchez replied a few minutes later via email, 'That location was experiencing some coordination issues yesterday. We have dispatched a senior team early this morning to ensure it's up and running ASAP.'
CTN asked if he could explain the "coordination issues." There was no response by post time.
Fast forward to October 30. Once again, no a.m. voting. Good thing there are a few more days before the November 3 general election. The hours for the voting center at the park are 10 a.m. to 7 p.m. Saturday, Sunday and Monday, and 7 a.m. to 8 p.m. on Election Day.
Additionally, if you want to mail your ballot, which must be postmarked by November 3, there is a postal worker stationed at a desk in front of the U.S. Post Office on La Cruz and he said he would be there through election day, making sure that ballots are postmarked. He will not be there on Sunday.