If a resident has never gone to a musical event sponsored by Chamber Music Palisades, the first concert of the 26th annual season promises to be spectacular.
Quadre – The Voice of Four Horns will play at 8 p.m. on Wednesday, September 21, at St. Matthew's Parish, 1031 Bienveneda Avenue.
Chamber Artistic Director Susan Greenberg said, "These French horn players are the best of the best!"
Acclaimed for its breathtaking horn mastery, Quadre captivates audiences with musical moments of "inspiration, sorrow, love, and virtuosic display," Greenberg said. "The richly distinctive sound of four horns playing in unison is an experience not to be missed."
The horn players have toured the United States and have played more than  1,000 concerts. The musicians have collaborated with Grammy award-winning artists on four albums of original pieces and arrangements.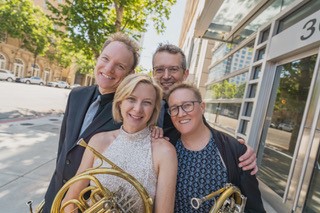 When not touring together, Lydia Van Dreel, Adam Unsworth and Kristy Morrell perform and teach at the San Francisco Conservatory, University of Oregon and University of Michigan.
The fourth member of the quartet, Amy Jo Rhine, is a local horn player who not only plays third horn with the Los Angeles Philharmonic, but quite often plays principal horn, too.
The program will include musical pieces Fanfare for Quadre, Reason to Rhyme, Mirror Images, The Impeuous Winds, Sheperd's Call and Cuadro Cuadrangulos.
Greenberg will join the horns on flute for L'oiseau des Bois. She will play piccolo with the horns in The Elephant and the Fly.
Greenberg is first flute with the Santa Monica Symphony and Vicente Chamber Orchestra and former flutist and piccoloist with the Los Angeles Chamber Orchestra.
Single tickets are $35; students are free with ID.  Visit cmpalisades.org to purchase tickets.  Please show vaccination certificate and wear a mask.