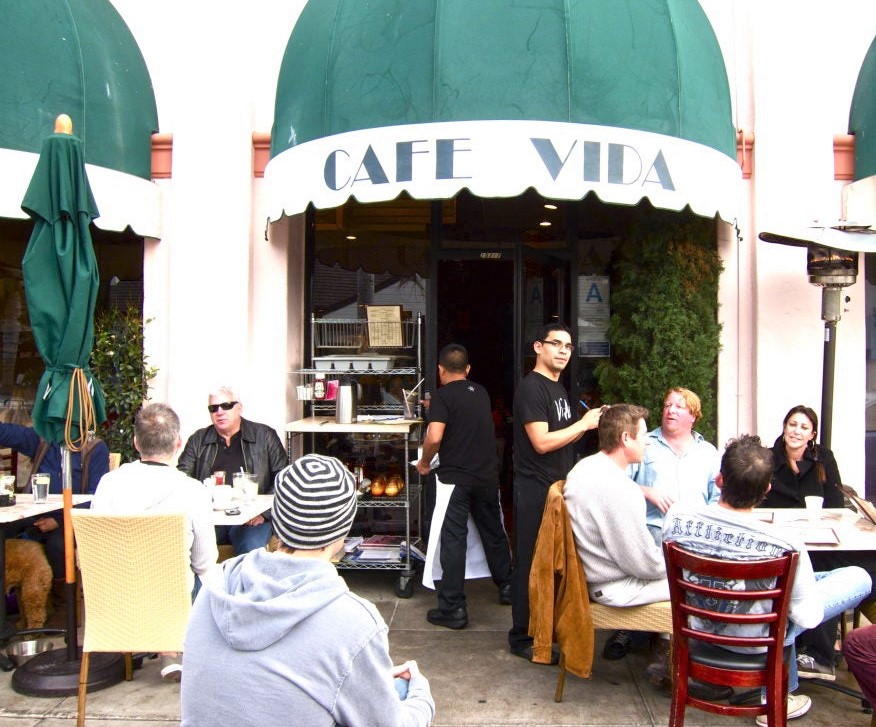 Before Covid-10, it was always hard to secure a table–at breakfast, lunch or dinner–at Café Vida on Antioch Street. The food, simply put, is always good, the portions hearty and the prices reasonable.
The signup sheet for a table usually involved a long wait, which is why the coronavirus has been a boom for some diners.
Call ahead, and your takeout order of low-fat California and Latin dishes, with their unique and delicious flavors, will be waiting.
Luis Castaneda and his partners, Marcelo Marolla and Francisco Cornejo, opened Café Vida on Antioch in May 2002. Since then, the partners have opened restaurants in El Segundo (2005), Mexico City (2010) and Culver City (2014).
Castaneda spoke to Chamber of Commerce members in 2017 and said his early life in Mexico revolved around food. His dad was Mexican, his mom Italian. "At breakfast, we talked about what we were going to eat for lunch," he said. "My mom was an amazing cook.
"When they had parties, I loved to go in the kitchen where the creative process of cooking was happening. It was chaotic and confusing. Then I'd go into the living room where the emphasis was on what guests were eating."
Castaneda came to the United States in 1981 and attended UCLA, earning a degree in advertising and marketing. After graduation he worked with the ad agency Chiat/Day.
He was working out at the Pacific Athletic Club (now the Bay Club), on Sunset at PCH in 2000. "There was a café/juice bar, Pure Energy, run by Marolla and Cornejo," Castaneda said. "I thought they had incredible food and we spoke about opening a restaurant. The decision was made to create a healthy California kitchen with wholesome, natural ingredients."
The first day the restaurant opened to a full house and has remained continually busy. In addition to the great food, Castaneda also credits success to the price points at the café. "It helped us a lot that [our prices] were positioned between a high-end restaurant and a fast-food restaurant," he said, noting, "We didn't do a lot of marketing. Our best marketing was word of mouth."
This restaurant has healthy breakfasts, such as the egg white omelette de Yucantan ($13) that includes chicken sausage, rajas, mushrooms, spinach, jack cheese, guacamole, tomatillo sauce and toast or a choice of fresh-cut fruit, breakfast potatoes or organic greens salad. The huevos rancheros are $12 and the breakfast sandwich ($13) consists of eggs, avocado, Tillamook cheddar, tomato and Niman Ranch uncured bacon. The popular blueberry corn cakes are $13. (There's also a kids' menu for those 12 and under that offers five choices for $9.)
There are smoothies ($8), such as the coconut acai (acai berries, strawberries, banana, coconut milk) and the almond butter cup (almond butter, isopur chocolate whey protein, banana and almond milk) and fresh squeezed juices.
The salads are large and a complete meal. Chicken or tuna can be added, and if you want to try something different, how about the rosemary turkey burger salad (a turkey burger, Tillamook cheddar, grilled onions on top of organic greens for $17)?
The sandwiches range from an American Wagyu Cheese Burger ($16.50) and the avocado garden sandwich ($15) to my favorite, the chicken jalapeno melt ($16) with grilled chicken breast, melted jack cheese, lettuce, jalapenos and chipotle sauce on a ciabatta roll. It come with raw red onion, but I always ask to have it grilled and the kitchen is happy to oblige.
Comfort dinners include grilled chicken marsala ($20), chili lime chicken breast ($20) and the Cuban-style grilled chicken ($20) that includes Mary's chicken breast, avocado, cilantro sauce, lemon and garlic onions, pan-fried plantains, organic brown rice and black beans.
There are also "healthy" quesadillas, tacos and burritos—and the sweet potato fries are a must!
For once you don't have to wait for food at Vida! Call: (310) 573-1335 or visit: cafevida.net.