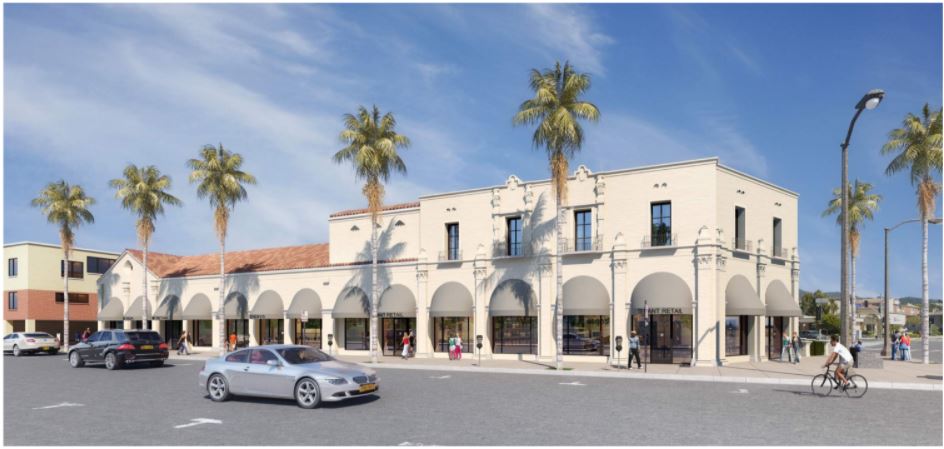 Revised exterior remodeling plans for the historic Business Block Building will be reviewed by the Pacific Palisades Design Review Board at 6:30 p.m. this Wednesday, September 23.
The updated plan includes a warm cream color for the current "pink" building and gray awnings (replacing green awnings).
City Planner Nick Vasuthasawat will host the Zoom meeting. (https://planning-lacityorg.zoom.us/j/97085767528. Password: 230999. Go to link above and enter password when prompted or from Zoom application, Join > Enter Webinar ID > Enter Password Or join by phone: US: +1 213 338 8477 or +1 669 900 9128 Webinar ID: 970 8576 7528),
To view the colors, lighting, signs and updated landscaping, visit: .https://planning.lacity.org/dcpapi/meetings/document/67881
Back in July, the initial rending presented by the architectural firm on behalf of the building's owner (TOPA) proposed white exterior paint with black- and-white awnings. DRB members and many residents argued that this plan violated the building's historic legacy.
The Business Block Building, which borders Sunset, Swarthmore and Antioch in the heart of Pacific Palisades, was built in 1924, two years after the town was founded.
In 1982, real estate developer Rohit Joshi made a $4.5-million cash offer for the building and said he intended to raze the Spanish Colonial building to make way for a $22-million, three-story shopping mall with underground parking.
A mass "Don't Mall the Palisades" rally on the Village Green was organized  by Joan Graves, who later said: "We got most of the celebrities in the Palisades organized [including her husband Peter, Ted Knight, Dom DeLuise, Walter Matthau and John Raitt], rented a big stage and closed Swarthmore for our rally. We had bands and singers, and speeches about why it was important to save the building—and we made it on the evening news!"
When Joshi ultimately backed out of the deal, Graves and her supporters convinced TOPA Management to purchase the aging structure in 1983, bring it up to earthquake standards and give it a fresh paint job.
In 1984, the building was declared a City of Los Angeles Historic Cultural Monument and rededicated.
Decades later, the Pink Building remains a thriving centerpiece in the heart of town—diagonally across from Caruso's Palisades Village, a mall in which the community was denied architectural and design input because the Palisades Design Review Board was forced off the project.
Joan Graves, now 91 and a member of the Village Green board, will be watching Wednesday's Zoom meeting from her home in Santa Monica Canyon.