Bill Gunning, an expert on growing orchids, specifically cymbidiums, will speak at the monthly local orchid society meeting on Tuesday, June 20, at 7 p.m. at the Community Methodist Church, Hart Lounge, 801 Via de la Paz.
"Everything About Growing Cymbidiums to Perfection in Southern California," will be the topic of Gunning's presentation at the Malibu Orchid Society meeting. Guests are welcome to attend.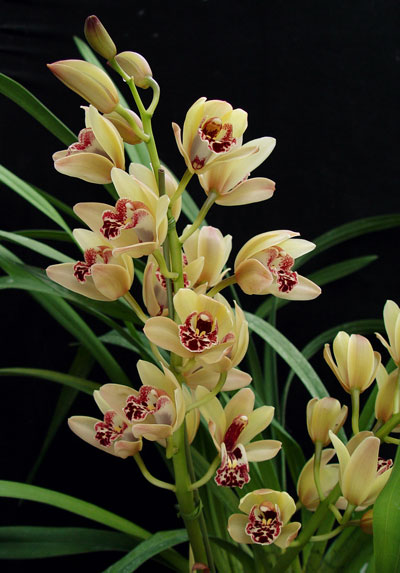 Cymbidiums are the ideal orchid for Southern California, as they can be grown outdoors without the need for a greenhouse.
Gunning, a doctoral physicist, worked at Rockwell Science Center in Thousand Oaks. A chief scientist, he retired in 2010.
He bought his first orchid about 30 years ago, when he and his wife happened to visit the Santa Barbara Orchid Estate. Gunning took the plant to his office – and then nearly killed it.
Once at his home, he was able to nurse it back to health, and led to acquiring more plants. It gradually grew to an orchid obsession and his collection today is about 500 orchids.
Gunning joined the Conejo Orchid Society where he served as President and now as Vice President.
Considered a master orchid grower, he speaks at exhibits and participates in orchid shows. He has earned many notable awards for his plants at both the Santa Barbara Orchid Show and at the Huntington Orchid Show. He also volunteers at the Huntington Botanical Gardens.
This orchid master will tell members, and guests, what to do so that Cymbidiums will have lush inflorescences with lots of flowers. He will address the optimal time to repot or divide this orchid.
Gunning will also speak about how to divide and propagate the plants and how to fertilize them. He will also discuss the best outdoor growing locations for them.