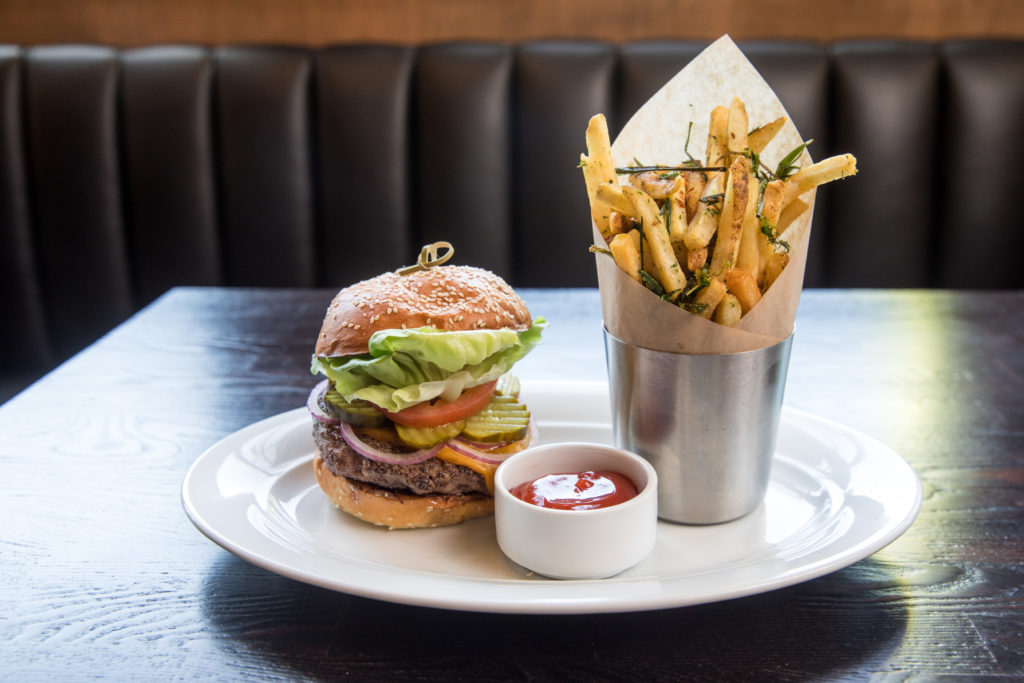 The Golden Bull, established in 1949 at 170 W. Channel Rd. in Santa Monica Canyon, has re-opened for "to-go" curbside pickup daily from 5 to 10 p.m.
To celebrate the occasion, two new cocktails are available: The Penicillin, which includes homemade ginger syrup, honey lemon juice and whiskey and the Bee's Knees, which has honey, fresh lemon juice and gin.
When it comes to eating, start with the crispy crab cakes (Dungeness crab, remoulade and lemon wedge, $16) or the burrata caprese (De Stefano burrata, heirloom tomatoes, basil, sherry vinaigrette, pickled peppers, radish and grilled bread, $14) or maybe a Golden chopped salad (little gem hearts, radicchio, fine herbs, cucumber, bell pepper, cherry tomato, peas, string beans, green onion, mushrooms, Castelvetrano olives, egg, and red wine vinaigrette, $14).
I love the French onion soup (veal broth, caramelized onions, garlic baguette, gruyere and Emmentaler cheese for $12), which I sometimes use as a meal because it is tasty and filling.
Entrees include the mighty Golden Bull Burger ($19) with smoked cheddar, red onions, butter lettuce, tomato, pickles, fancy sauce and garlic herb fries. I love a good, satisfying burger.
My husband has enjoyed the prime flat-iron steak with sauce poivre vert and garlic herb fries ($29), and there are pasta choices such as rigatoni & meatball ($24) and garden linguini ($23) with asparagus, peas, broccolini, corn, heirloom cherry tomatoes and herbs.
A good old-fashioned steak house, the Bull also offers a la carte items such as the 14-oz. Prime Rib ($46), the 8- oz. filet mignon ($46) and the 12-oz. Prime New York Strip steak ($48). For fish lovers there is the Scottish salmon ($18) and the butter-poached Alaskan halibut ($20).
Don't forget your vegetables (all $8), including sautéed corn with jalapeno, cilantro, scallions, lemon vinaigrette; creamed spinach; grilled broccolini in a Romesco sauce; string beans with garlic almond puree; and grilled asparagus.
The kid's menu includes veggie sticks, pasta shells, a hotdog, cheeseburger, grilled cheese or chicken fingers.
The popular Canyon eatery offers a discount on Pali Riviera 2017 Pinot Noir and Pali Charm Acres 2017 Chardonnay Sonoma Coast to customers who are ordering "to go" food.
Desserts feature apple pecan crumble, a dark chocolate brownie (gluten-free) and croissant bread pudding.
In January 2018, the new owners of the Golden Bull included Pacific Palisades residents Chase Ahders, Luke Tabit and Mark Verge and Santa Monica resident Eddie Silkaitis. The group wanted to keep it a neighborhood restaurant and did extensive renovations on the inside.
As Ahders explained in a 2018 interview with this editor, "This whole place needed some love. We wanted to keep it 'old school' comfortable."
Fast forward to today's Covid-19 and a statement from Golden Bull management to its customers: "We'll have a tent with tables set up in the parking lot for customers to drive in to pick up their orders. We appreciate you supporting our local community restaurant and the staff."
To order online, visit: goldenbullsantamonica.com or call (310) 230-0402. Follow them on Instagram @goldenbull_cocktail_lounge.