So you're not an athlete and you've never run a 5K or even jogged around the block? This is absolutely your year to donate to the Palisades Will Rogers 5 & 10K Run and receive a T-shirt.
The July 4th races have been cancelled due to Covid-19 restrictions, but the T-shirts had already been ordered, so with a $20 donation, you will receive a shirt. You can wear it around town for years, leading everyone to believe that you actually exercise. (Visit: palisades10K.com for details). The Kids 1K Run shirts are also available.
Will Rogers Run committee members Brian Shea, Ken Anderson, David Hibbert, Jon Varat, Thomas Hathaway, Jimmy Klein and Michael Solum send their thanks for your financial support and look forward to seeing you at the starting line next year.
RACE BEGINNINGS
Residents Brian Shea and Chris Carlson had just finished running the Brentwood 10K in 1977 and thought it would be great if Pacific Palisades could have a 10K run. A group of men, who ran together as the Ridge Runners, organized the first Will Rogers 10K Run in 1978, augmenting the town's other Fourth of July activities.
10K History
That first year, Drew Mearns won the men's race in 31:35 and Pam Firestone was the women's champion in 39:35. Between 1978 and 2011, Russell Edmonds had the fastest course record of 29:46 (1983) and Katie Dunsmuir Younger had the fastest women's time of 35:09 (also in 1983).
The race, with its run through historic Will Rogers State Park and the switchbacks to access the park, is considered one of the most beautiful in the country. It has been written up in various magazines, including Runner's World, as a race not to be missed.
However, the race times were never official, because the course had not been officially measured. Before the 2012 race, the course was recalibrated and found to be 427 feet short, so the extra distance was added. Tonny Okello, who won the race in 2014, 2016, 2017 and 2018, now holds the course record of 31:21 (2014) and Kaitlyn Peale has the women's record of 36.19 (2018). Caitlin Chrisman has the second and third fastest times: 36:34 (2018) and 37.17 last year.
5K History
A 5K run was added in 1986, and current race director Brian Shea later explained why. "The 5K started the year after the 10K race sent 20 ambulances to local hospitals because of the heat, and it was on every news channel that evening."
"It was very hot that year and runners had only one choice, the 10K," Shea said. "The 5K was born the next year to give runners a choice of either distance."
David Greifinger won the inaugural race in 15:22 and Kiki Laborteaux finished first in the women's division in 17:34.
Palisades High runner Peter Gilmore, who eventually became one of the country's leading marathon runners, won the 5K eight times: 1995, 1997, 1998, 1999, 2002, 2003, 2004 and 2006. Kara Bernard holds the most wins for women with five: 1997, 1998, 1999, 2000 and 2004.
As noted earlier, when race organizers discovered in 2011 that the 10K course was 427 feet short of an official 10K, they brought it up to the national standard in 2012. But the 5K course remained short until it was lengthened for the 2015 race. With the now accurately measured route, Andrew Bland now holds the record at 15:48 (2014). Drake Johnston, who won in 2015 and 2016, has the second fastest time of 15:56. Regina Lopez holds the women's record with 17:54 set in 2017.
KIDS FUN RUN
In 1995, a half-mile race was added for kids who were too young (or unwilling) to run a 5K, and it rapidly became a top attraction. Every year hundreds of kids, some as young as three, sought to emulate the older runners by running down down Alma Real, turning left on Drummond and finishing back on Toyopa.
LEMEN HIGH SCHOOL TROPHY
One highlight last year was the debut of the Lemen High School Run, which coincided with the 5K race.
This gave student runners from local high schools a chance to run under their school's name and compete for the team trophy. A high school needed to have at least three athletes running, and the fastest three times were added up to determine the winner.
Palisades High edged out Loyola by just 53 total seconds. Pali's Brett Bailey ran 17.35, Alec Schmitt 18:27 and David Tobin 18:54, giving the team a time of 54.16.
Loyola's Nathan Mars ran 18:28, and Tyler Ratkovich and Mark Valenzuela had identical times of 18:39, giving the team a 55.07.
This team competition is dedicated to the late Dick Lemen, a longtime Palisadian and a track coach at Palisades High for many years. He was also a member of the Ridge Runners, the band of about 20 local runners who originated the Will Rogers Run in 1978.
In a 1990s feature article by Matt Purdue ("They're Running the Show"), Lemen explained why the group organized the 5/10K races. "It's a good opportunity for us to put something back into running. Also, it's good for the community and we enjoy doing it."
Lemen died in 2017 and is survived by his wife, Karen, and two adult children, Carly and Jeff.
Look for a return of this contest in 2021.
2019 10K WINNERS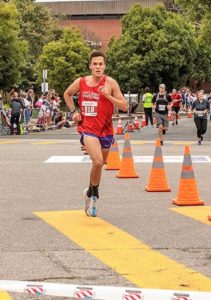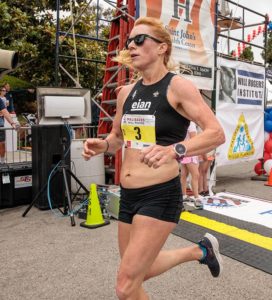 Caitlin Chrisman, 32, won in a time of 37:17 (6:00 minute/mile pace). Capturing the Men's title was Cosmo Brossy, 22, with a 34:18 (5:31 min/mile pace).
2019 5K WINNERS
The 5K 2019 winners were Evan Hassman, 20, with a time of 16:49 (5:24 min/mile pace), and Natalie Gigg, 24, in a time of 18:42 (6:01 min/mile pace).