"I'm excited about being able to compete and play and play here at Riviera where basically it all started," Tiger Woods told reporters on Tuesday. "I'm excited to get out there and play, play tomorrow and get a nice little taste and feel for it. It's a little cooler than I thought, I'll get used to that and get ready for Thursday."
Woods played in the ProAm on Wednesday. He was the first on the course, with some lucky amateurs, at 6:30 a.m.
On Thursday, he tees off at 12:04 p.m., playing with Rory McIlroy and Justin Thomas.
The Genesis Invitational will be played for the 60th time at the Riviera Country Club. The field will include 129 players with a $20 million purse. The winner will claim $3.6 million.
It was two years ago in February that Woods was severely injured when his Genesis SUV crossed two lanes, struck a curb and hit a tree in Rolling Hills Estates in Palos Verdes.
Woods injuries were so significant, there was some speculation that he might never walk again.
In a Golf Digest interview, a year after the crash, Woods said his injuries were more painful than anything he had ever experienced.
"This has been an entirely different animal," Woods said. "I understand more of the rehab processes because of my past injuries, but this was more painful than anything I have ever experienced."
On Tuesday, Woods told reporters, "It's more my ankle, whether I can recover from day to day. The leg is better than it was last year, but it's my ankle."
He said that his ankle has gotten so much better the last couple of months and "I'm excited to go out there and compete and play with these guys and win the event. If I'm playing the event, I'm going to try and beat you. I'm there to get a W."
Woods said to rehab his ankle he's been walking distances on the beach, "just basically stress it out but also be able to recover by the next day and see how it is inflammation-wise and then keep practicing. I may have overdone it a couple times here or there, but here I am."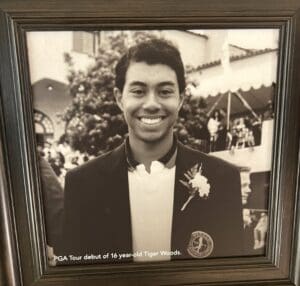 Woods first played the historic Riviera Golf Club in 1992, as a 16-year-old amateur. He told reporters on Tuesday.
"I know this golf course." This will be his 15th appearance. "I know I haven't had a lot of success on this golf course, but I knew what to practice for, shots hit at home getting ready."
Golfer Scottie Sheffler, who is currently World Number 1 in the Official World Golf Ranking, and just won the WM Phoenix Open was asked about Woods. "Tiger means so much to us as players. It was pretty scary a few years ago when he got in that accident, and we didn't know if he was going to be able to do this again. Just to have him out here on the grounds and to see him around doing what he loves to do is a lot of fun for us."
No matter who lifts the Genesis trophy on Sunday after Round 4, Woods is the biggest winner.