An alarming statistic about relationships is about half of all marriages in the United States end in divorce. When I was doing stand-up comedy, I quipped, "Why don't they marry every other couple?"
Unfortunately, second marriages have even a higher rate of failure (about 60 percent).
Luckily, Didi and Steven Carr Reuben offer solid advice in their short, practical book "How to Marry Your Second Husband First!"
Steven, who was senior rabbi at Kehillat Israel and is now rabbi emeritus, and Didi, a singer and actress who co-starred in the ABC sitcom "Sugartime," have authored a sensible guide to those who may be contemplating marriage.
Didi, who as the Rabbi's wife wrote a relationship advice column, "Ask the Rebbetzin," and Steven, who counseled numerous couples, have been married for nearly 40 years.
"The results of our many years of hands-on counseling, study and interaction with hundreds of couples is exactly what you will learn in the pages of this book," the duo writes. "You will discover the tried-and-true strategies for meeting the right person, asking the right question, developing the right relationship, and creating a marriage that will last."
Circling the News has observed and interacted with this happy couple for decades. They seem so "solid" and so happy, but in the book, both acknowledge that they failed at their first marriages.
Steven said, "I married my first wife because I was in a relationship with her for a couple of years, then became a rabbi and felt the pressure of relationship momentum that what I was 'supposed to do' was get married to her after all that time, so I did."
He added, "Didi was married after she had been raped at knife point in her home in Hollywood and found someone big enough and affluent enough, she thought, to keep her safe and scare others away."
What's wrong with that? How would you know that the marriage was slated for failure?
Didi explains in the book, "When Steven was growing up, he used to watch a fabulous children's television show in Los Angeles called, 'The Engineer Bill Show.'
"Nearly 70 years later Steven still remembers the statement made almost every day on the show: 'On a green light you go and on a red light you stop, because no good engineer would ever run a red light!'"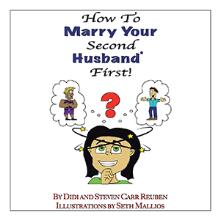 The couple lists the "20 Worst Reasons for Getting Married" and it turns out in both cases, Steven and Didi both fell into the trap.
"Yes, we both ignored red lights galore, took deep breaths and knew deep down it wasn't the best idea but did it anyway," Steven said, noting that in the 20 worst reasons list, he hit number 12 ("I'm afraid of becoming an 'old maid'– the male version)," number 17 ("I don't know how to end the relationship") and number 20: "Isn't that what I'm supposed to do next?"
Didi ignored the red lights on the list that included number 7 ("I need someone to protect me") and number 9 ("He asked").
In addition to asking you to examine who you are and what you want in a relationship, the book helps a person recognize the positive traits and characteristics in oneself and others and learning how to apply them to create a marriage.
The book, only about 30 pages long, is broken down into short chapters that encourage introspection, starting with Chapter One, which gives the "Top ten steps to finding your second husband (or wife) first."
Number one is, "Make a list of the top ten (okay at least the top five) most important qualities you would love to have in a mate."
If you know someone who has been unlucky in love, or if you want a playbook about how to have a successful relationship, pick this book up.
Steven was asked how best to give this book to young adults or even those in challenging relationships. He suggests, "Just give them the book because you think it's 'cute' and written by a couple you have known for years."
Ideally, the book can be ordered through Diesel Books in the Brentwood Country Mart (and also at Amazon and Barnes and Noble).