The 5/10K Will Rogers Race returned this year nearly equaling the 2019 event and its 2,342 runners.
Organizers Thomas Hathaway and James Klein were told by the timing company that most of the races in the state, post Covid, have averaged about a 70 percent participation rate to prior years.
Expecting about 1,700 runners for the 45th Annual Race, organizers were thrilled that the Palisades community outdid that with 2,186 runners –  and that didn't include the 327 who entered the Kids Fun Run.
Hathaway and Klein gave a huge shout out to the community for its support in the annual 4th of July nonprofit race that was founded in 1978.  Money after expenses goes to Palisades Optimist Club, which not only supports education and treatment centers for juvenile offenders and at-risk children, but also gives grants to local nonprofits that benefit youth.
On July 3, Los Angeles City, which in two years, still hasn't moved trash from handicapped parking spaces in the Westchester Park, nor stopped illegal camping along the environmentally sensitive Ballona Wetlands, stepped by for a surprise inspection of the Palisades race set up.
"We passed," Klein said. "The credit goes to Thomas for his incredibly accurate sketch/outline of the scaffoldings."
The morning of the race started sunny, but by the 8:15 a.m. start, a light cloud cover kept it cool for runners. After a thrilling rendition of the National Anthem by resident Kate Hassett, the runners were off.
5K
Over the years, the course length of the 5K has varied, but starting in 2015, the course was certified by the USATF.
Andrew Bland has held onto the fastest time (15:48), until this year.
Jake Ratkovich was first (15:43) breaking Bland's record by five seconds.  Max Fields,16, was second (16:01) and Henry Payne, 18, was third (16:30).
In 2019, the winning time was 16:49 by Evan Hassman—all three top finishers this year beat that time.
Ratkovich, 17, is a rising senior at Loyola High School. He's on the cross-country team and also runs track, with the 1600 meters his race of choice. In the 4th of July race, he held a 5:03 minute mile pace.
A Hancock Park resident, Ratkovich came to the Palisades specifically to help the Loyola team take the Lemen High School Trophy, which they did this year.
The Lemen High School Run coincides with the 5K race. Student runners from local high schools run under their school's name and compete for the team trophy. The fastest three individual times are added to determine the winner.
The first year of the competition in 2019, Palisades High edged out Loyola by just 53 total seconds. This year it appears that Loyola has taken the trophy that is named after late Dick Lemen, a longtime Palisadian and a track coach at Palisades High for many years. He was also a member of the Ridge Runners, the band of about 20 local runners who originated the Will Rogers Run in 1978.
Darby Green, 20, (19:46) was top female finisher in the 5K.  Second was Phoebe Benun, 15, (19:55) and third was Lizzie Walker, 15, (20:46). The fastest time on this course was in 2017, when Regina Lopez ran 17:54. In 2019, Natalie Gigg was first with a time of 18:39.
Green, a Georgetown University student, graduated from Palisades High School, in 2020. She also was a top swimmer in freestyle and backstroke at Pali. She is working as a lifeguard at Will Rogers State Beach this summer, and had the Fourth off, which allowed her to run in the 5K.
She hasn't run a lot of 5K races, and remembers doing a 5K in Pasadena, but called the Will Rogers Run, "More fun."
10K
The 10K race can be grueling with the switchbacks on Mile 4 going up the back entrance to Will Rogers State Park. In 2012, the 10K course was realigned and measured to USATF, which lengthened it by about 475 feet.
In 2014, Tonny Okello ran the 10K in 31.21. The top three finishers this year were Shane Brouwer, 25, (33:08), William Makinen, 22, (35:19) and James Lubinski, 43 (35:39). Brouwer held a 5:20 minute per mile pace.
Brouwer was an outstanding Palisades High School athlete, and also ran cross country for Santa Monica College.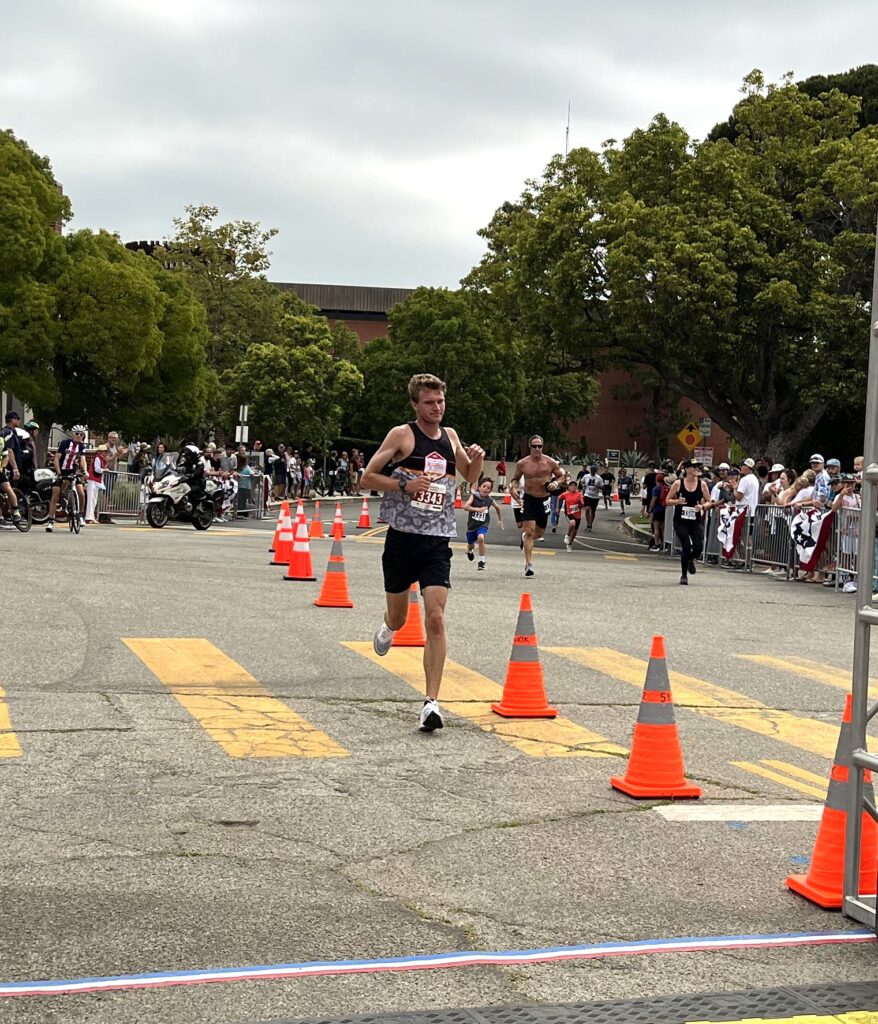 On June 5, he won the Ventura Mountain to Beach Marathon with a time of 2:27:23, but explained that they hadn't measured the course accurately and he ended up running an extra half mile. "It was brutal," Brouwer said.
After Pali, he attended SMC for two years, before deciding he wanted something more concrete in life and attended a trade school. He now works for the City of Glendale with high voltage switching.
His ultimate goal with running is "I'd like to make the Olympic trials at some point."
He also works part-time as a lifeguard for the County, and after the race was headed to the beach to see if he'd be assigned to Venice, Will Rogers or Santa Monica beach for the July 4th holiday.
Sarah Bentley, 20, was first female to cross the finish line in the 10K with a time of  41.23. Charlotte Kane, 36, (43.2) was second and Nell Stephenson, 47, (45:12) was third.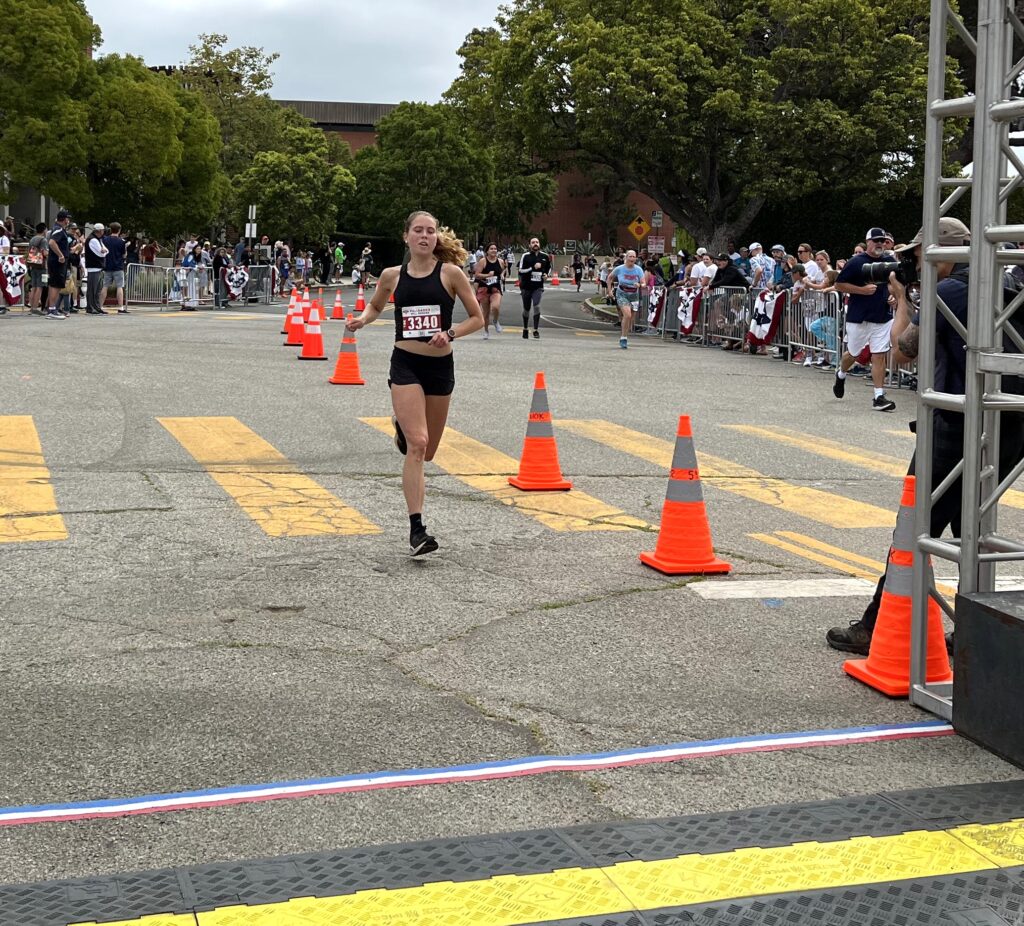 Bentley, also a Palisades High School athlete, held a 6:40 minute per mile pace. She attends MIT where she runs cross country and track. She's working in Seattle this summer and came back for the weekend, and entered the race.
She said her coach wants the athletes to train this summer and this provided a great opportunity. This course has hills on miles 2, 4, and 6, and Bentley said, "I tried to go fast on the downhill and chill on the uphill."
The 10K race record for females, since the course realignment, was set by Kaitlyn Peale in 2018 (36.19).
At 9:30, Sierra Solum sang the National Anthem beautifully to start the Kids Fun Run. The kids sprinted the half mile course that ended at the 5K Race finish line.
Awards were handed out at 10 a.m. for the different age groups and those results can be found on the website (palisades4th.com).
This year's race sponsors included: Saint John's Health Center, the Cynthia L. & William E. Simon Jr. Foundation, Farmers Insurance, Kennedy Wilson, Laura Brau Estates, The Agency, Will Rogers Ranch Foundation, Ronald Reagan American Legion Post 283 and the Jordan Kaplan Family.