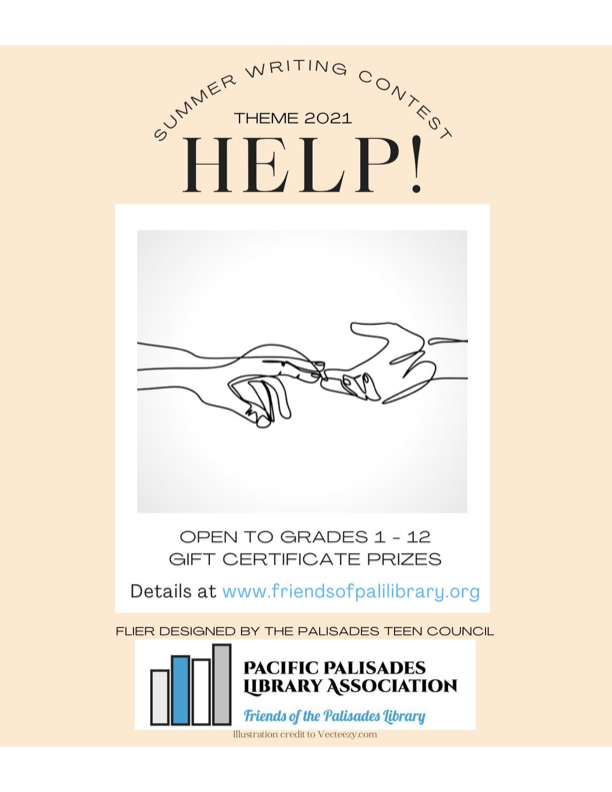 The Friends of the Palisades Library organization has launched its annual summer creative writing contest, which is now available to students who attend school (private or public) in Los Angeles.
Youth and teens from first grade through high school are invited to submit an original short story, essay, non-fiction article, dramatic scene, monologue or poem with the theme "Help!"
Entries must not exceed three pages (double spaced only, typed in 12-point font) and may not have been submitted at school or in another contest. Contestants are limited to one entry.
All entries must be received and recorded by September 8. Winners will receive gift certificates to Diesel Books (which can be redeemed online) in five categories. First place is $250, second place is $100 and third place is $50.
Entries will be judged by members of the Friends of the Library board and can be emailed to friends@friendsofthelibrary.org. The story and the entry form must be submitted as two separate PDF documents.
An award ceremony will be held in the fall, either in person at the Palisades Branch Library or on Zoom. At the ceremony, the winning entries will be performed once again by actors Bill Jones and Christine Kludjian.
For more information about the contest, including the rules, visit: friendsofpalilibrary.org.
The Friends of the Library is a nonprofit that has supported the Palisades Library through its regular book sales and its used bookstore located on the small patio at the back of the library.
This year, Kayndaves has provided gift certificates to the Teen Council members, who helped provide the theme. Council member Francia Poma, a sophomore at New West Charter School, designed the logo.
Jones and Kludjian will also receive a certificate to Kayndaves.