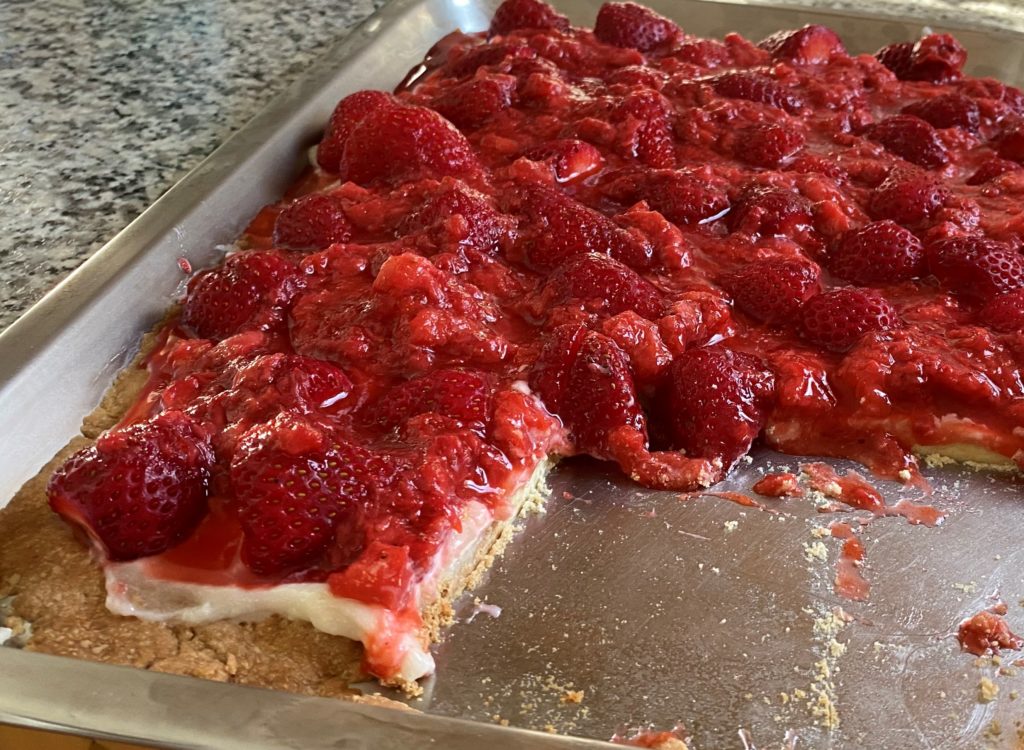 (Editor's note: So many readers asked for this recipe, I have included it below. It's easy and a great dessert, because even if one makes a mistake or messes up the recipe, it still tastes good. I used to have my kids make it.)
Strawberry Pizza (from Forest Grove, Oregon, relatives)
CRUST:
1 c. flour
¼ c. powdered sugar
½ c. softened butter
Mix together and press on a 12" pizza pan. It can also be put on 9" x 13" pan.  Prick with a fork and bake at 325 for 15 minutes. Allow to cool. (If you like a "thick crust" pizza—double the recipe above.)
CREAM LAYER:
Cream together 8 oz. cream cheese, ½ teaspoon vanilla and 1 cup sugar. Spread it on the crust. (I generally do it while the crust is still a little warm, it will spread easier.)
STRAWBERRIES:
Mix together 1 cup of mashed strawberries, 4 Tablespoons of sugar and 1 Tablespoon of cornstarch and cook over low heat until clear—or it starts to bubble. Let cool, while you cut additional strawberries and place them on the cream cheese/crust. Then pour cooked strawberries on top.
(Note: I generally save the best-looking strawberries to place on the crust and the less beautiful ones get mashed.)
Refrigerate.