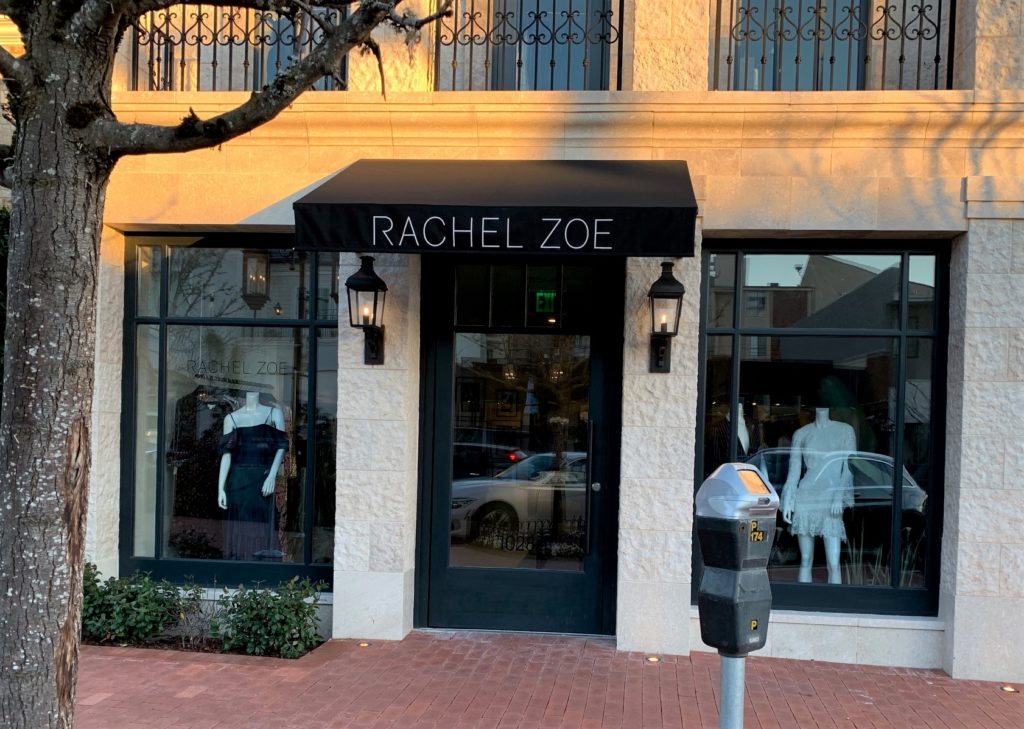 Clothier Lasts Six Months on Swarthmore
March 24 will be the final day for Rachel Zoe, located in Palisades Village on Swarthmore. This was Zoe's first retail space.
A reliable source said the store had a six-month lease but decided not to renew. Although the store's owners and employees loved the Palisades, there was a feeling that Zoe's clothing didn't fit the lifestyle here.
A new Rachel Zoe retail store may open in Highland Park (a highly affluent town in central Dallas County), while Rachel Zoe trunk shows will be continued locally.
A March 14 Hollywood Reporter story ("Mark Burnett, Rachel Zoe Team for Fashion Competition Series") noted that a yet untitled project will have contests vying to sell designer creations at the end of each episode.
Burnett, chairman of MGM's worldwide television group, was quoted as saying "I love fashion and have wanted to do a show in this space for quite some time."
According to the magazine, Zoe, who starred on Bravo's "The Rachel Zoe Project" for five seasons, has said: "The show will spotlight some of the most talented designers from around the world, and I am thrilled to be able to highlight their work."
Zoe's store closing will mean there are at least five vacant storefronts on Swarthmore, though Brunello Cucinelli and Veronica Beard have signs saying they will open soon in two of the spaces.
In addition, Palisades Village has a two-story vacant building on Monument, and an empty storefront that was vacated by Fleu Du Mal at the end of February, next to Botanica Bazaar.
On Sunset, there are now five empty stores, following the closing of Vintage Grocers on March 15. Three spaces are reserved:  Brandy Melville, Erewhon Market (replacing Vintage) and City National Bank, once it vacates its space on Via de la Paz.
We are reminded of a story in The Hollywood Reporter last December, headlined "Rick Caruso's New Pacific Palisades Mall Already Breaking Retail Records, He Says." The article noted:
"The 59-year-old development billionaire behind The Grove and upcoming Rosewood Miramar Beach relayed how good business has been at Palisades Village during a Nov. 28 holiday collection presentation party for resident designer Rachel Zoe, telling THR that 'the sales being produced out of this property are the best in the country per square foot.'"
Sinkhole Expands at Monument/Swarthmore
Circling the News was alerted that there was a sinkhole developing at the corner of Swarthmore and Monument.
In order to build Palisades Village mall, a storm drain that connected Swarthmore with Sunset had to be relocated, around the underground parking structure. Construction started Monday, June 27, 2016, and that corner was closed to traffic.
Last month, Monument was repaved from Sunset to Albright. City workmen told CTN at the time that Caruso had paid for the repair and the repaving of the alleyway between Swarthmore and Via de la Paz.
Whether this growing sinkhole is related to the storm drain is unclear and Circling the News is waiting to hear from DWP why the street surface is sinking.