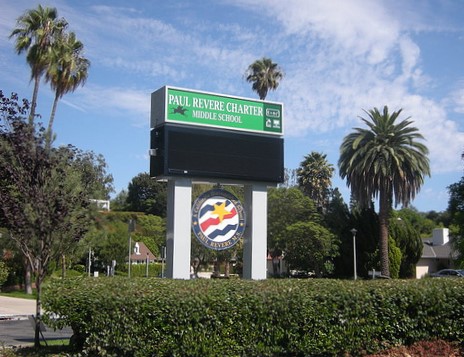 Orientation This Coming Saturday, May 18
If your child is ready to matriculate to middle school, the award-winning Paul Revere Middle School will host "Ready, Set, Revere" this Saturday, May 18.
Parents and incoming students will get a jump on the 2019-2020 school year by visiting the school to pick-up registration packets, walk the campus and have a chance to meet teachers and administrators.
Revere gear and physical education clothes will be available for sale. Students are expected to wear a P.E. uniform, which consists of green shorts and a solid gray shirt (no credit cards; cash and checks only).
At the event, there will be valuable information for parents and activities for incoming students.
If your student's last name is A through L, check-in time is 9:30 a.m. at the blacktop area by the gymnasium. Start time for activities is 10 a.m.
Students whose last name is M through Z will meet at the blacktop by the gymnasium at 1 p.m. with the admissions program starting at 1:30 p.m.
Visit: paulrevems.com to register for the event.