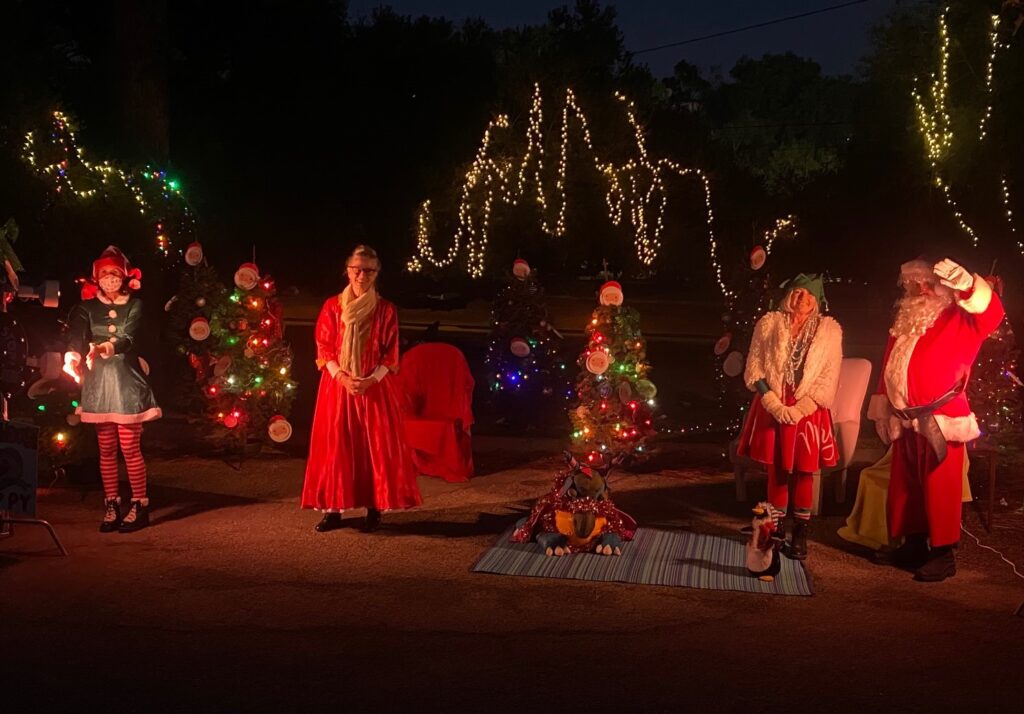 (PHOTOS: Rosalie Huntington)
Nothing could stop Santa Claus from visiting Pacific Palisades this year – not even a nasty Grinch-like virus.
Santa, Mrs. Claus and two of their trusty elves came to town late Friday afternoon. More than 100 cars drove by the Christmas trees, decorations and the Claus family in Temescal Gateway Park, across from Simon Meadow and the YMCA Christmas Tree lot.
Strapped in their car seats, kids peered out the window and waved to Santa as the cars drove slowly past.
"I almost started to cry, it was so emotional," Mrs. Claus told Circling the News. "The children's eyes were full of wonderment and excitement. It truly was magical."
She said that all of the children who drove past said they had been really good this past year and one of the top requests was for a new bike.
To create a special location for Santa, where everyone could stay socially distanced, many residents donated decorations, lights and blow-up inflatables, which turned the drive into a magical space.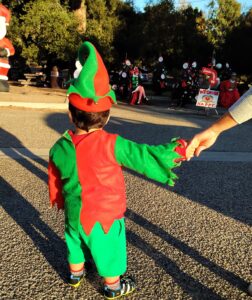 Until 2018, the community Ho!Ho!Ho! festivities were sponsored by the Pacific Palisades Chamber of Commerce, but then the Grinch decided this celebration was no longer needed because of activities at Caruso's mall. The free event was slated to go the way of wayward reindeer – somewhere north of the pole and never to return.
Fortunately, many residents loved the Ho!Ho!Ho! tradition and banded together as volunteers to keep it alive. In 2018, they put together an incredible event at the Recreation Center, and the following year the event included singers, dancers, a bake sale and nearly a thousand participants at Simon Meadow.
This year the challenge was much more intense because of Covid-19, which didn't allow crowds gathering and children visiting with Santa Claus.
Luckily, with imagination and fortitude, several residents came up with alternatives.
The first idea was a pet photo contest on Nextdoor Palisades. All one had to do was enter a photo. The photos with the most "clicks" will win a prize donated by shopkeepers such as Vivian's Boutique, Antique Collections, Katie O'Neill painting, BOCA, Cinque Terre West, PaliSkates, Groza Learning Center, Estate Coffee and Palisades Garden Café. This contest closes on December 23 and CTN hopes to post the winners as soon as they are announced.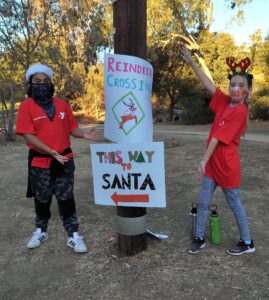 Another good idea was to install a special Santa's mailbox at Simon Meadow, where children were encouraged to drop a letter inside (or email it to PaliHoHoHo@gmail). All letters will make their way to the North Pole and to Santa's workshop before Christmas.  Santa Claus shared a letter with CTN that we shared with you on a different post.
Also, kids and families could sign up for individual live Zoom conversations with Santa on December 19 and 20. (A tax deductible donation to the YMCA was requested.)
Visit: palitown.com or go to Facebook and Instagram: @palihohoho.
(Editor's note: Although the Pacific Palisades Community Council did not give out their Sparkplug awards, the Pride of the Palisades award and Citizen of the Year honors because of Covid-19, CTN hopes that these residents are recognized for their heroic efforts pulling Ho!Ho!Ho! together:  Lou Kamer, Chase Holiday, Rosalie Huntington, Buddy Chancellor, Rena Repetti, Lisa Glantz, Heather Lyle, Patty Detroit, Dana McKenna, Marlo Vinzoni and Michael Kafka.)