Pacific Palisades resident Fran Morris Rosman, executive director of the Ella Fitzgerald Charitable Foundation, spoke to the Rotary Club on Tuesday about the "First Lady of Song," who earned 13 Grammy Awards and sold more than 40 million records.
The young Ella had it tough. When her father left shortly after she was born, she and her mother moved to Yonkers to live with her mother's longtime boyfriend, Joe. A half-sister was born. The family managed to get by as the father dug ditches and the mom worked in a laundromat.
When Ella was a teen, her mother died from serious injuries in a car accident, and Joe suffered a heart attack and died shortly after.
Sent to live with an aunt, Ella's grades dropped, and she started skipping school She got into trouble with the police and was sent to reform school, where she was beaten by those in charge.
Ella escaped from the reformatory and, at age 15, found herself broke and alone during the Great Depression.
In 1934, at the age of 17, Ella's name was pulled in a weekly drawing at the Apollo Theatre and she won the opportunity to compete in Amateur Night. She planned to dance, but when the Edwards Sisters closed the main show, she changed her mind. "They were the dancingest sisters around," she said.
Once on stage, she made a last-minute decision to sing, and according to her website, Ella Fitzgerald asked the band to play Hoagy Carmichael's "Judy," a song she knew well because Connee Boswell's rendition of it was among her mom's favorites. Ella quickly quieted the audience, and by the song's end they were demanding an encore. She obliged and sang the flip side of the Boswell Sisters' record, "The Object of My Affections."
In 1938, Ella recorded a playful version of the nursery rhyme, "A-Tisket, A-Tasket." The song sold 1 million copies, hit number one, and stayed on the pop charts for 17 weeks. Suddenly, Ella Fitzgerald was famous.
At Tuesday's Rotary Club meeting, Morris Rosman said, "I grew up in Los Angeles watching variety shows. I would check TV Guide to see who was going to be on Ed Sullivan and if it was Ella, I knew it would be a good show."
In 1980, she married her husband, Richard, a lawyer, and one day he came home and told her, "I get to work with Ella Fitzgerald." Eventually Rosman became Fitzgerald's personal attorney and then the executor of her estate.
It was on his advice in 1983 that Ella started the Ella Fitzgerald Charitable Foundation and donated all her royalties to the foundation.
Today, "We give away about $1 million dollars a year and about 150,000 books," Morris Rosman said, noting that books were important to Ella. "She loved to read."
The Palisadian, who had earned a master's degree in library science from the University of Chicago, started working with Ella in 1996, when the singer decided she needed an archivist for all the awards, gowns, music and books she had collected over the years.
"One room of her house [in Beverly Hills] turned into a closet for her performance gowns," Morris Rosman said. "Don Loper [American costumer] designed her outfits."
When Ella died later in 1996, Morris Rosman was asked to help organize where to donate Fitzgerald's clothing, her memorabilia and the music.
"I just sorted," Morris Rosman says. "It took years. I had three boxes: family, Library of Congress and Smithsonian, and I made the decisions."
The gowns were sent to the Smithsonian, the Kansas City Jazz Museum and Indiana University Bloomington.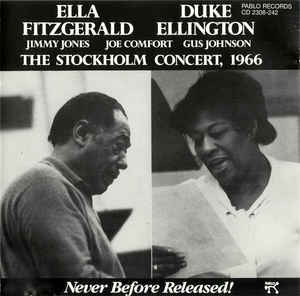 "Ella worked with Duke Ellington, Count Basie and Nelson Riddle," Morris Rosman said, but never recorded with Frank Sinatra because at the time it wasn't approved for a black and white singer to do a duet.
The Library of Congress has her music and "it is available digitally," Morris Rosman said. "Her 45s are also there." Ella's oral history is with the Smithsonian.
On the Fitzgerald Foundation's website, Ella says: "I owe Marilyn Monroe a real debt. It was because of her that I played the Mocambo, a very popular nightclub in the '50s. She personally called the owner of the club and told him she wanted me booked immediately, and if he would do it, she would take a front table every night. She told him — and it was true, due to Marilyn's superstar status — that the press would go wild. The owner said yes, and Marilyn was there, front table, every night. The press went overboard. After that, I never had to play a small jazz club again. She was an unusual woman – a little ahead of her times. And she didn't know it."
Ella fell in love with bassist Ray Brown from Dizzy Gillespie's band. The two were married in 1946 and they eventually adopted a son, whom they named Ray, Jr.
The singer had more than 200 album recordings and she gave her final concert at Carnegie Hall in 1991, the 26th time she performed there.
Morris Rosman said that her son, Randal, worked for the Foundation early on, and after Ella died, his job was "to go through all of her purses and collect the foreign money." She had learned that British Airways would take assorted cash from different countries and donate it to UNICEF.
Much of the Foundation's work benefits disadvantaged children, providing them with music, education, cultural enrichment, and health and dental care. The Foundation also has "A Book Just for Me" program, which annually gives more than 100,000 brand-new books to children.
Morris Rosman said that Ella had a large cookbook collection, which is now housed at the Schlesinger Library at Harvard University.
In one post on the Ella Fitzgerald Facebook page (facebook.com/EllaFitzgerald), which Morris Rosman updates regularly, she wrote: "While she never actually cooked, Ella Fitzgerald did like to eat. She read cookbooks the way some people read good novels, with gusto! These food-stained volumes speak to the warmth and friendliness of her kitchen and her hospitality."
Fitzgerald was a frequent guest on numerous television programs: "The Bing Crosby Show," "The Dinah Shore Show," "The Frank Sinatra Show," "The Ed Sullivan Show," "The Tonight Show," "The Nat King Cole Show," "The Andy Willams Show" and "The Dean Martin Show."
In 1979, she received Kennedy Center Honors for her continuing contributions to the arts.
In 1987, President Reagan awarded Ella the National Medal of Arts. It was one of her most prized moments, Morris Rosman said. France followed suit several years later, presenting her with their Commander of Arts and Letters award, while Yale, Dartmouth and several other universities bestowed Ella with honorary doctorates.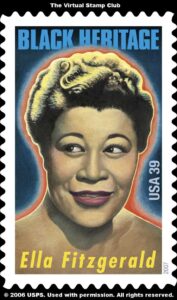 The Postal Service issued a 39-cent Ella Fitzgerald commemorative stamp on January 10, 2007, to honor her.
Morris Rosman said she is honored to be the foundation's executive director. "We're small and quiet," she noted, but the board donates about $1,000,000 a year in four areas:
  Educational and other opportunities for children
Fostering a love and knowledge of music, including assistance to students of music
Providing health care, food, shelter and counseling to those in need
Aiding medical care and research with an emphasis on Diabetes, vision problems and heart disease
Ella Fitzgerald, a woman who was larger than life, continues to help those in need through the foundation with the help of Morris Rosman. (Visit: ellafitzgerald.com.).