Author Betsy Rosenthal will discuss and sign her latest book "When Lightnin' Struck" in the courtyard at DIESEL, a Brentwood bookstore, this Sunday, February 27 at 3 p.m.
The event is free. Masks are required at the store, located at 225 26th Street, in the Brentwood Country Mart.
The 272-page juvenile fiction is based in 1928 in Odessa, Texas. Eleven-year-old James is struggling to find his purpose in life and to uncover a family secret.
His mother is in jail and when is father is struck dead by lightning, James goes to live with his grandparents.
Treated as a pariah at school, James is taunted as being cursed by his family's bad luck. But he finds a friend in Paul, a Russian immigrant, who is also treated as an outcast, and together, they battle the school bully.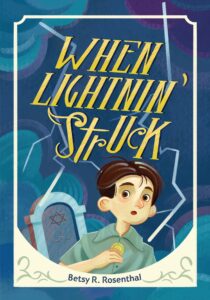 James's life is turned upside-down yet again when he uncovers a family secret involving his beloved grandmother. His discovery leads him to find the sense of purpose he's been seeking.
Before writing, Rosenthal, was the Western States Counsel for the Anti-Defamation League. She received her undergraduate degree from the University of California, Berkeley, and her law degree from UCLA.
After leaving law to raise her three children, Rosenthal turned to writing personal essays and children's books. Her work has appeared in numerous publications including the Los Angeles Times, The Baltimore Sun, The Christian Science Monitor, Mothering magazine, The Jewish Journal, Working Writer and California Monthly magazine.
Her middle grade novel in verse, "Looking for Me," has garnered numerous honors and awards. It was designated a Junior Library Guild Selection 2012, a Sydney Taylor Notable Book for Older Readers 2013, listed by Tablet Magazine under Best Children's Books of 2012, was selected as a PJ Our Way book, and won the Children's Literature Council's Myra Cohn Livingston Award for Poetry.
She is the author of six picture books that include "My House Is Singing," "It's Not Worth Making a Tzimmes Over!" "Which Shoes Would You Choose?" the award-winning, "An Ambush of Tigers," "a wild gathering of collective nouns," and "Porcupine's Picnic, Who Eats What?"
Visit: BetsyRosenthal.com.