BY VICKI HALLIDAY
(This story ran on the Westside Current on September 9 and is reprinted with permission. Halliday examines some of the properties that are available at the Palisades Bowl, 16321 Pacific Coast Highway. The property was established in the 1890s as a Methodist camp and remains a source of affordable housing in Pacific Palisades. )
If they are honest with themselves, there's hardly a soul who hasn't wondered about the mobile homes across from Will Rogers Beach. Direct access to one of the nicest beaches on the coast, a village of homes and a Pacific Palisades address. It does make one stop and consider!
Historically, much emphasis can be placed on the advent of the Airstream trailer with its factory in Culver City. 1931 and Airstreams were meant for the road, but they were also meant for a more permanent living concept. Just like now, the housing supply was in short supply about this time, and by 1937 there were numerous trailer manufacturers. Instant and mobile housing worked for thousands of defense industry workers and rapidly built manufacturing companies.
As trailers became more and more full-time residences for people, the trailer park as we know them came into existence and the empty area across from Will Rogers began to develop.
These days, they are not only still there but thriving as mobile home parks with clubhouses, amenities and HOAs.
Originally the perfect retirement village where folks could play a card game in the clubhouse and have an easy walk to the beach, today's residents encompass every age group. However, people still check on each other and provide a community. The sites have expanded up the bluffs to true million-dollar views.
This week, we looked to see what was for sale in this great East of Malibu, Pacific Palisades area. Do note that beyond the asking prices, there is a site rental fee, which ends up being similar to an HOA fee.
This manufactured home (below) has been updated creating a large rooftop deck and a private outdoor dining area outside the kitchen.  Priced at $875K, it's a two bedroom/two bath California modern bungalow and includes enough covered parking for two cars.  If being across the road from the beach isn't enough, the clubhouse has a large pool and other communal facilities for outdoor entertaining.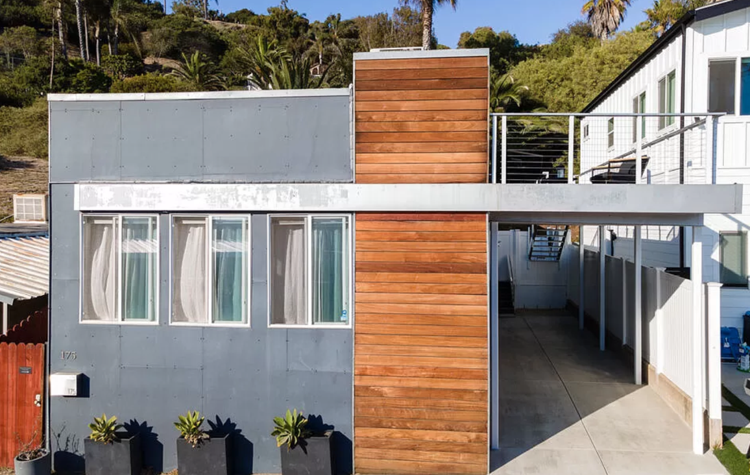 How about this view from your roof deck?  It's an everyday thing when you own this one bedroom/one bath home built in 2020.  All the interior finishes are great, too, with hardwood floors, granite kitchen countertops and the best part is that it is located on a cut de sac street. A beach paradise for a single!  Priced at $595K.
This is a 1969 home (above) which is still very usable.  It could do with some upgrades or bring in a newly built home.  It's right across from Will Rogers, has a lot of surfer charm and is priced at $469K.  If you like having a view, this one is certainly worth viewing!  Oh, and it has all the clubhouse amenities attached, too.
Recently upgraded, this newly new home is spacious and light with a great view from its second floor.  It's empty, ready to move in and priced well at $795.  Like the other homes,  it's across from the beach and minutes to key Westside locations.  It's a two bedroom/two bath residence waiting for a new owner.
Complete with mature landscaping, an artificial turf dog run, and a lot of privacy, this home (below) comes with fun tile work that adds loads of charm to its great location.  Once again, the clubhouse offers additional amenities that make it ever so easy to call this home. Priced at $650 K for its two bedrooms/one bath and great long time maintenance.