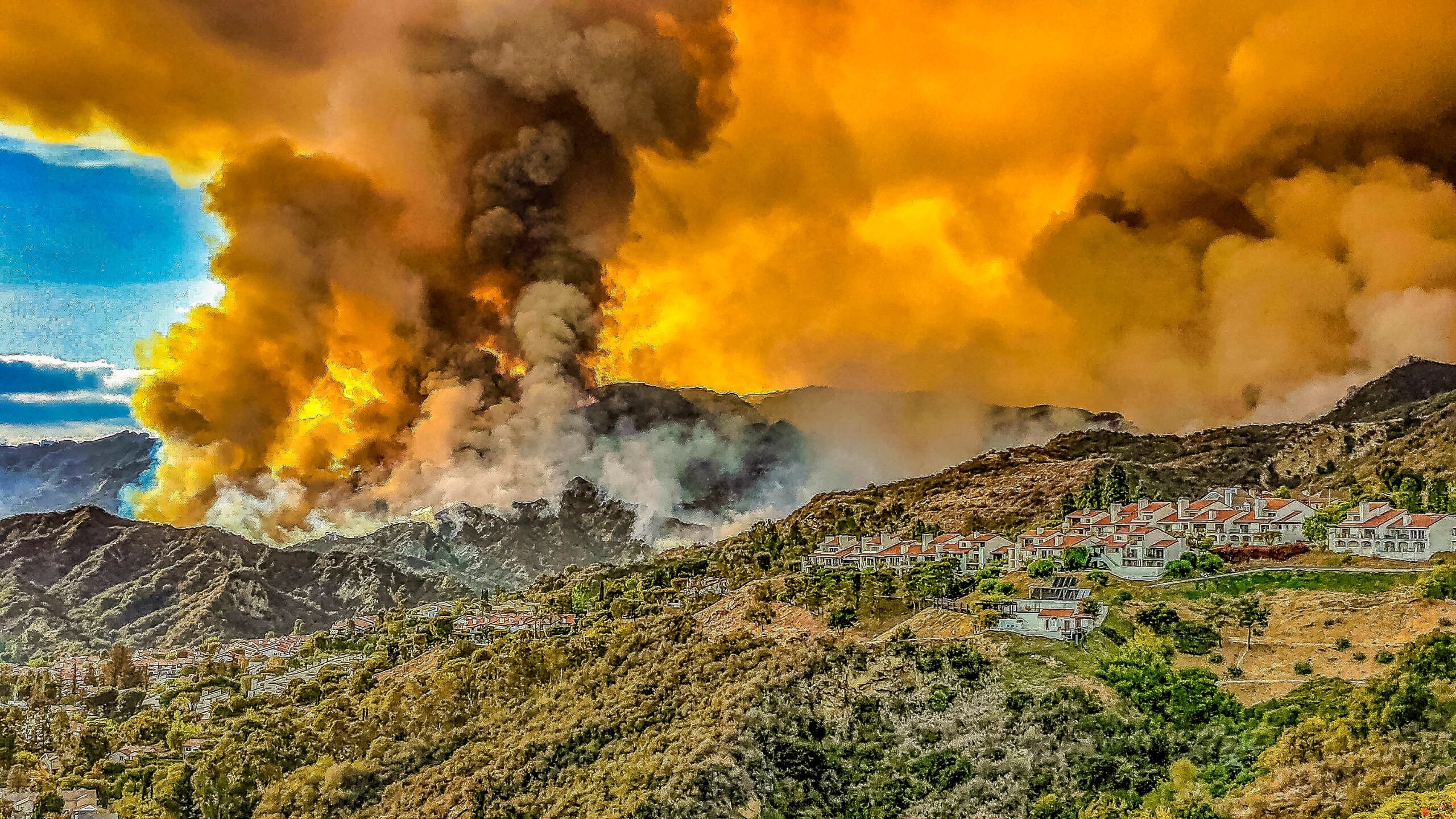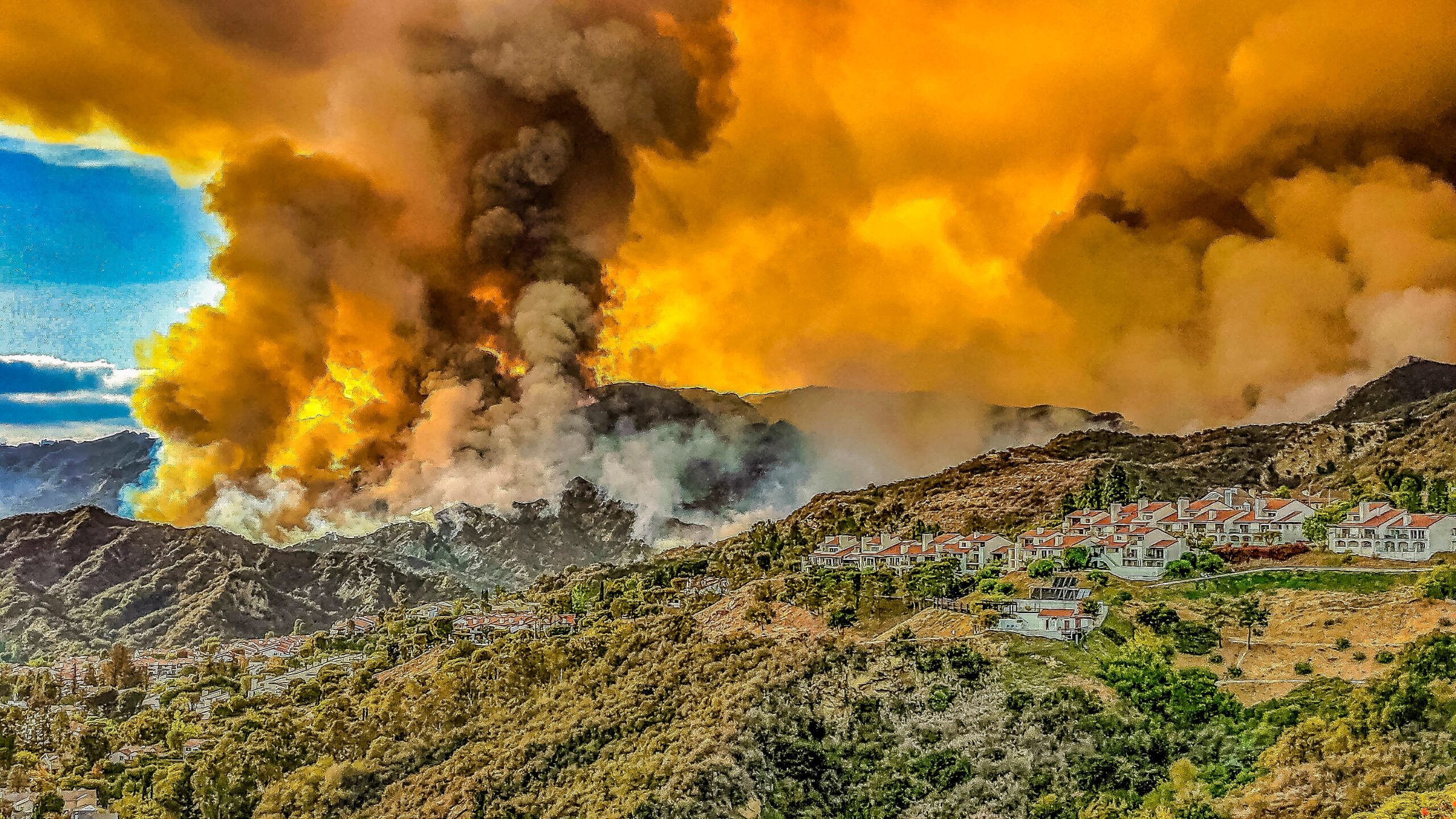 All fire photos are property of Gary Baum and may not be reproduced without his permission. 
(Editor's note: There was 23% containment of the Palisades Fire and it remained at about 1,325 acres as of Monday evening, according to LAFD spokesperson Margaret Stewart. Topanga residents who had been evacuated were being allowed back in their homes starting at 6 p.m. but are required to show ID.)
City and County officials, firefighters and police gathered at Will Rogers State Beach at 10 a.m. Monday for a media update about the Palisades Fire that started at around 10 p.m. on Saturday. (The incident command center is located on the parking lot that Councilman Mike Bonin has proposed as a homeless shelter site.)
Mayor Eric Garcetti said, "The fire is at 1,325 acres with zero percent containment." He noted that "the weather is our friend," given the continued night and morning low clouds and cool temperatures in Pacific Palisades, with slight wind conditions.
The brush that has been burning in the Santa Monica Mountains, between Topanga Canyon and the Palisades Highlands, is 20 to 30 feet high, and has not burned in more than 50 years.
Garcetti noted that while the inversion layer is welcomed, it makes it harder for helicopter water drops by helicopters and retardant drops by fixed-wing aircraft.
LAFD Chief Ralph Terrazas said the cloud cover was about 2,500 feet every morning, but as soon as it lifted to 4,000 feet, they could bring in the aircraft. Helicopters have been operating 24/7.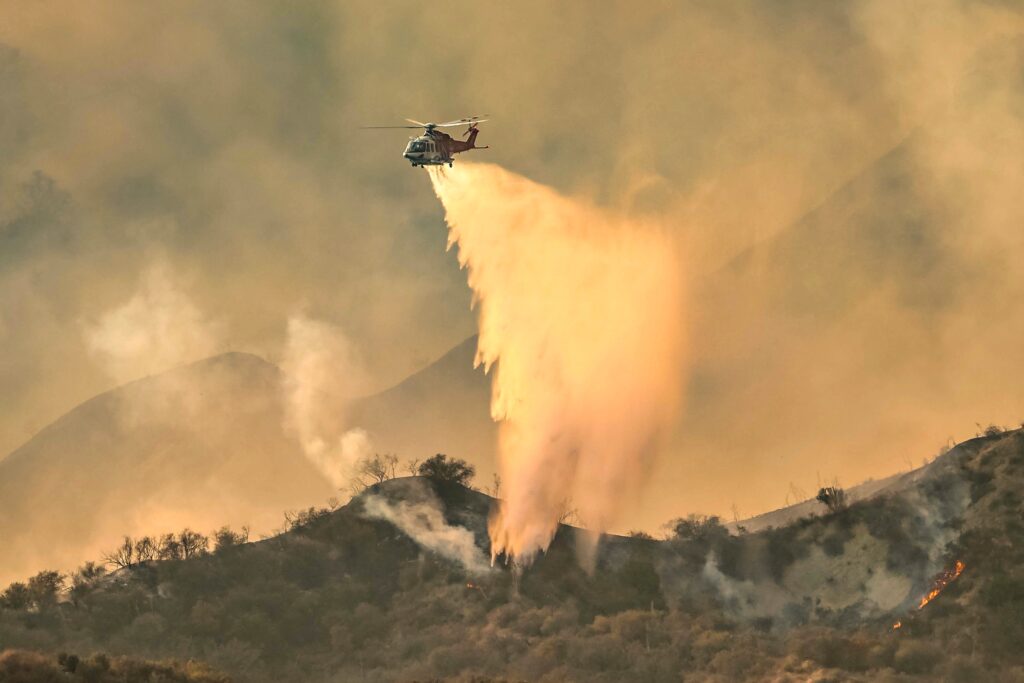 He said that one man had been brought in for arson questioning on Saturday night. It was determined he had not started the fire and he was released. A second person was arrested on Sunday at 2:30 p.m. and brought in for questioning.
"No lives have been lost, no homes have been lost," said Terrazas, who noted that the water-dropping helicopters had been on scene since the fire broke out. "The cause is labeled suspicious. We count on tips coming in from the community."
"A suspect has been arrested and is getting medical treatment," Garcetti said.
Councilman Mike Bonin stepped up to the mike to speak, to remind people to sign up for Notify LA, but community members kept shouting "Recall Bonin" throughout his quick presentation and made it difficult to understand what he was saying.
He did implore people that if they did evacuate to remember to tell housekeepers and tutors not to come into the area. "We're looking at a difficult fire season," Bonin said. "If you see something suspicious, report it to LAFD."
One of the first questions from the press was whether the suspected arsonist was homeless. Terrazas responded, "I don't know if he's homeless."
Another media person asked how LAFD knew the fires were set. Terrazas said that there were fires at multiple sites, and since there were no embers flying around, the fires most likely were set.
He said he expected that fire crews would be fighting the Palisades fire for several days.
Circling the News asked if officials thought the suspect that was being treated at the hospital for smoke inhalation was the same person who started small brush fires in Temescal Canyon, below El Medio, on May 10 and 11. Terrazas said, "I have no information about it."
After the conference, CTN spoke to West Bureau Commander Deputy Chief Armando Hogan, who let Terrazas know about the two earlier fires off El Medio. Those are still under investigation and it is not thought the same person set those fires as the Palisades/Topanga fires. (See story below)
Past Citizen of the Year Bruce Schwartz told CTN that the real hero in the search for an arsonist was Highlands resident Matt Blake. "He cracked the case with heads-up thinking," Schwartz said. "He is the hero here."
A photo of the suspected arsonist was sent to Schwartz, who then sent it to Highlands groups, which included Blake.
Blake was driving down Palisades Drive towards Sunset when he saw ACS Security talking to the man that had been identified in a photo. He made a U-turn to alert the security office that the man was suspected of starting the fire. "I saw that ACS let the suspect go, because they probably had no reason to detain him," Blake said in a statement.
He was able to show an ACS officer the description of the suspect and they chased the man down again. "He was parched, and asked if I had any water in my car, and I had a half-filled water bottle, which he took from me and began drinking."
Blake then drove to the Santa Ynez trailhead and told a member of LAFD they thought they had the suspected arsonist—but the firefighters didn't have a description, so Blake showed them the photo that had been passed around in the Highlands and "they told me they saw him at the trailhead just before he walked to Palisades Drive," Blake said.
If you see Blake, thank him for the heads up. The man he stopped is the one in custody. If he had not gone back, the man might have continued down the hill to a bus stop.
Since Bonin has proposed using the Will Rogers parking lot for the homeless, CTN asked Terrazas about the importance of being able to stage at this location. LAFD has used it as a command center for multiple fires over the past few years. He said they have several areas they can use but did not offer an alternative location.