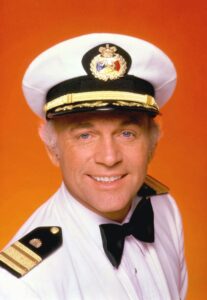 Gavin MacLeod, born February 29, 1931, in Mount Kisco, N.Y., passed away on May 29, at his home in Palm Desert. He was 90.
Gavin served as honorary mayor of Pacific Palisades for five years (2006 to 2011) at the invitation of the Chamber of Commerce. Arnie Wishnick, the Chamber's executive director at the time, said that Gavin was one of his favorites. Often, when walking by the Chamber office on Antioch, one could see Wishnick and MacLeod deep in conversation.
Chamber assistant Marilyn Crawford told Circling the News, "Gavin and Steve Guttenberg were very special and took their positions seriously. In fact, they each served double terms and a bit longer—we just could not let them go."
At the annual Chamber installation dinner, when MacLeod turned the gavel over to Sugar Ray Leonard, he said he was sad to leave Pacific Palisades and the position he had held longer than any of his predecessors.
"Gavin has been a superb mayor who was always there for us, when we asked him to attend a Chamber event," Wishnick said. "But he and his wife have moved to the desert, so it's time for a new mayor."
MacLeod grew up in Pleasantville, New York. His mother worked for Reader's Digest, while his father was an electrician who was part Chippewa. He attended Ithaca College, graduating in 1952. He served in the U.S. Air Force and then moved to New York and worked at Radio City Music Hall as an usher and elevator operator while seeking work as an actor, changing his name from Allan George See.
MacLeod made his screen debut in the 1958 Susan Hayward vehicle "I Want to Live." He had a supporting role in Blake Edwards' World War II comedy "Operation Petticoat," starring Cary Grant and Tony Curtis.
Working steadily, he found a home on "McHale's Navy" from 1962 to 1964, and then moved to "The Mary Tyler Moore Show." He had originally tested for Moore's TV boss, Lou Grant, the role that went to Ed Asner. MacLeod asked if he could try instead for the wisecracking TV news writer.
The "Moore" cast — MacLeod, Asner, Valerie Harper, Cloris Leachman, Betty White and Georgia Engel — reminisced with Moore in 2002 on CBS' "The Mary Tyler Moore Reunion." (Another important cast member, Ted Knight, was a Palisades honorary mayor from 1981 to 1983. He died in 1986.)
Asner, one of two surviving members of the cast, said Saturday that "My heart is broken. Gavin was my brother, my partner in crime (and food) and my comic conspirator. I will see you in a bit, Gavin. Tell the gang I will see them in a bit. Betty! It's just you and me now."
After playing the news writer on the "Moore" show, Gavin became the Captain on "The Love Boat," a romantic comedy that although scorned by critics was adored by fans and ran for 11 seasons.
In his 2013 memoir, "This is Your Captain Speaking," MacLeod acknowledged that he had struggled with alcoholism in the 1960s and 1970s. His father was an alcoholic.
He had four children with his first wife, Joan Rootvik. They were divorced in 1972.
MacLeod's drinking problems helped lead to a second divorce, to actor-dancer Patti Steele. But after he quit drinking, he and Steele remarried in 1985 and became evangelicals. They credited religion for reuniting them. He wrote about this in his 1987 book, "Back on Course: The Remarkable Story of a Divorce That Ended in Remarriage."
The couple hosted a Christian radio show called "Back on Course: A Ministry for Marriages."
Besides his wife, MacLeod's survivors include his children, three stepchildren, 10 grandchildren and his first great-grandchild, who arrived in December.