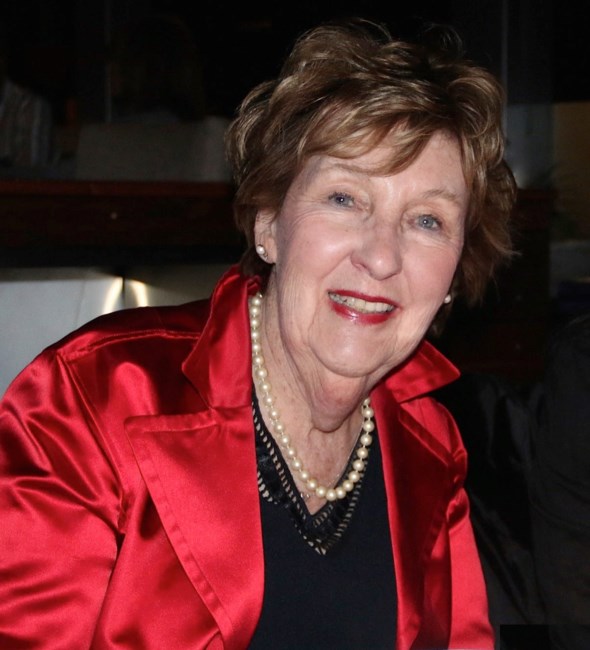 Dorothy Arline Richards, who was born October 27, 1933, in Garden City, Long Island, New York, passed away on November 25 – Thanksgiving Day. She was in her favorite chair in her home of more than 44 years on Enchanted Way in Pacific Palisades.
Dorothy was known at family holiday gatherings for her hot artichoke dip and she always made a delicious standing rib roast with homemade gravy that no one has  been able to duplicate.
She attended the Mary Louis Academy, a Catholic college preparatory school in Jamaica Estates, New York.
After finishing school, she worked as an executive assistant at BBDO Advertising Agency, while enjoying weekends in the Hamptons.
Dorothy moved to California in 1961 at the age of 27 where she met her husband Bill. Even though Dorothy lived in California for more than 60 years she always referred to herself as a real New Yorker.
Dorothy enjoyed working at St. Matthew's Parish and spent 20 years with Marymount High School, as the registrar.
She loved stopping into Gelson's in her black jaguar, going out to lunch with friends and dining at Mastro's.
Los Angeles was an ideal city for this woman who loved the entertainment industry – from opera to the movies to all the best TV series, including Mad Men which reminded her of being in the advertising world herself.
Dorothy spent time involved with many philanthropic organizations, most recently as an active member of the Pacific Palisades Woman's Club, currently serving on the board of directors.
Besides her family, Dorothy's biggest accomplishment and life work was her 46 years of continued sobriety and her work with CLARE/MATRIX (formerly CLARE Foundation).
In 1989, she joined the Board of what was then CLARE Foundation, a nonprofit organization providing effective and compassionate treatment, recovery and prevention services for alcoholism and substance abuse to individuals, families and the community.
Dorothy served as chair of the Major Gifts Committee and her efforts have helped the organization grow its residential, outpatient and prevention programs that serve thousands of people on the Westside each year.
Dorothy was a huge advocate for women in recovery. After dedicating more than 25 years to the CLARE Foundation, the "Dorothy Richards Fund for Women's Recovery" was launched in her honor.
Dorothy is survived by her daughter Nicole of Marina del Rey; her daughter Arline (John LoGioco) of Fair Haven, New Jersey; her grandchildren: Oliver (18) and Tucker (15); her grandpuppies Sir Harper and Woody; nieces, nephews, and countless friends.
Dorothy is predeceased by her husband of 49 years, Bill. Dorothy will be missed terribly by those she has left behind, yet we are comforted that she is together with those who passed before her including her mother Marguerite, her father Leo, her husband Bill, and her cherished friend Cathie Yonke.
Dorothy and her family have been parishioners of Corpus Christi since 1977. Services will be held at Corpus Christi Catholic Church at 11 a.m. Monday, December 20.
In honor of Dorothy's commitment to supporting women in recovery, the "Dorothy Richards Memorial Fund" has been created through CLARE/Matrix at www.clarematrix.org.
We are so grateful for the outpouring of love and support. Rest in Peace, Mom