Phyllis Genovese, the first woman president of the Palisades Chamber of Commerce and former owner of The Letter Shop on Via de la Paz, died last October 5 in Nevada, where she had lived the past few years. She was 105.
Born on January 15, 1915, Phyllis was interviewed by a local television station (KTNV) at her birthday party in 2020. They spoke to her in the Henderson Merrill Gardens nursing home, where she was living. "It was the most wonderful life," she told the reporter. And when asked the secret to longevity, she said, "Secret? There's no secret. You just keep growing."
Circling the News contributor Libby Motika interviewed Genovese shortly before her 100th birthday. The following are excerpts from the article she wrote:
A small figure, with an open smile, Phyllis possesses astonishing confidence and optimism, which run like a thread through her ten decades.
She and her younger sister, Geneva, grew up in south Chicago. Their father died young, but their mother supported the family by working at the Mandel Brothers department store through the Depression.
Phyllis attended junior college for two years, but her dream of becoming a physical education teacher was interrupted by the need to work. At 26, she came to Los Angeles at the urging of friends and fellow Midwesterners Jim and Ethel Meyer.
As Douglas was ramping up wartime production, Phyllis easily found work. "I would look at the blueprints, then run over to the storage bins in the parts department to find what was called for," she says. It was the first of her many odd jobs.
Later she was employed by the Santa Monica Police Department. Her task was to escort the female prisoners from the booking area on the first floor, down three floors of stairs to the cells. Phyllis, five-feet tall, was often dwarfed by her charges.
"After a couple of years, the police captain said to me, 'You're knocking my budget to hell,' since he had to send an escort with me because he was afraid I'd be tripped by one of the prisoners."
At the same time, Phyllis was pumping gas, changing oil and cleaning windshields at the station on Entrada at PCH in Santa Monica Canyon.
Phyllis lived with the Meyers in various neighborhoods in Pacific Palisades. She found work with a realtor and insurance firm in the community, and also did typing work for an attorney and a few realtors—at night.
One morning while having coffee with business associates and "looking like I hadn't had any sleep for endless nights," two of her friends suggested she open her own secretarial shop.
Starting modestly in 1947, Phyllis rented an office upstairs in the Business Block building for $100 a month. In 1950 she relocated to Via de la Paz.
She had a typewriter, a 1940's version of a copying machine and an addressograph. As Phyllis moved from typewriter to computers and sophisticated copying machines, she outlived her local competitors: Kinko's, T.O.P.S. and Pips. The Letter Shop closed in 2013, after serving as an informal town meeting place and a site of gossip for years.
The same year Phyllis opened her office, she was elected president of the Santa Monica Bay Business and Professional Women's Club, which was the beginning of her many leadership positions. She was honored with a Palisades Citizen of the Year award in 1952.
The post-war Palisades community was small, and immediately Genovese's shop became the information center. In 1949, the Pacific Palisades Chamber of Commerce was established, and she became its first treasurer; her office was its headquarters until 1985. In 1972, she was elected the first female president of the Chamber.
Phyllis bought her house on Mount Holyoke in 1954. She invited her mother to come out to live with her, which she did until her death. "All members of my family lived with me at one time or another. I have a wonderful family. Couldn't exchange family for love or money," she asserts.
Marriage did sneak into Phyllis' life years later. Again, the connection with her future husband, Sherman Keely, came by way of friends.
"After his wife Alice passed away, Sherm and I got acquainted at the Saturday night poker parties I hosted, and we started going out. On one occasion, he suggested that we go to Arizona to visit my cousin. While there, he asked her how she'd like a new cousin." Soon after, at 74, Phyllis married Sherm and they were together for 11 years until his death.
The Circling the News editor remembers seeing a rather large car in town that looked like it had no driver. All one could see were two little hands on a steering wheel. It was Phyllis, who drove her friends back and forth between the Palisades and appointments in Santa Monica. But after driving for 87 years, Phyllis told Motika she now had to rely on friends to drive her places. "I've lost my driving privileges," she said.
The Genovese house on Mount Holyoke has been sold and CTN has not been able to confirm if there will be any celebration of her life.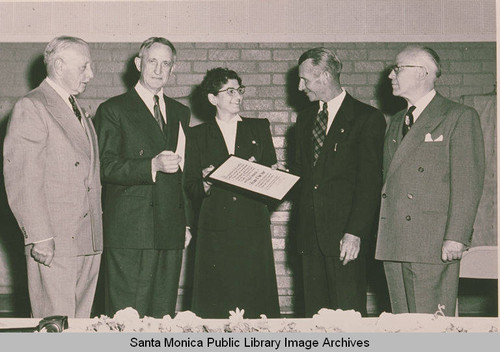 (Above) Pacific Palisades 1952 Citizen of the Year Award Presentation to Phyllis Genovese.