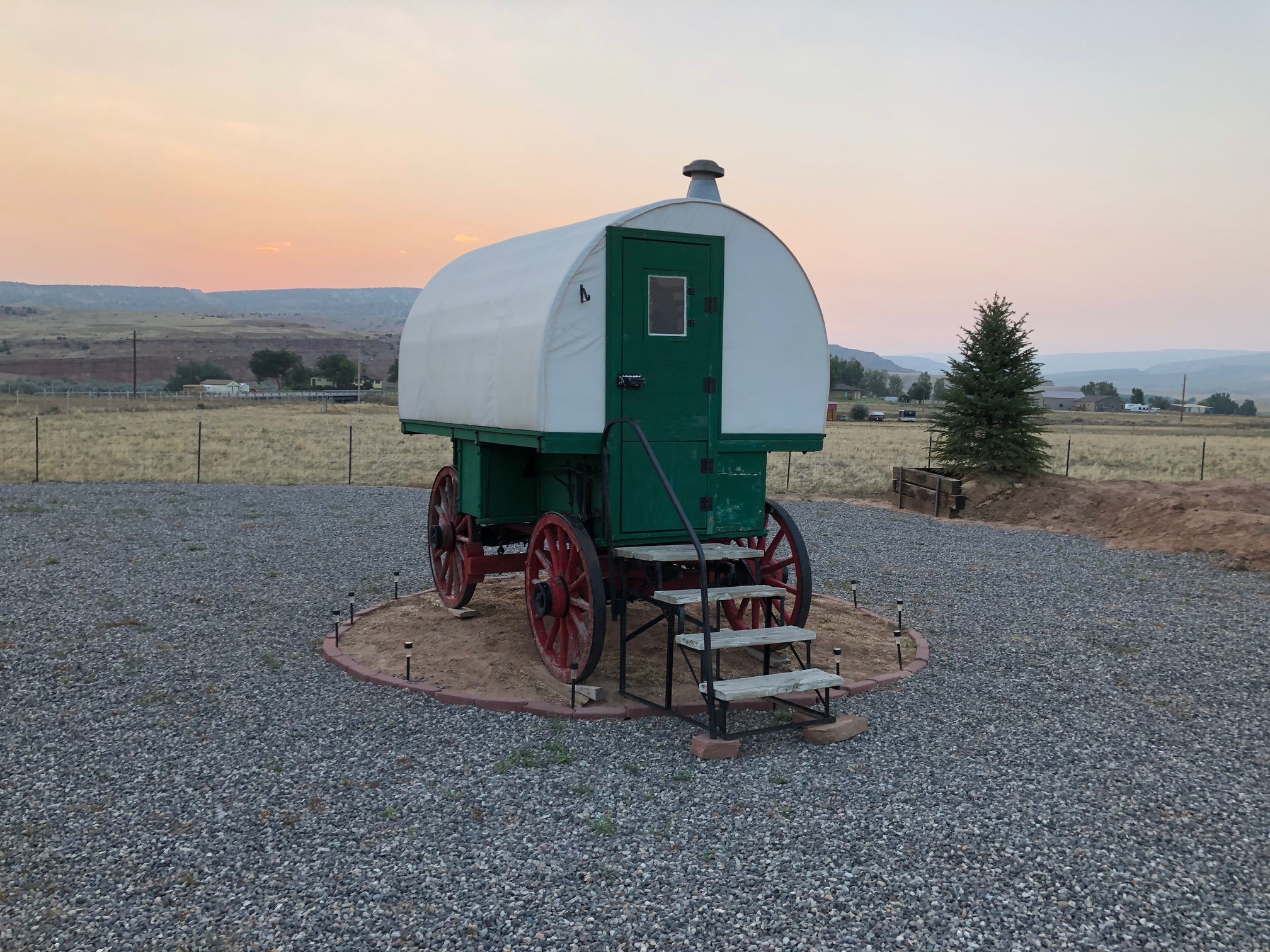 Sheepherder Wagon Provides the Comforts of Home
By SUE PASCOE
Homes in Pacific Palisades are considered small if they are less than 5,000 sq. ft. and do not have two master suites, with his and her closets and bathrooms.
In Thermopolis, Wyoming, this writer found a completely restored sheepherder wagon, 7 ft. by 8 ft., which was a home that often held a family.
A story in the 2011 Thermopolis Independent Record explained John Outland, 60, and his father Ken, 82, rebuilt a wagon as a father/son project.
Ken had spent a weekend with his uncle in a sheep wagon when he was a small boy and had lived in one for a period of time in 1947.
The two found a wagon that needed to be restored at an estate auction in Meeteetse, Wyoming. They researched brake systems, running gears and canvas bows. The stove, which had to be polished and cleaned, was originally made by the Old Western Stove Company sometime between 1886 and 1922.  It took about eight months, working five days a week—four to 12 hours–to restore the wagon.
In a 1970 Mother Earth article "Life in a Sheepherder Wagon," Victor Croley wrote that during the winter, the four kids and mom stayed in Casper, so the boys could attend school, but during the summer the family lived together on the range.
He wrote, "If there were hardships, mother never complained or told me about them. For three young hooligans ranging from five to ten years in age, it was wild, hilarious adventure from sun up — when we were fed and pushed out the door — until dark when we were hand-scrubbed in the same bucket of warm soapy water and tucked into the big bed roll on the hard ground underneath the sheep wagon. After we were bathed, baby sister's diapers were put to soak in the same bucket of water. When you had to carry water half a mile you saw to it that every drop got full mileage."
As an adult, he worked as a sheepherder. "The temperature was forty degrees below zero at 6 a.m., and I knew it would be one of the coldest days of winter there in the high country of Wyoming. Fortunately, there was no wind with it and only seconds were needed to leap out of the warm bunk bed, pull pants and heavy flannel shirt over the wool "longies" I slept in, and start a quick fire in the sheep wagon stove."
He explained that the stove burned either wood, coal or "Hoover coal," a euphemism for dried cow manure. The name Hoover came from President Hoover who was blamed for the nation's hardships. "Hoover coal made a quick hot fire but not everyone appreciated the pungent fragrance," he wrote.
Under the bed, a table pulls out, and there are storage boxes to sit on to eat. There were no stools or chairs.
He said that every week or two, "if the grazing was good, the wagon tender would come around with mail and supplies and would use his team to haul your wagon to the next location while you and the dogs slowly moved the flock of sheep in his wake. Ideal locations were near water and good grazing."
Croley wrote: "The secret of sheep wagon living can be easily summed up: Order and spic-and-span cleanliness. The good herders kept everything tidy and ship-shape, eliminated non-essentials and followed Thoreau's dictum to "Simplify! Simplify!" With bed neatly made, floors, benches and oil-cloth inner wall scrubbed and spotless there was always room and a welcome for company."
One wonders what Croley would say about our large houses and the staff needed to run them?