Pacific Palisades Library will present two events on Tuesday, November 15, and a third event on Thursday, November 17.
Mysterious Book Club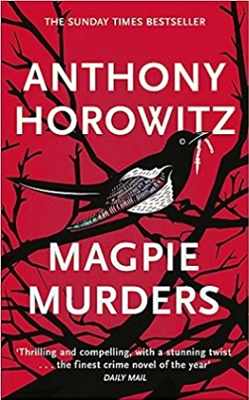 The Mysterious Book Club, which met regularly before Covid at the Palisades Library, is back. This month the club will discuss "Magpie Murders," by Anthony Horowitz at 1:30 p.m. on November 15 in the community room.
The book includes a dead author, a missing final chapter – does it contain clue to the author's death?
Masterful, clever, and relentlessly suspenseful, Magpie Murders is a deviously dark take on vintage English crime fiction in which the reader becomes the detective.  PBS is currently showing a televised version of the novel if one would rather watch than read.  But, the last one airs on November 20, so one will have to read the ending before coming on Tuesday or…
Opera Talk:
One of the passionate and knowledgeable volunteers at LA Opera will be giving a talk online about the Opera's presentation of Tosca at 6:30 p.m. on November 15 on Zoom.
Floria Tosca, the famous opera singer, seems to have it all. Audiences cherish her artistry—and adore hearing about her tempestuous offstage romances. But as storms of repression and rebellion rage throughout Italy, the diva is forced to play a real-life role she never imagined.
Torn between devotion to her lover and the machinations of a treacherous sociopath who will do anything in his power to break her down, she's trapped in an utterly impossible predicament with fatal consequences for them all.
These talks are always fascinating, even if you are new to opera. Email palsds@lapl.org for the Zoom link. Tosca will play at the Dorothy Chandler Pavilion November 19 through December 10.
Family Storytime:
The next family storytime is 4 p.m. on Thursday, November 17.  The event features stories, songs and fingerplay, which helps build reading skills while having fun. This library event is suggested for ages 3 and up.
The Palisades Branch is located at 861 Alma Real Dr. (310) 459-2754.