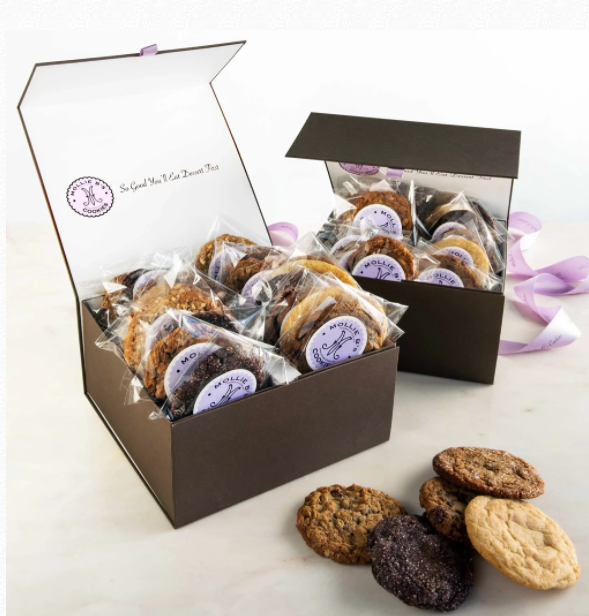 One of this editor's favorite desserts is a cookie. It is not a fancy dessert, but if it is made correctly, there is no more satisfying way to end a meal—not too much, but just enough.
During Covid-19, Rotary President Trish Bowe delivered two packaged cookies to each member's doorstep, so that during the weekly 5:30 p.m. meeting, we could celebrate by eating dessert together.
Unfortunately, like many members, I opened the cookies immediately and –devoured them. I had no willpower because they were delicious, homemade Mollie B's Cookies.
The founder, Sue Leedom, has taken the simple cookie to a new level. She spoke to the Palisades Rotary Club on May 18.
Customers can choose from shortbread, brownies, Mollie O's (a takeoff of an Oreo), Sophie's Nuts, Gladys' Gingers, Nonnie's Wild Oats, Poppa Frankie, Betsy's Doodles and Chocolate Obsession. (Leedom also has a gluten-free chocolate chip and a vegan chocolate chip.)
The two that CTN has not tried but can't want to taste are the Stuffed Katie Girl and the Stuffed Benny. The Benny is described as a chewy chocolate obsession wrapped around a peanut butter cookie and the Katie Girl is a fluffy snickerdoodle wrapped around a gooey chocolate obsession cookie.
Leedom, who lives in Culver City, said she started baking in 2010 after a 10-year hiatus from the workforce because of a cancer diagnosis.
When she was trying to decide about the next phase of her life, she went back to her roots. "As a little girl, I would watch my grandma Mollie create heavenly desserts, and family and friends would get together for something they called 'coffee and ….'"
She said that the "and" meant a delicious dessert made by her grandmother.
Initially, Leedom called her company Mollie B's cookies, cakes and pies, but "I decided to focus on one thing."
Her foray into starting her own company was daunting — and "not for sissies," Leedom said. She started in a commercial kitchen, but in order to make a profit, she realized she had to turn her home kitchen into a commercial site.
Her cookies are based on family recipes and use "high-end" ingredients. "My chocolate-chip cookie took five years to perfect," she said.
Leedom now has a baker, and during the holidays, the kitchen operates seven days a week. "It's exhausting and exhilarating, but I love what I do," she said, noting that in the beginning she was operating in the red a lot, but thinking "If I'm not doing this, then what?"
In addition to buying an occasional dozen cookies from Leedom, one can buy cookie subscriptions—a dozen or two dozen cookies are sent once a month for three months, six months or a year.
If you have beginning bakers at home, you can purchase the "Love & Cookies" box for chocolate-chip or snickerdoodles. You simply add butter and eggs and bake them at home.
Leedom also offers several choices for a corporate gift box. For example, the three-dozen box allows you to choose from six varieties. Since everything is baked fresh, 24-hours' notice is required.
In addition to GrubHub, Uber Eats and DoorDash delivery, Mollie B's Cookies can be shipped to the East Coast and there is free shipping on orders over $75.
After tasting the cookies, CTN would agree with Leedom who said, "One piece of delicious is better than a 'bunch' of something."
Visit: Molliebcookies.com or call (310) 920-1510.