Missing Broadway and don't have a trip to New York City planned? Can't stand the drive downtown – and parking – at the Music Center?
Good News, Covid is over and theater is alive in Pacific Palisades. The cost is minimal, the talent great and ranges from middle school one-act plays to a high school drama to a comedy at community theater.
PAUL REVERE MIDDLE SCHOOL – One Act Plays
Long-time youth director Laura Ganz announced that students at Paul Revere Middle School will present four one-act plays: "Junie B. Jones," "Jingle Bells,"  "Batman Smells" and "Little Women" on November 4, 5, and 6.
"The shows are based on beloved children's classics. Our young actors are essentially bringing books to life on stage," Ganz said. "The shows demonstrate how the holidays should inspire us towards selfless generosity as well as the theme of belonging and the powerful need we all feel to belong.
"These stories and characters are so relatable, which is what makes them so lovable," Ganz said. "Our students were incredibly enthusiastic to play these endearing character roles and have had so much fun at rehearsal preparing for our production."
PALISADES HIGH SCHOOL – "These Shining Lives"
The play written by Melanie Marnich is based on a true story of four women who worked for the Radium Dial Company, a watch factory based in Ottawa, Illinois in the early 1920s. The play shows women getting a chance for a well-paying job, which in those days, was uncharacteristic of the time.
The job involves painting hour markings on different-sized watch dials using radium, which is a compound that glows in the dark. The women are told that there is no evidence that radium is harmful – and it might even have health benefits.
The play premiered in 2008 in Baltimore and parallels a similar tragedy knows as the Radium Girls. The talent at the high school is deep and under the direction of Monique and Cheri Smith, this promises to be a highly entertaining evening.
The play runs November 3, 4, 5 and 10, 11 and 12 at 7 p.m.
THEATRE PALISADES – "The Sweet Delilah Swim Club"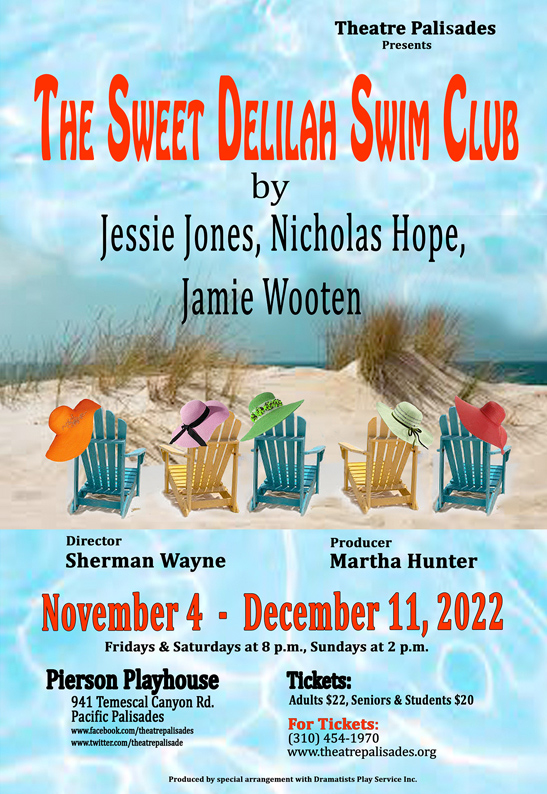 Every year in August, five Southern women, all former members of a college swim team, converge on the outer banks of North Carolina. The play documents four different times over five years, as the five catch up. Although they have gone different directions, the bond and love for each other remains strong. The cast includes: Mary Allwright, Laura Goldstein, Martha Hunter, Maria O' Connor and Michele Shultz.
Laurel Busby will review the play for Circling the News. Look for a review next week. The play opens November 4 and runs Fridays and Saturdays at 8 p.m. and Sunday at 2 through December 11.