(Editor's note: the following story is reprinted with permission by the Westside Current. When Circling the News went to Venice to learn about bridge housing and view the encampments off Rose on Sunset and Third – near Gold's Gym, residents complained that the area was dangerous and that drug sales were happening. They wouldn't allow this editor to walk down the street unaccompanied.)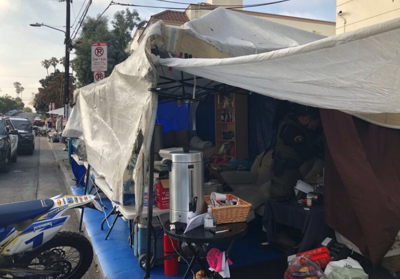 The Narcotics Bureau of the Los Angeles Sheriff's Department arrested a person they say was a drug dealer disguising himself as a homeless outreach advocate.
Deputies say that Garry Featherstone had been using a tent to facilitate narcotics sales to the local homeless population close proximity to the A Bridge Home (ABH) on Sunset.
According to deputies, Investigators conducted countless hours of surveillance of Featherstone and saw him complete several hand-to-hand narcotics transactions.
On  July 22, investigators conducted a search warrant operation on a tent near 3rd Street and Rose Avenue, as well as a residence in the Venice area, and arrested Featherstone for possession of Phencyclidine (PCP) for sale;11378.5 HS and Possession of Methamphetamine for sale;11378.1 HS. Over $ 15,000 was also recovered.
Featherstone, a self-proclaimed homeless advocate operates "Homeless Enterprise" from a tent on 3rd Avenue, where he sells sodas, candy, and other snacks and beverages to the local homeless population. "Homeless Enterprise" is registered with the city of Los Angeles Finance Department.
Last December, a Go Fund Me page was set up for Featherstone to help "feed the homeless. The post read: " I will be cooking and passing out plates to the homeless in venice beach. I want to raise 500$ to help feed the homeless in venice  for Christmas. it would mean so much for me to be able to give back to my community and give back this Christmas. With your help it can be done and it will be highly appreciated anything will help. God bless and thank you so much for your contributions.."
The page raised $292.
In a Facebook post on Saturday, Featherstone said that he was "illegally searched". He also said the large sum of money that was found on him was from winning a jackpot at a casino in Hollywood. He also denied having drugs in his tent.
Featherstone has been outspoken about the Venice Boardwalk cleanups alongside other "homeless advocates". Many have participated in public protest since the cleanups first began.
"It's amazing that we have a County Sheriff who is willing to step up to bat on this huge problem that councilman Mike Bonin has left us," said nearby resident Rick Swinger.
"We were right at that famous town hall back in 2018. We saw this coming. We all have to stand up and tell our Mayor and our councilman that this pollution and crime at our world class beach is unacceptable now and in the future. We are tired of talk and no action. It appears the Sheriff is willing to take action," Swinger added.
Sheriff Alex Villanueva said, "This is another clear example of how several people are using the veil of outreach to run criminal enterprises and exploit the already marginalized population of county residents who are experiencing homelessness. It's time for common sense, compassionate regulation of public space. It's time for politicians to stop using the homeless population as a platform and for them to either help law enforcement keep the community safe or get out of the way."
According to arrest records, Featherstone was released from jail on a citation. His first court date is scheduled for Monday, July 26.