Palisades Garden Club Tour Offers Six Gardens
By LIBBY MOTIKA and LAURIE ROSENTHAL
Photos: Tom Hofer
Special to Circling the News
Embark on this year's Pacific Palisades Spring Garden Tour, and discover beautiful gardens in Pacific Palisades, Santa Monica and Brentwood. This self-driving tour is set for Sunday, April 14 from noon to 4.p.m. and features five private residence gardens, a condominium association's garden installation and the N/E/X/T/Garden along Temescal Canyon Road.
Each tour guest will receive a special set of coupons with each ticket purchase. Tickets are $30 per person and children can attend free when accompanied by a ticketed adult. Tour guests may purchase tickets online at www.pacpalgardenclub.org. or, in person, at the following vendors: Gift Garden Antiques in Pacific Palisades, Merrihew's Nursery in Santa Monica, and Birds Unlimited or Yamaguchi Bonsai Nursery in West LA.
Via de la Costa on Top of the World
Landscape designer Bruce Izmirian combines an instinct for "reading" the landscape with his expansive repertory of trees and plants. In the case of this Palisades Highlands garden, he has taken into consideration the temperature (hot in summer) and the showstopper backdrop of the Santa Monica Mountains.
The house takes up most of the property's footprint, so Izmirian worked with the small area that abuts the street and the strip on the south side of the driveway, replacing grass with a Mediterranean garden infused with succulents.
Purple plum, Japanese maple and Liquidambar offer height, while low growing and spreading plants provide colorful variety. These include the intense yellow Jerusalem sage, the purple hues of Statice Sea Lavender and Bush Germander and the blues of Coast Rosemary and Agapanthus Thundercloud.
Because of a rainy spring, even the succulents are showing off a rainbow of colorful leaves ranging from lavender-gray tinged to the orange-tipped varieties. Together they look like clusters of coral.
The back yard opens up to the majestic mountains to the west. Izmirian has kept the landscape low and unobtrusive. Surrounding a swimming pool, a Buddha sits among similar plants to the front yard. A purple-leafed Euphorbia Copper Tree offers color, while the Lomandra Breeze Grass provides movement.
This garden design chooses from an encyclopedia of plants and trees that bring "drought-tolerant" to a whole new level. Bruce Izmerian, SacredGroundsDesign.com.
Frontera Garden Offers Bonsai Bonanza
While the front yard of this Huntington Palisades corner house is landscaped with a well-established garden, in the last five years, the owner has redirected his expertise and curiosity to discovering new hybrids of familiar plants. He plants his trials in large tubs, which he switches out two to three times a year.
This year's show included the anemones Mona Lisa, which peaked in late January-February, and a hybrid delphinium/foxglove. Sadly, he reported that the bush sweet pea was a disappointment. On the garden tour, these pots will be aglow with dahlias.
The back yard, a cozy space, is shaded by melaleuca and ficus, which provide shade for a variety of plants including staghorn ferns hanging from tree branches and a selection of bonsai that have been cultivated and trained by landscaper Ethan Whitney.
Whitney, principal of Whitney Landscape LA, maintains a busy business, but finds his creative joy in growing those tiny Japanese trees in containers.
Forever expanding the repertory of possible trees to bonsai, Whitney has moved beyond the more typical candidates, such as the Japanese maple, juniper or Chinese elm. After all, he says there are 12,000 varieties in Japan. An especially unusual tree is the Tecoma stans, a small deciduous shrub with intense yellow bell-shaped flowers. Another success is the Daphne Eternal Fragrance with its cluster of pink and white blooms and luscious scent.
An inviting seating area under a pergola and built-in fireplace makes for comfortable family dinners and entertaining.
Michael Lane Garden with Curb Appeal 
The landscaped streetscapes in the Highlands Villas illustrate the potential for enhancing neighborhoods with a garden plan that shows the color, texture and water-efficiency of our California native plants.
The condominium community, established in the early 1970s, sits in the backdrop of the oak and pine Santa Ynez ridge.
The low-slung units originally incorporated common areas of mostly grass and ivy that under the leadership and hands-on guidance of homeowner Terry Haljun have been transformed into gardens that fit the character of the Highlands ecology.
The Highlands Villas Association established a landscape fund to support the ongoing maintenance work.
The most recent renewal project illustrates Haljun's creative color and texture palette. To give plants breathing room, she uses small pebbles in open areas. She has selected a variety of plants to complement the olive, strawberry (arbutus marina) and California pepper trees. A rainbow of succulents including chalksticks (senecio), specimen agave and aloe are interspersed with surprises such as bearded iris. Cascading rosemary and Sticks on Fire (euphorbia tirucalli) dominate the springtime blooms. Birds, butterflies and bees fatten up on berries. Haljun has worked for years with the Corona family to terrace the slopes, clear the area, select the plant material and find specimen rocks.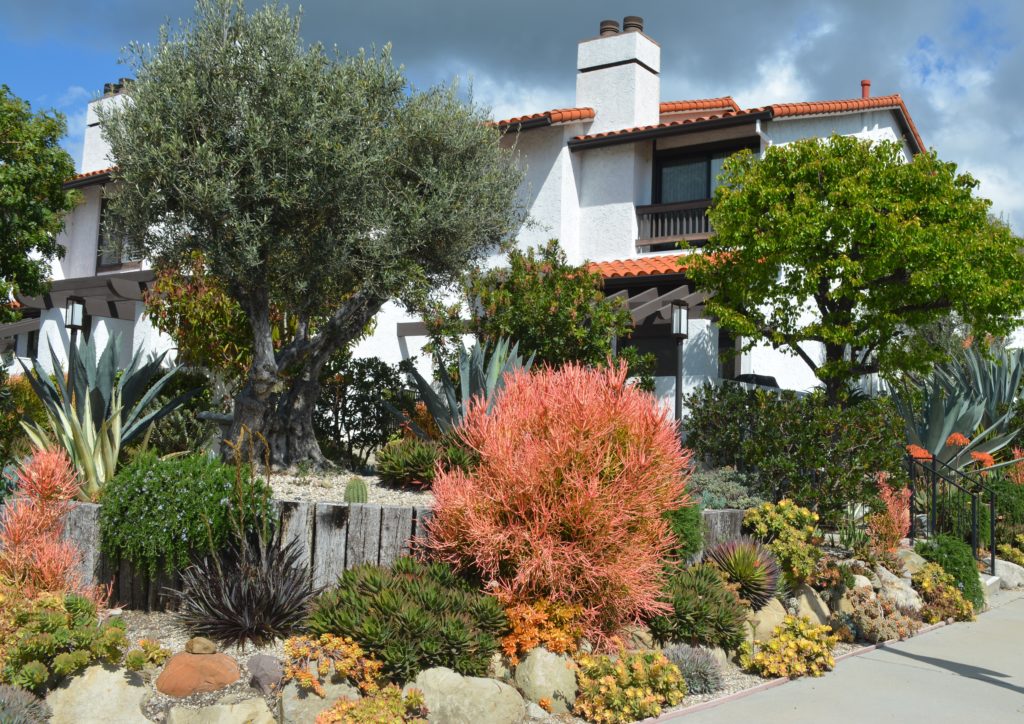 The N/E/X/T/Garden on Temescal
The Native/Environmental/Xeriscape/Temescal/Garden (N/E/X/T/Garden) is an extended-hours (11 a.m.-5 p.m.), free venue—co-sponsored by the Pacific Palisades Garden Club and Palisades Beautiful—where visitors can have a guided Q&A tour of the nine-year-long, community-volunteer project at the top of Temescal Canyon Park, showing how organic gardening with diverse native and drought-tolerant plants can sustain our environment.
Park on the east side of Temescal Canyon Road (i.e. facing uphill), 1-2 blocks below Bowdoin St. (map search: 700 Temescal Canyon Road, Pacific Palisades, CA 90272).
Frontera Garden Sparkles in the Huntington  
A new farmhouse on a quiet Huntington street boasts a garden in its infancy.
Ethan Whitney, who has created many magnificent landscapes in the area, is in the process of transforming the new space into a neighborhood showstopper.
Rich-looking jade rocks decorate the front of the house alongside earth-toned pebbles, Elijah Blue and Siskiyou Blue Festuca and creeping thyme groundcover.
Leucadendron, a native of South Africa also known as Safari Sunset, adds color and texture to the landscape, as do Gold rider cypress, Limelight hydrangea, ficus and magnolia little gems.
The side of the house features various fruit trees, including Haas avocado, peach and nectarine, as well as blueberry bushes.
A stone walkway, with lamps resting on stone columns, grass and a low picket fence complete the front yard.
Ethan Whitney, Whitneylandscapela.net
La Mesa Gem under the Morton Figs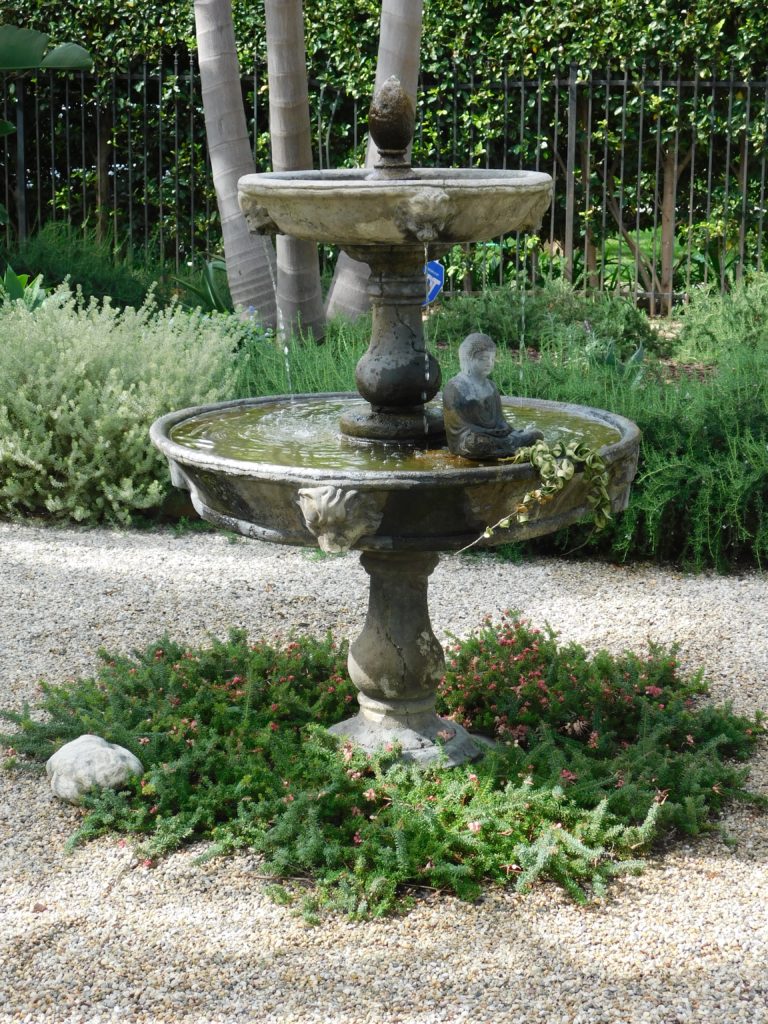 On one of the most beautiful streets in Santa Monica sits a 1926 John Byers house. The large gardens in the front and the back have been painstakingly worked on for almost three years by the homeowner.
The result includes an array of drought-resistant plants, including Mexican sage, aloe, ceanothus, giant bamboo, pittosporum, asparagus fern, jade and kalanchoe (which the owner likes "leggy").
Bountiful Pride of Madeira in the front came from pups in the back, and different varieties of agave plants were also grown on the property.
La Mesa Drive is lined with decades-old Moreton Bay Fig trees that leave behind inedible, sticky figs. Part of the front garden was designed to withstand the gooey mess that rains down from the parkway.
Dymondia and creeping rosemary ground cover, baby mondo grass, rocks, wood chips and large stone steps are scattered throughout. Some plants in the back have broken limbs due to the homeowner's dog's habit of scratching his back against them.
A fountain in the front adds a water feature, while a pool with a waterfall and rock slide in the backyard helps mitigate the noise from San Vicente. Orange and apple trees populate the back, as do a Buddha statue and vegetable garden.
Lights on king palm trees make for a festive atmosphere year-round.
19

th STREET

 Garden Includes Family Fun
A can-do Midwestern attitude has helped a North of Montana homeowner in creating the perfect garden for herself and her family.
A stunning multi-colored blue and green vase has been repurposed into a fountain, which adds a peaceful feel to an already quiet nook in the backyard. The water element continues in the front yard, where an old hose container has been turned into a fountain.
Carrots, lettuce, sweet peas and nasturtium grow in large, raised planter boxes in the backyard. The boxes were originally built by her college-age son for a project when he was a teenager. At that time, food was given to a local charity; now the neighbors enjoy the bounty.
Other vegetation scattered throughout the property include clivia, boxwood, melaluca, ficus, asparagus ferns, white roses, Meyer lemon and Cara cara orange trees, Pittosporum tenuifolium (known as golf ball plants) and Texas privet.
A beautiful Japanese maple was planted by the previous owners. Other items incorporated in the yard that come from those owners include a bench and a large planter.
Pebbles, stone pavers, a comfy seating area, a ping-pong table and an in-the-ground trampoline make for a family-friendly backyard.
Seating areas are scattered throughout the front and back yards and include a family member's table and chairs from the 1960s.